The goal of GreenUP's NeighbourPLAN program is to support residents in reimagining public spaces in three Peterborough neighbourhoods. NeighbourPLAN brings residents together to connect, imagine, and design by hosting a wide range of engagement activities using a collaborative process called co-design.
After 18 months of working together, residents of Peterborough's Jackson Park-Brookdale neighbourhood are ready to showcase their long-term visions for public spaces, streets, and sidewalks in their neighbourhood.
As part of NeighbourPLAN, residents of this unique community have created A Vision for the Jackson Park-Brookdale Neighbourhood, a document featuring design concepts that are the result of a co-design workshop in the neighbourhood.
Advertisement - story continues below
Residents and built environment and public health professionals came together in this workshop to create innovative ideas that address residents' concerns, and build upon existing assets.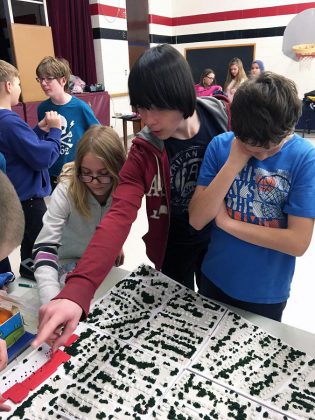 If you're curious to see what residents have been working on, join us to celebrate this new vision for the Jackson-Park Brookdale neighbourhood at a celebration from 3:30 p.m. to 6 p.m. on Wednesday, June 19th at Highland Heights Public School (430 Highland Rd., Peterborough).
Come see the vision document, enjoy food together, and meet some neighbours.
Joan Corrigan has been involved in NeighbourPLAN for over a year and has enjoyed the learning process of the program, as well as the expertise of the NeighbourPLAN co-ordinators.
"They have an impressive store of knowledge and information about neighbourhoods in general," Corrigan says. "I am retired, so this is a great way to keep informed and involved in my community."
Corrigan is one of many residents who contributed their thoughts to the community's vision.
Over the last 18 months, more than 300 residents contributed to the community vision document, both by guiding the project as members of a core committee and by speaking with the NeighbourPLAN team at pop-up locations.
"I love that my neighbourhood gives me direct access to all sorts of walking and bicycling trails," says Corrigan, who has been a resident in the north end neighbourhood for 10 years. "Equally, I love having needed services and a good assortment of shops and eateries all within easy walking distance."
Advertisement - story continues below
Overall, two overarching themes have emerged during the Jackson Park-Brookdale NeighbourPLAN process, forming the backbone of the vision document:
Residents want enhanced community connectedness. This would include a built environment that supports a strong social fabric through revitalized neighbourhood parks and gathering spaces.
Residents want safer and more accessible streets and sidewalks. This means a neighbourhood where residents are supported to travel safely and are able to choose diverse transportation options.
The vision document showcases how incremental changes to the public spaces in the Jackson Park-Brookdale neighbourhood can lead to a community that better addresses these two themes.
It suggests adding enhanced crossings, four-way stops, rain gardens, and placemaking initiatives such as a community mural. The vision document, along with the previously developed Portrait of the Neighbourhood, will be used as communication tools to help residents articulate and advocate for changes they would like in their neighbourhood's public spaces.
Are you interested in getting more involved in NeighbourPLAN but don't live in the Jackson Park-Brookdale neighbourhood? NeighbourPLAN is also working in two other communities in Peterborough.
The Downtown Jackson Creek neighbourhood is working toward creating a vision for their neighbourhood, and we will be hosting a vision and design workshop for the neighbourhood e from 10 a.m. to 3 p.m. on Friday, June 14th at the McDonnel Street Activity Centre (577 McDonnel St., Peterborough).
The day will begin with a resident-led exploratory walk of the neighbourhood where you will learn about the top focus sites of concern. The walk will lead us to the McDonnel Street Activity Centre, where we will first enjoy a catered lunch from By the Bridge before diving into the workshop.
Advertisement - story continues below
The workshop will bring residents together with built environment and public health professionals to brainstorm creative enhancements to their community. If you are interested, please register for free online at DTJCworkshop.eventbrite.ca.
NeighbourPLAN is now also working in the Talwood neighbourhood, which is bordered by Sherbrooke, Clonsilla, and Greenhill Drive. If you live in the neighbourhood, reach out to us and share your thoughts — we want to hear from you.
Want to learn more about NeighbourPLAN and the work we are doing in all three neighbourhoods? Check out our website at www.greenup.on.ca/neighbourplan. For more information about NeighbourPLAN, contact Kortney Dunsby at kortney.dunsby@greenup.on.ca.
This project is a partnership with Active Neighbourhoods Canada and is funded by Ontario Trillium Foundation and supported by many local community partners.