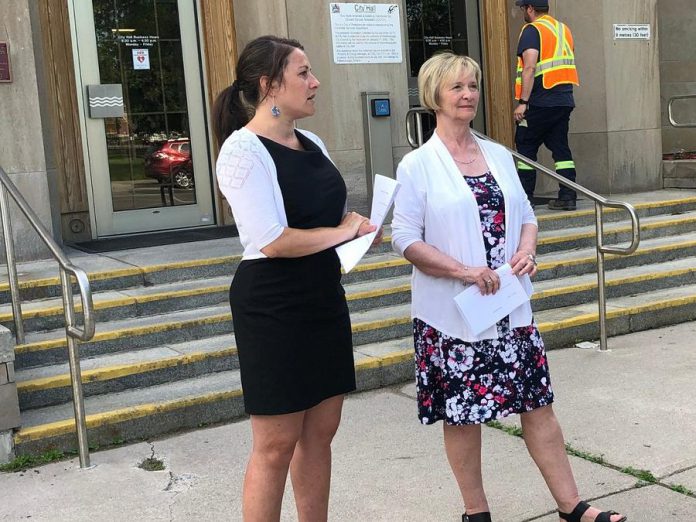 Peterborough Mayor Diane Therrien and Selwyn Deputy Mayor Sherry Senis have announced the panellists for the upcoming forum on Peterborough's opioid crisis, which takes place at Market Hall Performing Arts Centre in downtown Peterborough on Thursday, July 11th.
The Opioid Summit panellists are Peterborough's medical officer of health Dr. Rosana Salvaterra, Peterborough deputy police chief Tim Farquharson, Peterborough city/county paramedic Dan Farrow, artist Alex Bierk (who has lost friends to opioid overdoses), and Sally Carson.
Senis and Therrien are co-hosting the forum, and Peterborough-Kawartha MP Maryam Monsef and Peterborough-Kawartha MPP Dave Smith have confirmed they will also attend.
"The county and the city are definitely morally invested in finding solutions to this crisis," Senis said at a media conference on Tuesday (June 18) announcing the panellists. "The opioid crisis has been increasing, not only in Peterborough but through Ontario and across Canada. The senior levels of government need to step up to provide solutions and funding for this crisis."
Therrien said the selection of panellists were intended to bring together professionals in the field as well as people who have personally experienced the effects of the crisis.
"We need to take immediate action on the opioid crisis," Therrien said. "We have lost too many lives. We need to work together, as a community and as a region, with all levels of government to find solutions. This is one goal of the forum."
She added that the other goal of the forum is to break down the stigma around mental health and addictions, so that people feel comfortable and able to seek help.
Doors open for the forum at 6 p.m. on Thursday, July 11th at Market Hall Performing Arts Centre (140 Charlotte St., Peterborough). The panel discussion begins at 6:30 p.m., followed by an opportunity for questions from the audience, depending on the amount of time remaining.
The forum is free and open to the public, but limited seating is available. To reserve seats, register online at www.eventbrite.ca/e/opioid-summit-tickets-63434450148.
If you can't attend or the event is sold out, note that kawarthaNOW.com will be covering the summit.