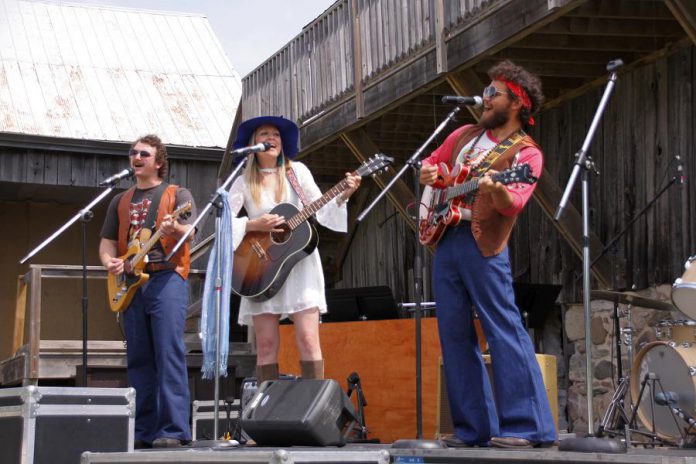 More than 40 years since Detroit native Bob Seger declared rock 'n' roll never forgets, 4th Line Theatre will do its level best this summer to convince us we should never forget rock 'n' roll and, in particular, the influence it had on those who performed and those who joyfully gave it an ear.
Bloom: A Rock 'n' Roll Fable, written by singer, songwriter, actor, and playwright Beau Dixon, will be staged July 2nd to 27th at 4th Line's picturesque Winslow Farm home near Millbrook.
Directed by Kim Blackwell — she's marking her 25th year with Robert Winslow's theatre company — the storyline follows two best friends from the town of Assumption, Ontario, who share a passion for rock 'n' roll music from their childhood years in the 1950s through to the mid 1970s — a journey punctuated by their connecting with singer-songwriter Tess Wilson to form The Spruce Street Ramblers.
While the play has live music at its foundation, it's not a musical, notes Blackwell.
"Yes, there's a ton of music in it but all of the music is in the context of the band and its rise to fame, and the music of the time in which they come up," explains Blackwell, sitting in the 4th Line director's chair for a remarkable 17th time.
VIDEO: Behind the scenes at 4th Line Theatre
"I was, and remain, thrilled by the story at the heart of the piece. The two young boys who are best friends and have a love of music, and the trajectory of them becoming almost the biggest band in Canada, and the things that happen and befall them along the way."
"I love all the music industry insider business, and being inside those cars and vans on those long drives (while touring). He (Beau) captured the truth and authenticity of that."
Admitting "It's unusual that we (4th Line) hadn't looked at a piece around Peterborough and its rich history of music before now," Blackwell says the chronology of Bloom's development dates back to 2011 when Winslow watched the documentary The Last Waltz, director Martin Scorsese's famed take on The Band's final performance in 1976 at San Francisco's Winterland Ballroom.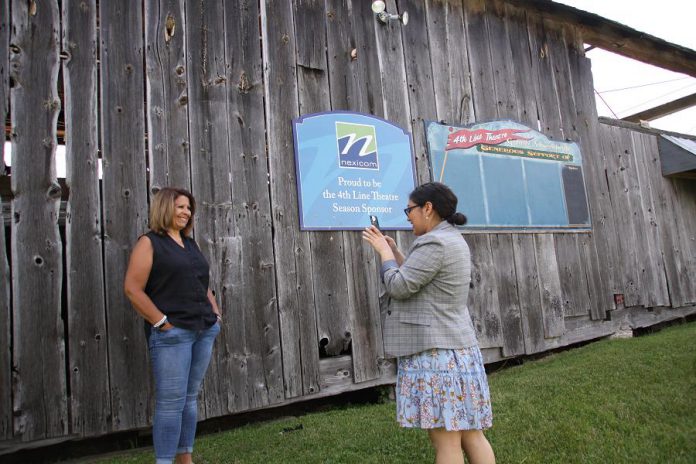 At the same time, indigenous performer Herbie Barnes was at 4th Line, contributing to Drew Hayden Taylor's play The Berlin Blues.
"They (Winslow and Barnes) got talking about it (a play detailing Peterborough's music history)," notes Blackwell.
"Then, about a year later, Beau was here. With his incredible music career and the fact that he was really emerging quite quickly on the Canadian theatre scene, he was the perfect guy to write it. All aligned in the 2011 to 2013 range. It was just a matter of everyone finding the time to write it and workshop it and get it on to the stage. Fast forward a few years and that's where we're at."
Advertisement - story continues below
"Could another theatre artist slash musician have written it? Maybe. But Beau, because of his long association with this theatre, because he has roots in Peterborough going back a couple of decades, because he has toured across Canada with his solo career and with so many other musicians, he understands that side of it."
"We would be hard pressed to find another writer who could tick all the boxes for a play like Bloom."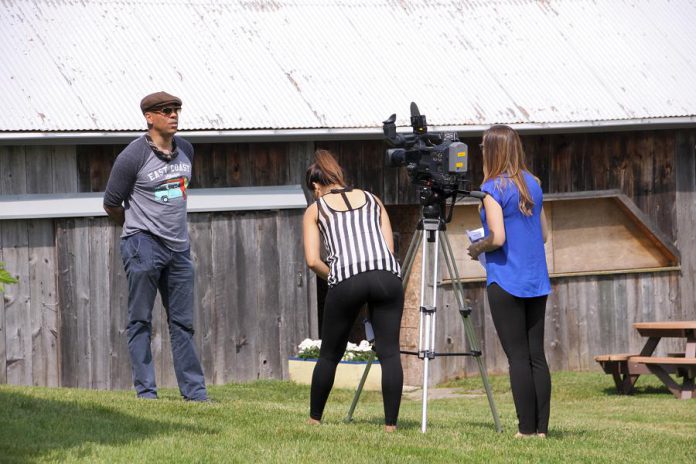 For his part, Dixon is hopeful his script "honours" past musicians who called, and still call, Peterborough and the Kawarthas home.
"The Spruce Street Ramblers, though fictitious, is a composite of all these bands from the past like The Sonics, The Continentals, and The Hangmen, and branches out to ask 'What if they went beyond the Kawartha region? What would that look like?'" explains Dixon.
"What I bring to this is my experience of being on the road. Being on the road. you're like a pirate. You're a scavenger, a gypsy, a pilgrim, a pioneer. There are the intricacies and details of being a touring musician. Any good playwright can write a rock 'n' roll play, but what I think is special about this play is the unknown and its focus on the less-talked-about issues and the relationships."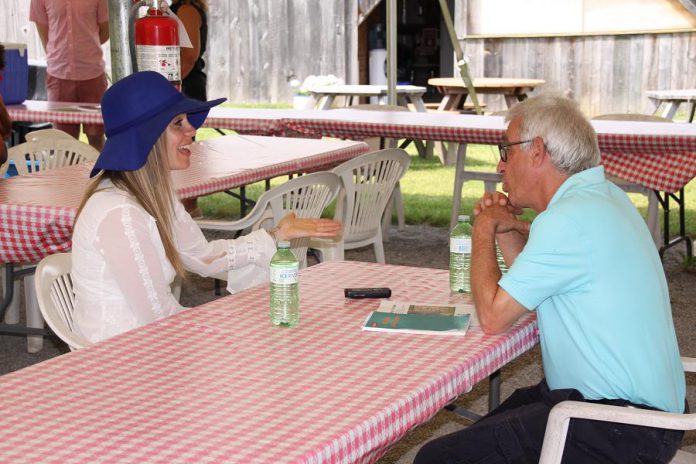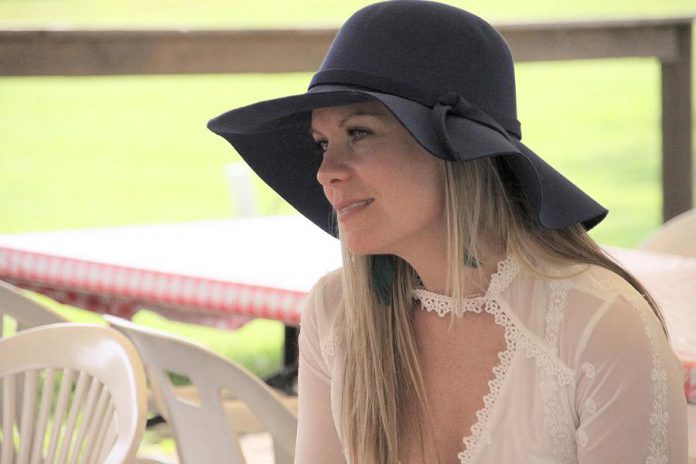 Performing the role of Tess is Peterborough born and raised singer-songwriter and actor Kate Suhr who, on this sunny June morning, looks every bit the role in a flowing white dress, her golden locks draped over her shoulders.
"Tess is a singer-songwriter that is fighting her way through, trying to find her voice and where she belongs," assesses Suhr.
"There's a lot of Kate Suhr in Tess … lots of co-relations between my life and Tess' journey. I started out as a singer. There was nothing I wanted to do more than sing. It has always been my happy place. I always wanted to go to Toronto. How many women can connect with this story? A million, and tons of them are my friends."
"When I went to Toronto that's when I started writing my own songs. That's when I started to network and figured out 'Oh, I also have something to say…I have a voice.' That's Tess' journey."
Advertisement - story continues below
"I am so in love with these types of stories, the marriage of the two (music and theatre), because they tell an important story instrumentally as well as lyrically. It is really beautiful to marry the two. I've always wanted to be in a show where I get to play as well as sing."
Also in the mix is Geoff Hewitson, who started performing with The Continentals in 1962 and has been singing, writing and acting ever since, this marking his fifth summer appearance with 4th Line. In Bloom, Hewitson is multitasking, playing the role of a CHUM Radio DJ as well as portraying legendary Peterborough band leader and music promoter extraordinaire Del Crary.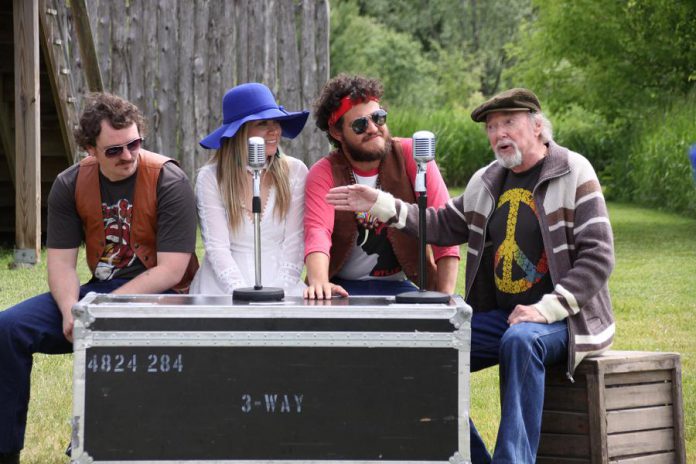 "This (Bloom) is long overdue," says Hewitson.
"It's very realistic and believable because their (The Spruce Street Ramblers) story relates the types of things that happened to bands in the 1960s; the conflicts and all that that we went through. Plus the music is fantastic."
"There are people in this play that I knew. There are places mentioned in this play that I went to. There are events in this play that I attended. I think a lot of people, especially of my generation, are going to have flashbacks just like I've been having."
Advertisement - story continues below
Dixon agrees the nostalgic value of Bloom can't be understated.
"What I hope stays with audiences is it reignites their love of music. Music is a language know to everyone. It's a common language. It's a common pulse. It's the soundtrack of our lives."
"I can't stress enough how important this project has been for me; how passionate I feel about it; how good I feel about it. We're in a good place. Kim and I are on the same page. All the beats and all the thoughts and all the themes that I wanted inserted are prevalent. Whether people like it or not, I can walk away knowing I followed my dream."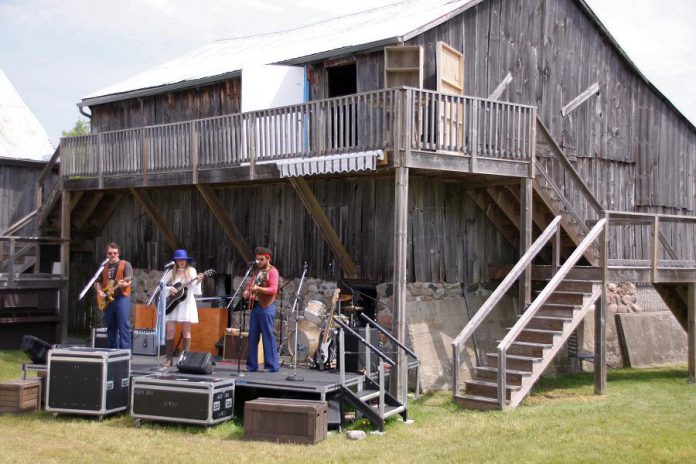 Technically, Blackwell terms Bloom "the biggest show I've directed here," adding, "What we have in the middle of it is a concert — a rock 'n' roll concert in the middle of a play. There are amps and monitors and guitars and sound equipment and sound boards and mixers … all while trying to do a play. The learning curve around what is required to give that rock 'n' roll sound has been a real education."
Advertisement - story continues below
"I hope people take away an understanding of the extraordinary artistry and enriched musical history of this area," adds Blackwell.
"It is a testament to whatever is in the water in Peterborough that so many artists, over half a century now, have chosen to make their homes and their lives in Peterborough. I hope this play will celebrate them."
Last but not least, Bloom also stars Griffin Clark and Owen Stahn who portray the two best friends with a musical dream. Both perform in real life as members of the Toronto-based band The Silvers which they co-founded.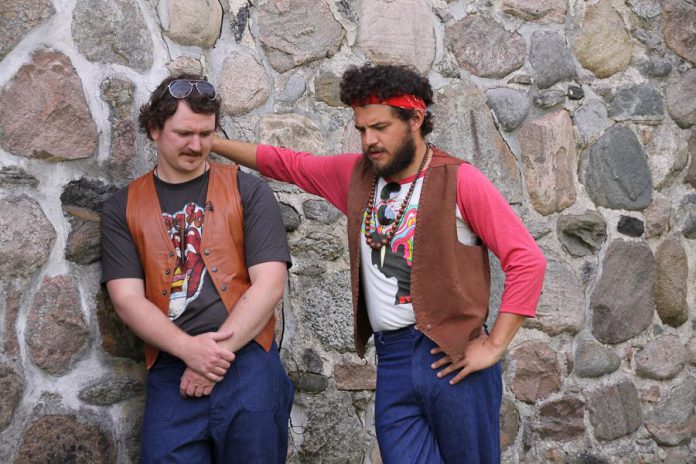 With original songs written by Dixon and Dave Tough, arrangements by Dixon, musical direction by Justin Hiscox, costume design by Meredith Hubbard, set design by Esther Vincent, fight direction by Edward Belanger, and choreography by Monica Dottor, Bloom: A Rock 'n' Roll Fable runs Tuesdays to Saturdays from July 2nd to July 27th, with curtain at 6 p.m.
Sold-out preview performances take place on July 2nd and 3rd, with opening night on Thursday, July 4th. There will be an additional performance on Monday, July 22, also at 6 p.m.
Advance tickets can be purchased by phone at 705-932-4445, online at www.4thlinetheatre.ca, at 4th Line Theatre's box office in Millbrook at 4 Tupper Street and in Peterborough at the Peterborough Museum and Archives at 300 Hunter Street East (atop Armour Hill). Tickets can also be purchased from 4 to 6 p.m. on performance nights at the Winslow Farm (779 Zion Line, Millbrook) but are subject to availability.
Bloom: A Rock 'n' Roll Fable is the first of two productions to be staged by 4th Line Theatre this summer. Carmel, written by Robert Winslow and Ian McLachlan, will be staged from August 6th to 31st. Watch kawarthaNOW.com for more details of that play as its premiere draws nearer.