"Today, there are two brand new bike riders in the city of Peterborough," announces Jaime Akiyama, co-ordinator of the Pedal Power program. She has just returned from St. Catherine Catholic Elementary School, where she was helping new riders find their balance on two wheels.
At schools across Peterborough, more than 200 Grade 5 students are taking part in Pedal Power this spring. Pedal Power is a five-session course that provides each student with over six hours of on-bike instruction in their schoolyard. In these sessions, students gain the skills and knowledge needed to navigate their community by bike — with an emphasis on becoming safer and more confident riders.
Though most students in Pedal Power have been riding for a few years, their comfort levels vary, and a few in each class are often hopping on a bike for the first time. For these students, there are big gains, but the program also allows instructors to meet all students where they are at; by the end of the course, 100 per cent of students show improvement in bike handling skills and knowledge.
Advertisement - story continues below
"Students always want us to teach them tricks, but Pedal Power is more than just developing bike handling skills," Akiyama says. "It also opens doors for students to have options as they grow up and start to become independent travellers, which builds a base of knowledge and skill that will help them be safe, confident commuters."
A 2015 survey of Pedal Power participants showed that local Grade 5 students report they have been riding a bike for five or more years, with nearly 60 per cent reporting they ride weekly. However, fewer than 12 per cent say they have ever received any formal cycling safety training.
This isn't surprising. Before Pedal Power, formal bike training opportunities for youth in Peterborough were less immersive and accessible.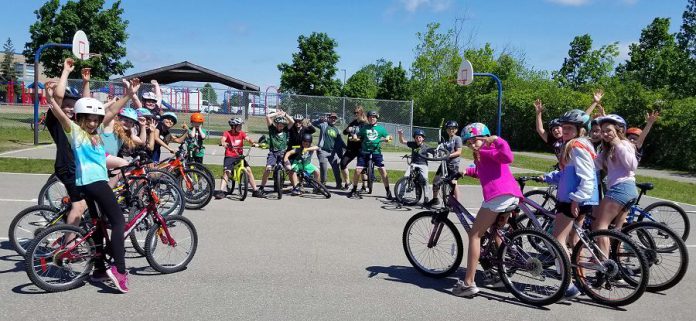 Pedal Power was developed in 2013 by GreenUP and B!KE: The Peterborough Community Cycling Hub and is one of the first in-school cycling education programs offered in Ontario. Being school-based, Pedal Power has the potential to reach all youth in our community, and its multiday format allows students to practice skills in a safe and familiar environment.
It is a unique, comprehensive training program that has been refined through its six years of delivery by dedicated and enthusiastic cycling instructors. In the program, students are able to practice new skills in a positive and safe environment created in their schoolyard. For many, this is also a chance to learn that biking to school and biking for transportation around the city is a viable option.
Advertisement - story continues below
We believe these experiences not only contribute to building a culture of cycling in our youth, but also help to normalize cycling so that it can be easily built into daily family routines.
Evidence from the United Kingdom, where school-based cycling education is more prevalent, suggests that cycling education for youth leads to increased cycling for the whole family.
We often hear the same from parents of Pedal Power students.
"My daughter and her friend needed to get their bikes to school for Pedal Power," remarks a parent from St. Anne Catholic Elementary School. "So we planned out the trip, practised, and started riding the girls to school on Pedal Power days. Now, we regularly ride to school together."
Another proud Pedal Power parent relayed that their daughter's involvement and interest in the program led to the whole family renting bikes while on a trip to Ottawa. Furthermore, when they returned home, they took their bikes out from storage, tuned them up, and now the family regularly gets out to enjoy Peterborough's trails together.
Until now, Pedal Power has only reached about one quarter of Grade 5 students in Peterborough each year. Greenup and B!KE share the same dream of one day being able to provide all Grade 5 students in the city and county of Peterborough with Pedal Power training.
Wouldn't you like to see how a generation of safe, confident, and inspired cyclists would transform our community?
Advertisement - story continues below
"For the last six years, B!KE has partnered with GreenUP to deliver Pedal Power," explains B!KE executive director Tegan Moss. "Because we know that educating the next generation is an essential part of building a culture that chooses to use bicycles for transportation."
"Inspiring young people to love bicycles, while teaching them the skills they need to ride a bike, is a part of our vision to empower people to travel by bike. B!KE is proud of the thousands of students who have completed the Pedal Power program and grateful to GreenUP for the leading role they have played in program delivery."
Pedal Power is supported this year through the generosity of the City of Peterborough, Canadian Tire Jumpstart Charities, Wild Rock Outfitters, Fontaine Source for Sports, and the Peterborough Risk Watch Network.
If you'd like to learn more about the future of Pedal Power, please contact Jaime Akiyama, GreenUP's co-ordinator of transportation and urban design programs, at 705-745-3238 or jaime.akiyama@greenup.on.ca.