In the aftermath of this week's City Hall announcement of who will sit on the panel at a July 11th community forum on the ongoing opioid overdose crisis in Peterborough, it was who wasn't on that list that drew the most response.
Co-hosted by Peterborough Mayor Diane Therrien and Selwyn Deputy Mayor Sherry Senis, panel members announced for the 6 p.m. forum at Market Hall are Peterborough Medical Officer of Health Dr. Rosana Salvaterra, Peterborough Deputy Police Chief Tim Farquharson, Peterborough county-city paramedic Dan Farrow, and residents Alex Bierk and Sally Carson, both of whom have suffered personal loss as a result of opioid overdoses.
The forum comes during a year that has seen, at last count, 19 deaths in the city resulting from opioid overdoses — more than the total for all of 2018. Over the course of just one weekend in early June, there were 13 opioid-related overdoses with two of those overdoses resulting in death.
Immediately following the announcement of the panel, the omission of a Peterborough woman who for years has been on the front lines of drug overdose, treatment, and counselling — locally and across Canada — drew criticism on social media. As well, Mayor Therrien's office received several emails and phone calls.
"In capital letters, I'm not surprised but I am disappointed," says Peggy Shaughnessy, the owner of Peterborough-based Whitepath Consulting and Counselling Services whose Redpath program addresses the underlying issues around drug addiction.
"Supposedly the whole point of this summit is to try to find solutions. If you look at the people chosen to sit on the panel, they're the same people the Selwyn deputy mayor had on two separate committees. If those people were able to find solutions, they wouldn't need a summit now. They continue to bring the same things to the table that haven't worked for 20 years."
"I've walked the walk. I've developed programs by collecting stories from across the country by working with not just elders and First Nations communities but psychologists and corrections officials. I think I may have a piece of the solution. I'm not saying I have the solution, but I do have a piece of the puzzle no else has."
Advertisement - story continues below
On Thursday morning (June 20), Mayor Therrien confirmed that Shaughnessy has now been invited, by an email sent to her Wednesday afternoon, to be on the panel.
"There has been some confusion around this," Mayor Therrien tells kawarthaNOW. "I apologized to Peggy for that confusion."
"I know there was some concern from what came out in the press release — that there wasn't enough representation of frontline harm reduction workers — so we've reached out to a few people. Peggy is certainly included. I haven't heard back from her yet but I'm hoping to follow up today (June 20)."
The Mayor's email, which Shaughnessy has shared with kawarthaNOW, also invites Shaughnessy to attend a logistics meeting next week with PARN executive director Kim Dolan, who will be moderating the July 11th panel. Along with Shaughnessy and Deputy Police Chief Farquharson, Dolan was one of the panel members at a June 12th public meeting on the opioid crisis hosted by Ashburnham Ward councillors Keith Riel and Gary Baldwin.
With the Mayor's apology and invitation now in hand, Shaughnessy says she is considering the offer to participate on the July 11th panel. While she remains disappointed with the late invitation, she says she wants to focus on the "best result to heal the community".
"I'm so overwhelmed by the phone calls and emails that I'm getting from people wondering what they're supposed to do with their children," she points out. "I just came from a house where I was doing an intervention to keep people alive."
"I have eight grandchildren. I'm not going to bury a grandchild. I'm just starting a movement that this city has never seen before and they better step aside. I'm pulling together every advocate that everyone hates into one big group. They'll be at that July 11 meeting. This meeting better not be something where (Peterborough MP) Maryam Monsef comes out of the blue with a cheque for a consumption site. We may need a consumption site, but we need way more than that."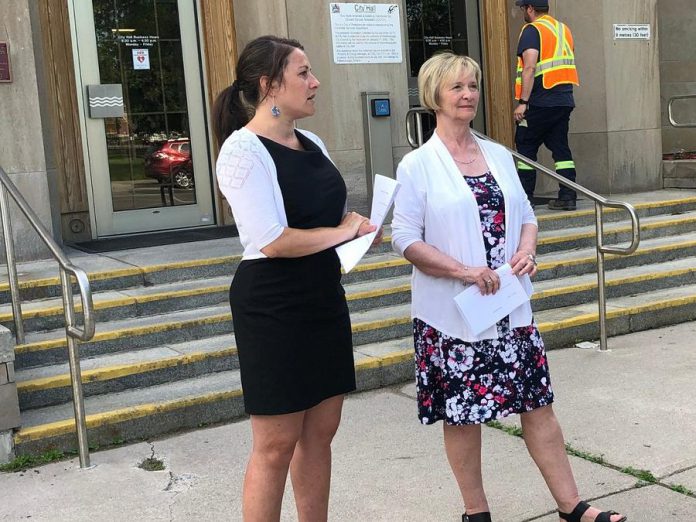 One person who has invited Shaughnessy's input from the get-go is Peterborough-Kawartha MPP Dave Smith. He reached out this week to a number of organizations, Whitepath among them, with the intent of forming a working committee that will lead to the establishment of a consumption and treatment centre in the city.
"Doug Ford is probably the least-liked premier we've ever had but I think Dave Smith still has a conscience … he knows people here are dying," says Shaughnessy.
"I think his government believes if you're going to have a consumption site, you better have a treatment section. I have to agree with that. I think we need a whole group of services to come together and start working together rather than building empires."
Advertisement - story continues below
While he wasn't part of the panel, MPP Smith's attendance and input at the June 12th public meeting on the opioid crisis impressed and encouraged Shaughnessy.
"When he stood up and said he's going to try to do something, I don't think he would have done that if he didn't meant it. I met with him for probably two hours yesterday (June 18). I've been meeting many people trying to pull together not just advocacy groups but business people too. We have several people and a lot of things going on in the background. There are no services here for people to go to."
Shaughnessy is also impressed with Deputy Police Chief Farquharson, who was one of her co-panellists at the June 12th gathering.
"He cares about our community more than anybody; our city is so lucky to have him," says Shaughnessy.
The delay in the invitation for Shaughnessy's participation on the July 11th panel aside, both her and Mayor Therrien are in agreement about one thing: the time for more action and less talking around solutions to curbing the opioid crisis is now.
"You can call it an epidemic, you can call it whatever you want, but throw the semantics out the window … let's get to the table and say 'Holy shit, we better act at midnight tonight," urges Shaughnessy.
"This isn't about just getting a handle on the social problems we're faced with today. We've got to create a whole new system; a system that isn't always relying on government for solutions. They (politicians) have to be reminded that we have experts in our city that can solve this problem."
Advertisement - story continues below
For her part, Mayor Therrien agrees that Peterborough needs a treatment solution.
"People are dying and we need to be getting stuff done now," she says. "I'm hoping out of the summit that we get some concrete solutions and some concrete commitments from senior levels of government to step up and help fund, ideally, a comprehensive detox centre, but also raise awareness and break down stigmas."
"People have a stereotype of people with substance abuse. I know people who have lost children. They are your neighbours. They are your co-workers. A lot of the time it's because they didn't know where to go, and there was a stigma around admitting they have an opioid or substance abuse issue. We have to get past that."
Doors to the Thursday, July 11th forum at Market Hall Performing Arts Centre open at 6 p.m., with the panel discussion beginning at 6:30 p.m. Those interested in attending are encouraged to register in advance as there is limited seating available. Register online through Eventbrite at www.eventbrite.ca/e/opioid-summit-tickets-63434450148.