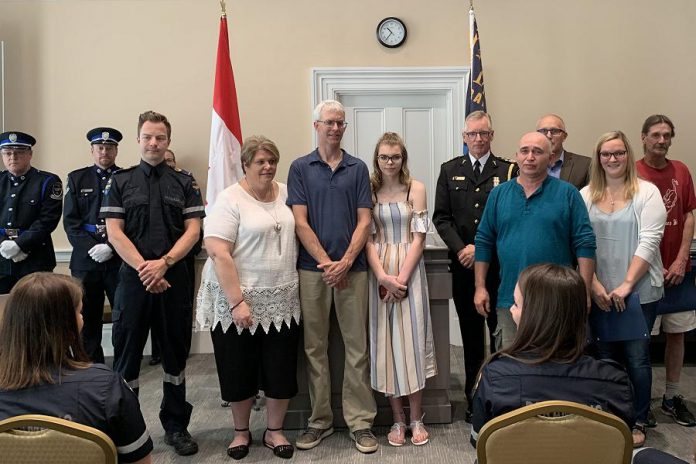 Eight residents of Kawartha Lakes were honoured by Kawartha Lakes Paramedic Service at City Hall in Lindsay on Friday (June 21) for their efforts to help an elderly man who collapsed in Cambray in May and for assisting the two paramedics who responded to the 9-1-1 call.
Good Samaritans Colleen Brandse, Kevin Bell, Shane Troyan, Heather Lively, Patricia Bell, Jack Faulkner, Lynne Johnston, and Mary Dowzer-Verbruggen were all given a certificate of appreciation for their help during the medical emergency.
When paramedics Bruce Mackay and Francine Scott arrived on the scene in Cambray in May, they found a crowd of residents, some of whom had already started CPR on the elderly man.
While Mackay and Scott set up a defibrillator, the residents continued CPR while being instructed by the two paramedics. Other residents located the man's identification to call his family, directed traffic, and otherwise assisted the paramedics.
"These individuals gave this man a fighting chance, and they did so with compassion, solidarity and skill," Mackay said during the Kawartha Lakes Paramedic Service graduation ceremony where the Good Samaritans were recognized. "Today we celebrate humanity, resilience, teamwork and strangers who came together to help a member of their community."
"I've been a paramedic for more than 20 years and have had many encounters with bystanders," Scott added. "But this was an incredible moment that stood out above all. Thank you to these individuals for their heartfelt kindness."
While the paramedics at the scene were able to restore the elderly man's pulse, he passed away at Ross Memorial Hospital in Lindsay a few days later.
However, thanks to the efforts of the residents and the paramedics, the man's family members — who were also in attendance during the recognition ceremony — were able to connect with him and he passed away pain-free and with dignity.
"Bystander CPR can more than double a person's chance of survival," said paramedic superintendent Autumn Campbell. "If bystander CPR is not provided, chances of survival can fall as much as 10 per cent for every minute it is not administered."
The identities of the Good Samaritans were initially not known. However, the City of Kawartha Lakes issued an appeal to the community through a media release and on social media and the eight residents were identified.