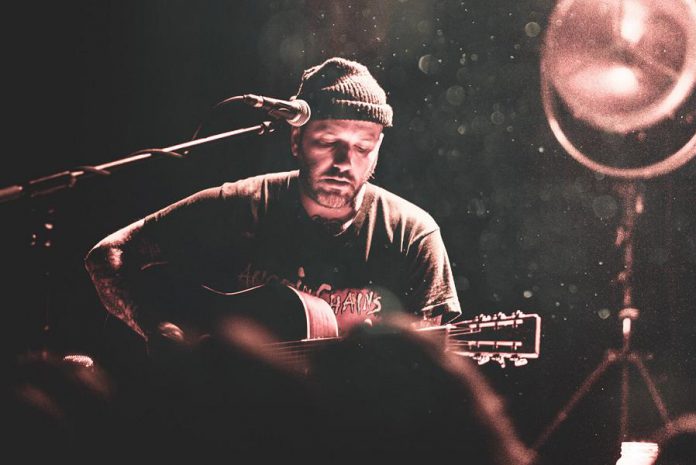 For all the 600-plus music genre-ranging acts that Peterborough Musicfest has brought to Del Crary Park since July 1987, opening the annual sponsor-supported summer concert series with a "big name" artist has been a constant.
Last year saw 1980s hit making pop-rock band Starship get things underway, preceded in 2017 by perennial Canadian rocker Kim Mitchell and, in 2016, by six-time Juno Award winner Serena Ryder.
So, when the 2019 concert lineup was revealed in May, anticipation was high over who would take to the Fred Anderson Stage for the festival's 2019 opening concert.
True to form, Musicfest stayed with its "go big or go home" approach for its kick-off presentation, announcing to much fanfare that Canadian chart-topping acoustic alt-rock sensation City and Colour (a.k.a. Dallas Green) will headline the Saturday, June 29th series opener.
Advertisement - story continues below
With three Juno Awards culled from 10 nominations, City and Colour is one of the biggest groundswell stories to emerge from the Canadian music wilderness; a tour de force that saw its first four albums — Sometimes (2005), Bring Me Your Love (2008), Little Hell (2011) and The Hurry and The Harm (2013) — certified platinum for at least one million units sold.
VIDEO: "Strangers" – City and Colour (new single)

VIDEO: "Astronaut" – City and Colour

The fifth studio album, 2015's If I Should Go Before You, debuted at #1 on the Top 200 Soundscan chart — City and Colour's third consecutive chart topper in Canada.
When City and Colour opens Peterborough Musicfest's 33rd season, it will be just a week after the release of his latest single, "Strangers", and less than a month since the debut of "Astronaut" (see videos above).
Both singles are from his upcoming album to be released in the fall, the second on Green's new label Still Records.
In 2018, he released of Guide Me Back Home, an intimate live collection of songs recorded during a 2017 Canadian tour, on Still Records.
"I see Still Records as a way to draw attention to projects that are important to me," says Green in an October 2018 interview with Adam Wallis of Global News.
"Dine Alone (Green's label since 2005) was started to put out my first album. It has been very successful and grown into something really special since then. Still Records is an extension on those ideals and a place where I'm able to curate a collection of things that I think deserve to be heard and enjoyed."
Advertisement - story continues below
Being "heard and enjoyed" isn't new for Green. Playing piano at age eight and writing his own songs by age 14, the St. Catharines native was a sponge very eager to listen and learn, as he recalled in a December 2018 interview with Debbie Carr.
"I was lucky enough to see Neil Young, with Pearl Jam and Soundgarden opening, when I was really young," says Green, referring to an August 1993 concert at the CNE in Toronto.
VIDEO: "The Lonely Life" – City and Colour

VIDEO: "Thirst" – City and Colour

"My friend's father took us. I was a grunge kid and didn't really know much about Neil Young — I just knew that these guys that I loved worshipped him — but I was 12, 13 years old and hadn't really discovered it yet. [I remember] really just going like 'Wow.' That stuck with me."
Come 2001, Green was enjoying success as a member of Alexisonfire, a post-hardcore quintet that enjoyed considerable success with the release of four studio albums — the debut album achieved gold status in Canada — augmented by a Juno Award in 2005 for New Group of the Year.
By the time Alexisonfire disbanded in 2011, Green had been releasing songs on the Internet as City and Colour for six years. According to Green, that "organic approach" to making and releasing music was appealing to him as an independent artist.
Advertisement - story continues below
"I've always loved that it seems to be more about the music than anything else, and it always seems to be the songs that find people, not the big machine shoving it in people's faces."
City and Colour struck a chord with the masses and earned critical acclaim from the get-go, evidenced by debut album Sometimes winning a 2007 Juno Award for Alternative Album of the Year as well as bringing Green the Songwriter of the Year statue — a win he would repeat at the 2009 Juno Awards.
Now, with Guide Me Back Home more than holding its own and live shows continuing to draw great reviews — City and Colour opened for Alice In Chains' Canadian tour just this past April — Green admits he's taken aback by all the fuss.
VIDEO: "Fragile Bird" – City and Colour

VIDEO: "Sleeping" – City and Colour

"I'm still pretty surprised by the whole thing, even this many years later," he tells Debbie Carr.
"I've always just wanted to make music and hope that someone, somewhere, relates to it. The fact I've been able to continue doing that has always been my measure of success."
With the spontaneity that a live album generally brings to the table, Take Me Back Home, says Green, is the right album at the right time.
Advertisement - story continues below
"My songs are a pretty open book. It's not like I'm hiding behind a lot, so I think the openness on stage is just an extension of that. If these people are comfortable enough with me to listen to these songs about whatever they might be about, they've already found out what I'm about."
"Plus I have to kind of take the edge off. I'm usually singing about death or something like that, so part of me just wants to crack the joke to lighten the mood maybe."
Peterborough Musicfest is presenting 16 free-admission, sponsor-supported concerts featuring a total of 21 acts during its 33rd season — each concert staged on Wednesday and Saturday nights at Del Crary Park.
VIDEO: "Comin' Home" – City and Colour

Overseen by general manager Tracey Randall and staff, a board of directors, and numerous volunteers, Peterborough Musicfest's stated mission is to "provide diverse, affordable live music to enrich cultural and economic prosperity in our community."
For more information on this concert or the entire 2019 season, visit www.ptbomusicfest.ca or phone the Peterborough Musicfest office at 705-755-1111.