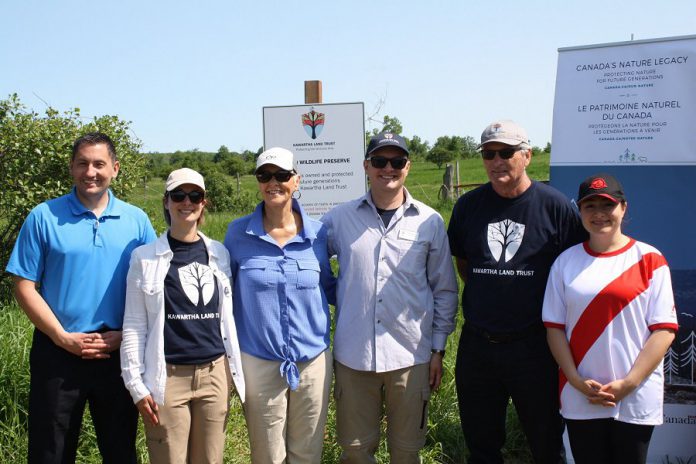 On Saturday morning (June 22), Kawartha Land Trust (KLT) officially opened the Cation Wildlife Preserve near Coboconk to the public — and received $215,000 in funding from the federal government to support its work in protecting the preserve.
Peterborough-Kawartha MP Maryam Monsef, who attended the grand opening celebration along with Haliburton-Kawartha Lakes-Brock MP Jamie Schmale, made the funding announcement on behalf of Minister of Environment and Climate Change Catherine McKenna.
"The protection of the Cation Wildlife Preserve is part of our government's plan to double the amount of nature protected in our lands and oceans," Monsef said.
The funding comes from the federal government's Canada Nature Fund, a $500-million investment to support the protection and conservation of Canada's ecosystems, landscapes, and biodiversity, including species at risk. Federal contributions are matched by philanthropic foundations, corporations, not-for-profits, provinces, territories, and other partners, raising up to $1 billion for conservation initiatives.
Advertisement - story continues below
The 669-acre Cation Wildlife Preserve is located on French Settlement Road north of Indian Point Provincial Park on Balsam Lake, around 45 kilometres north of Lindsay. The property wsa donated to KLT by David and Sharon Cation, who wanted to ensure the property remains protected in perpetuity.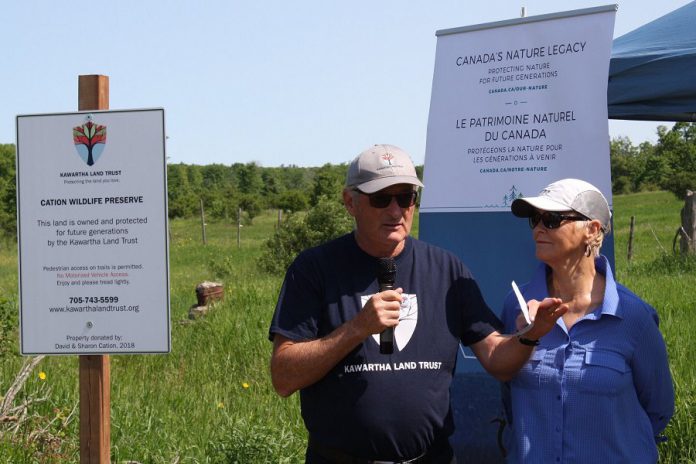 The preserve includes marked trails for passive recreational use by the public, including hiking, snowshoeing, and cross-country skiing. The official opening included guided walks of the trails on the property.
"We are grateful for the federal government's contribution to support the protection of the Cation Wildlife Preserve," said KLT development manager Tara King. "And also Environment and Climate Change Canada's Ecological Gift program that provides tax incentives to land owners to protect private lands in perpetuity."
King went on to describe some of the features of the protected property.
Advertisement - story continues below
"This landscape is vibrant and so full of life. A trail system passes through the grasslands and meadows that are filled with different butterflies and moths. The air is filled with the songs of different grassland bird species including eastern towhees, American goldfinches, and field sparrows that are foraging through the shrubs and trees."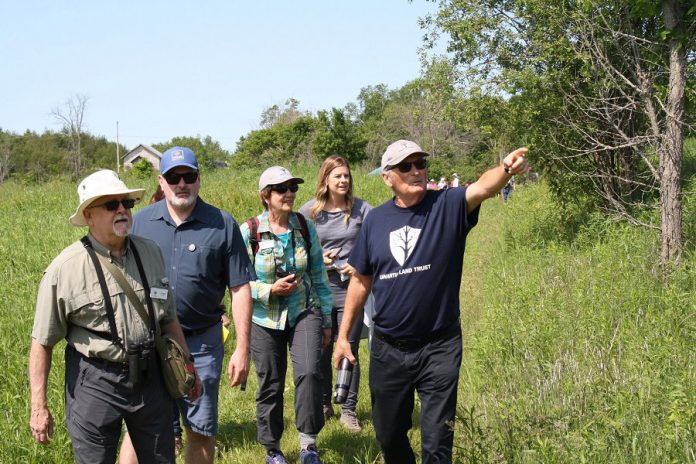 The Cation Wildlife Preserve is in a natural conservation corridor that sits right in the middle of several important protected areas, including Balsam Lake, Indian Point, and Queen Elizabeth Wildlands Provincial Parks, as well as the Altberg Wildlife Sanctuary Nature Reserve and the Carl Sedore Wildlife Management Area.
KLT currently protects 17 properties totalling 4,101 acres, and assists in the management of five additional properties.
"Canadians like the leaders at Kawartha Land Trust asked our government to introduce a program to incentivize more conservation," Monsef said. "We listened. Working together, we will ensure the wealth of our region is protected for our kids and grandkids."