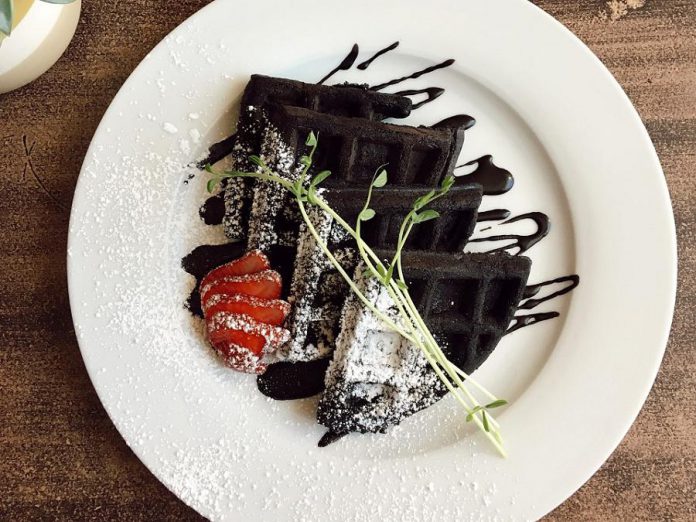 This month, food writer Eva Fisher checks in at the soon-to-be-open vegan restaurant Revelstoke in downtown Peterborough, tries the eight-layer lasagna at Taso's Restaurant and Pizzeria, stops in for Scottish tea at Hutchison House, and picks up locally sourced groceries at The Food Shop.
Advertisement - story continues below
New vegan restaurant Revelstoke to open soon in downtown Peterborough
Tasha and Conner Clarkin of Electric City Vegan will open their new vegan restaurant Revelstoke (641 George St. N., Peterborough) later this month.
Conner says that Revelstoke will offer a more upscale vegan dining experience.
"We're planning to open a plant-based restaurant that's more refined. A little more on the finer side with our plating and the setting."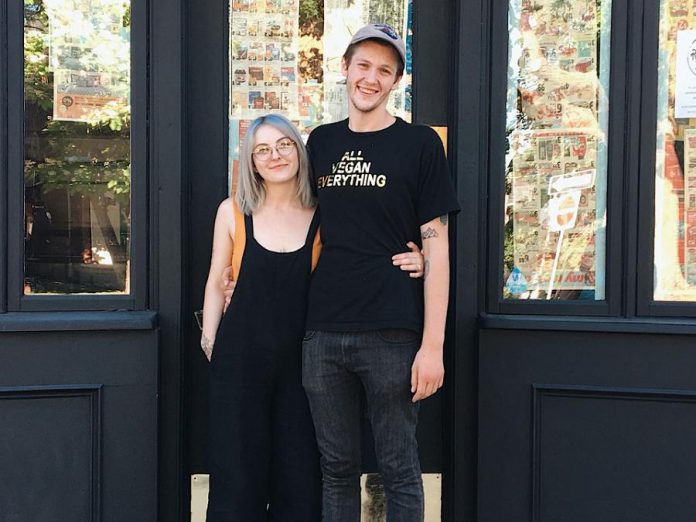 Revelstoke will serve brunch, lunch, and dinner.
Tasha and Conner have served regular pop-up Sunday brunches at Dreams of Beans in downtown Peterborough under the flag of Electric City Vegan. Many of those dishes will also be served at the new restaurant, including their popular banana bread french toast and the big breakfast: tofu scramble, local sourdough bread, potato hash, and house-made fake bacon.
Conner notes that imitation meat will not be a major focus at Revelstoke.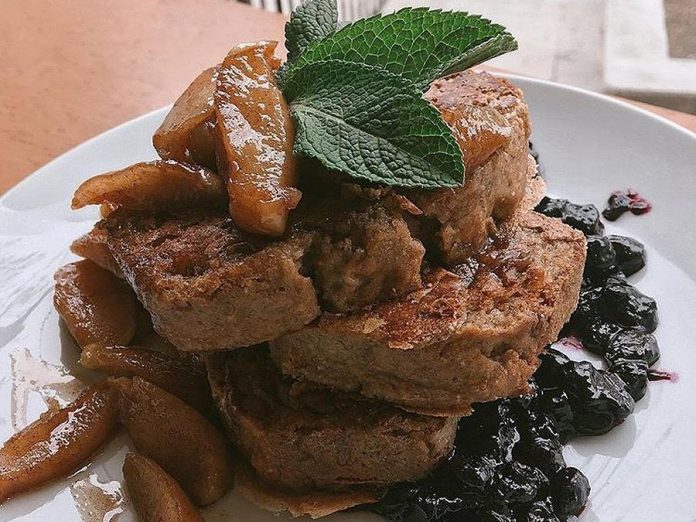 "With a lot of imitation meats comes a lot of processed foods," he says. "We are firm believers in cooking with just plants and vegetables."
The lunch and dinner menus are still being developed and tested, but watch for their spicy peanut and coconut zucchini noodles.
The space has been overhauled from the french bistro style of its previous tenant, Amuse, to a more rustic vibe.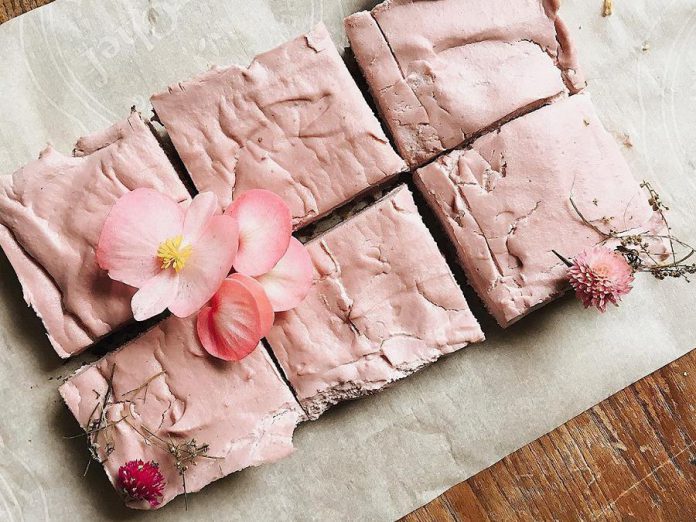 "When I go in there I feel like I'm in a little cabin," Conner explains.
He adds that much of the furniture has been reused and repurposed, which fits in well with the restaurant's eco-friendly mandate.
Advertisement - story continues below
Taso's Restaurant and Pizzeria now open on George Street
Taso Hatzianastasiou may only be 30 years old, but he's already making waves in the local culinary scene.
He recently opened his second restaurant, Taso's Restaurant and Pizzeria (287 George St. N., Peterborough, 705-775-3000). He also owns Pizza Amore (29 King St. E. B., Colborne, 905-355-3000) in Colborne.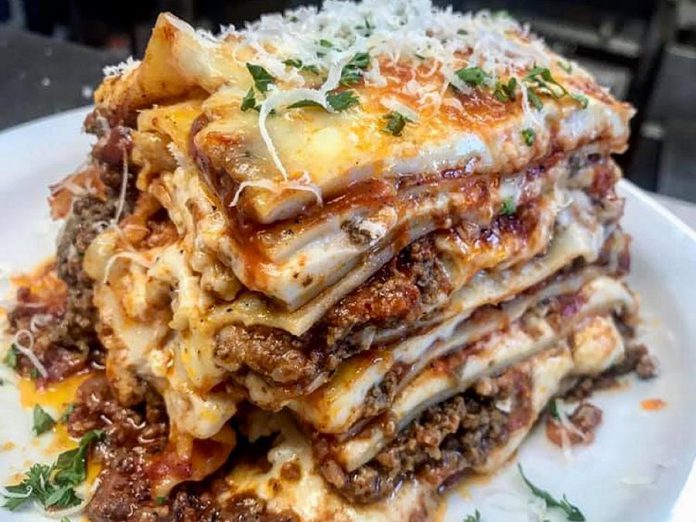 Taso moved from Greece when he was 18, during the economic crash. His three uncles lived in Canada, and when he came here he worked for them at their restaurants, Pizza Villa (846 Ward St., Bridgenorth, 705-292-5050) and The Pizza Factory (1000 Lansdowne St. W., Peterborough, 705-745-5500).
Working with his uncles taught him a lot about the restaurant industry.
"It's pretty much hard work, that's what it comes down to," Taso says. "They all still put in almost 100 hours a week."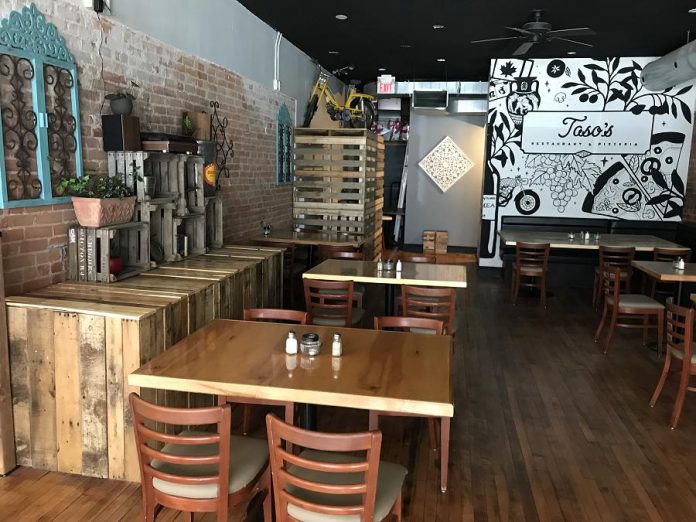 Still, he was hooked. At 27 he opened his first restaurant.
"It's been great. I love this job to be honest with you."
He hopes to live up to his uncles' high standard with his own restaurants.
"They're my role models. I want to carry on their great reputation as business owners."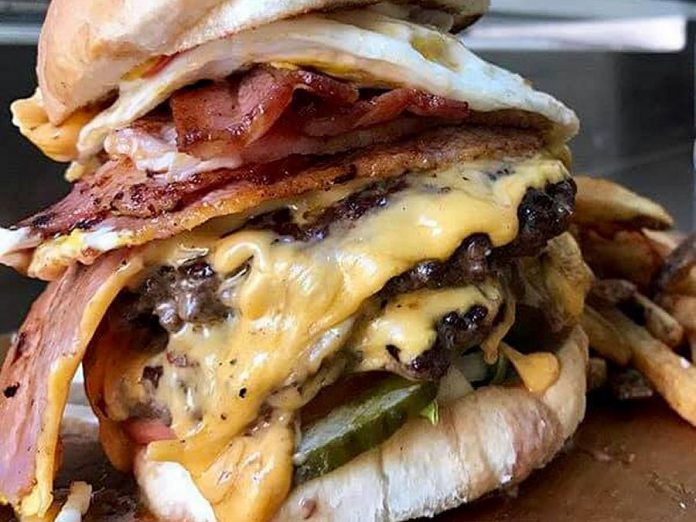 Taso's Restaurant and Pizzeria opened quietly on Saturday, June 29th. They serve pizza, burgers, veal and chicken parmesan, gyros, pasta, and pizzas. The menu continues to evolve, with more dishes being added as the restaurant grows.
The gyro has been an instant hit, as have the veal and chicken parmesan. Taso's eight-layer lasagna sold out hours after a photo was posted on social media. Taso attributes his success to the quality of his dishes.
"I've taken a totally different approach to the food industry and I'm making everything from scratch again, which not many places do any more."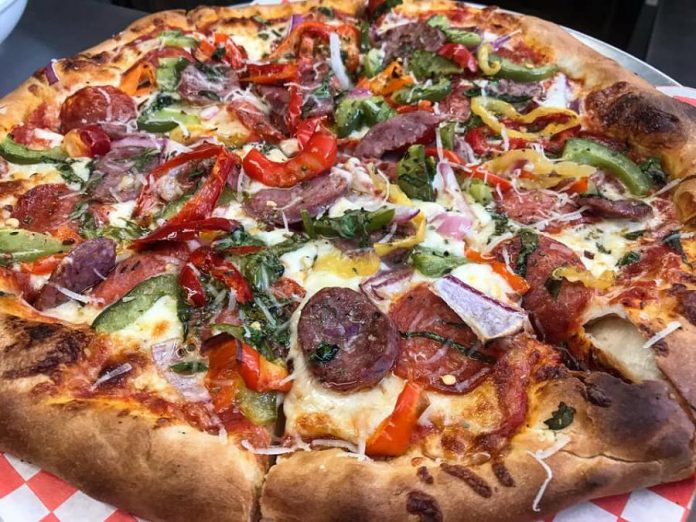 The space has been completely revamped with exposed brick and light hardwood floors. Taso even made his own custom maple tables and hired an artist to paint murals. From the menu to the décor to the name, there's no question: it's purely Taso's.
"It's like a part of me, the whole place," he reflects.
Taso's is open from 11 a.m. to 10 p..m. Tuesday to Thursday, 11 a.m. to 11 p.m. on Friday and Saturday, and 12 p.m. to 10 p.m. on Sunday. To keep up to date on the menu, visit Taso's on Facebook.
Advertisement - story continues below
Hutchison House Teas offer a taste of Victorian life
Feeling a bit peckish? Hutchison House (270 Brock St., Peterborough, 705-743-9710) offers Scottish Tea service from 1 to 4 p.m. every day except Monday during the summer.
The tea includes two scones made fresh that morning, whipped cream or butter, a choice of homemade jam, and thin oat cookies. To drink you can enjoy tea, lemonade and iced tea.
The cost is $10 for adults or $5 for children.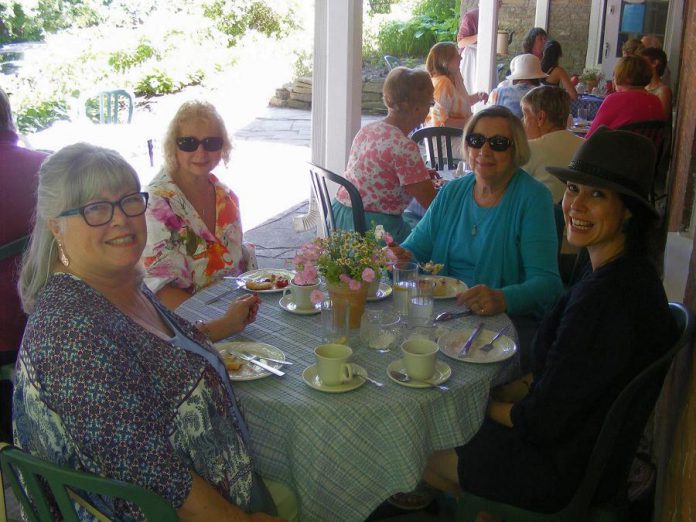 Tea is enjoyed on the terrace or, if it's too hot or too rainy, in the historic keeping room. Tea service includes a tour of Hutchison House with a costumed interpreter.
According to museum assistant Erin Panepinto, one can feel transported to a different place and time while sipping tea at Hutchison House.
"It's hard to tell when you're sitting on our terrace that you're only a block or so away from downtown Peterborough."
Afternoon tea was the height of style when Hutchison House was first built, back in the 1840s.
"Afternoon tea was made popular by Queen Victoria," Erin explains. "It was one of her lady's maids who came up with it: if you get a bit peckish in the afternoon, have a big cup of tea and a piece of cake."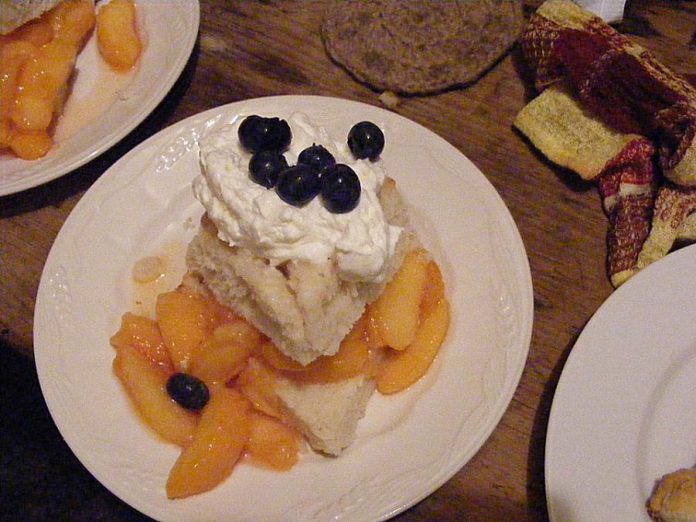 In addition to their regular Scottish Teas, Hutchison House offers annual Peach Teas, which include fresh sliced peaches and blueberries. This year the Peach Tea will take place on Thursday, August 15th. The cost is $12 for adults and $8 for children if booked in advance, or $14 and $10 at the door.
Peach Teas are popular, so Erin recommends booking in advance.
"I think we've had over 200 people that come for the Peach Tea. We encourage people to book tickets ahead so we know how many scones to bake."
For more information on Hutchison House, visit www.hutchisonhouse.ca.
Advertisement - story continues below
The Food Shop makes it easier to eat locally every day
The Food Shop (372 Water St., Peterborough, 705-775-7467) opened on June 10th in downtown Peterborough.
The new shop, owned by Anthony and Sam Lennan, currently stocks produce and meat from nine different farms, sourcing from a total of 30 different producers, and Anthony plans to increase that number.
"I'm still growing," he notes.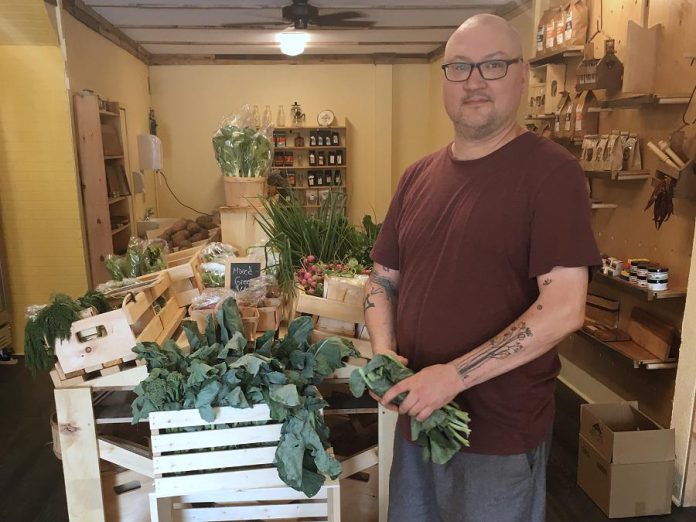 Anthony says that people are thrilled to see so many local options in one store.
"The reception has been really positive. Most people coming in are really happy that I'm here."
He says that every day he sees a lot of new faces.
"I love the energy. You get all kinds of different people coming through the door, and I love being part of the downtown."
As a chef, he often advises his customers on how to prepare the foods that he sells, and that in the short time it's been open the shop is already building a community of repeat customers.
Still, he has lots of plans for the shop that he is looking forward to fulfilling.
"I'm still in the baby part of all of this."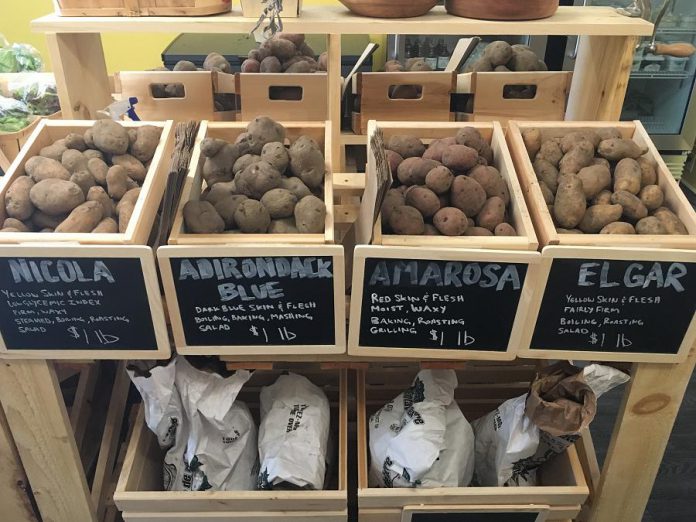 The Food Shop is open seven days a week, from 9:30 a.m. to 6 p.m. on Monday, Tuesday, Thursday, and Friday, from 1 to 6 p.m. on Wednesday and Saturday, and from 12 to 5 p.m. on Sunday.
For more information, visit The Food Shop on Facebook.