On the heels of the closure of the Warming Room in Peterborough, the federal government has announced a commitment of $5.2 million in funding for the new Brock Mission men's shelter in Peterborough.
Peterborough-Kawartha MP Maryam Monsef made the announcement earlier today (July 11) at Peterborough City Hall, on behalf of Jean-Yves Duclos, Minister of Families, Children and Social Development and Minister responsible for Canada Mortgage and Housing Corporation (CMHC).
"I'm happy to announce that the Brock Mission is receiving a significant boost to build 30 new shelter beds and 15 new affordable housing units for homeless and at-risk men," Monsef says.
Brock Mission is a non-profit organization formed in 1987 to provide shelter for homeless adult males. A second site, Cameron House, was added in 1996 to provide short-term emergency shelter for homeless women.
The initial structure for the Brock Mission was demolished in 2017 to redevelop the shelter into an expanded three-storey facility that would allow for accessibility and energy-efficiency features among other improvements. The total cost for the redevelopment budget is around $9 million, with construction costs pegged at $6.3 million.
Advertisement - story continues below
"I am happy to see this investment in emergency shelter for Peterborough," says Peterborough mayor Diane Therrien. "We are facing a serious housing crisis and all levels of government must come together to make change. This is an important step in the right direction."
Brock Mission had applied earlier to the federal government for the $5.2 million in funding, and was waiting for approval before proceeding with construction. The funding comes from the federal government's $13.2 billion National Housing Co-Investment Fund.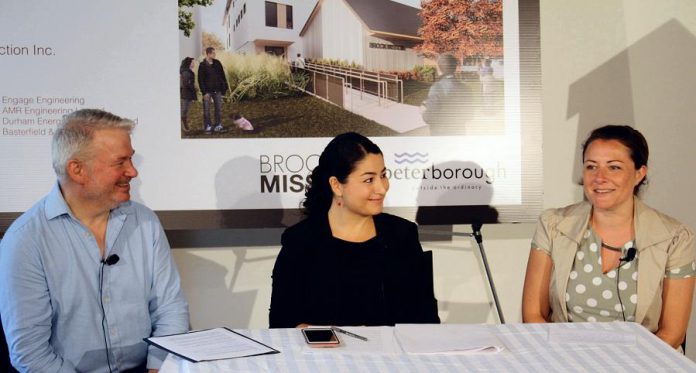 "As a small grassroots charity faced with a big need, the support through the National Housing Co-Investment Fund has made a seemingly impossible task possible," says Brock Mission executive director Bill McNabb.
"We are so excited and grateful to be able to move forward with a purpose-built facility which includes shelter and supportive housing for some of our most vulnerable homeless citizens , made possible because of the support from CMHC."
Lett Architects Inc. of Peterborough has designed the redeveloped Brock Mission, which will be built by Mortlock Construction of Cavan Monaghan.
VIDEO: Design of new Brock Mission (Lett Architects Inc.)