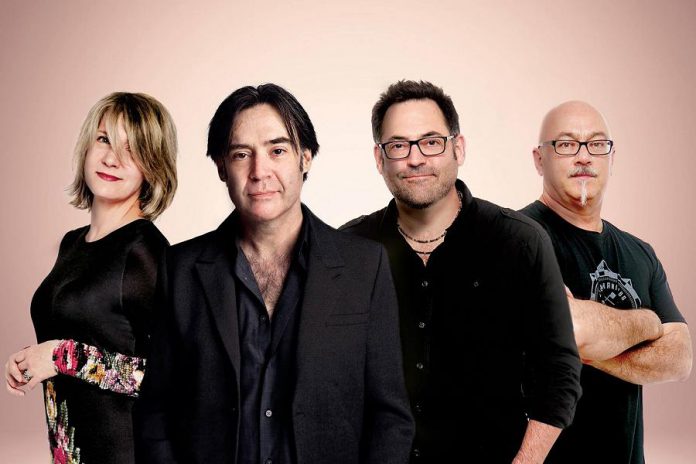 Don't bring up the 'familiarity breeds contempt' thing in the presence of Brad Roberts, Ellen Reid, Dan Roberts, and Mitch Dorge.
We don't know what goes on behind closed doors in the Crash Test Dummies' world, but what we do know is the members of the Winnipeg born alt rock-folk band have built upon their familiarity with each other and fashioned an incredible career, its duration surpassed only by the depth and quality of its output.
On Saturday, July 13th at Del Crary Park, the reunited band — it came back together in 2018 for a tour marking the 25th anniversary of the release of its hallmark second album — will headline Peterborough Musicfest.
Admission to the 8 p.m. concert is free, thanks to the support of sponsors.
Advertisement - story continues below
Formed in 1988 originally as a quintet with Benjamin Darvill in the mix early on, Crash Test Dummies exploded onto the Canadian music landscape with its 1991 album The Ghosts That Haunt Me and its hit single "Superman's Song" which cracked the RPM Top Singles chart and brought the band a 1992 Juno Award as Group of the Year.
VIDEO: "Superman's Song" – Crash Test Dummies

"The first line (of Superman's Song) was inspired by a song I heard on the radio one day while bartending — 'Tarzan … was a white man'," recalls Brad Roberts in a January 2018 interview with Xavier Loubser of Why Ed.
"It was a rap song I think. Don't know that it was a hit. Anyhow, the phrase 'Tarzan wasn't a ladies man' came into my head and I took it from there. The song was going to be about Tarzan but then Superman took over as I continued to fool about with the line and the concepts that might flow from it."
Advertisement - story continues below
With a growing fan base in Canada courtesy of "Superman's Song", Crash Test Dummies' follow-up album, God Shuffled His Feet, brought international acclaim with the single "Mmm Mmm Mmm Mmm" peaking at #4 on the US Hot 100 chart, settling in at #2 in the United Kingdom, and attaining the #1 placing in Australia.
With the help of additional top-charting singles "Swimming In Your Ocean" and "Afternoons & Coffeespoons", the album achieved platinum status for sales in excess of one million, and led to three Grammy Award nominations and three more Juno Award nominations.
VIDEO: "Mmm Mmm Mmm Mmm" – Crash Test Dummies

"Most Americans don't know our first record because it was simply never big there," says Roberts in an October 2018 chat with Greg Prato of Songfacts.
"But in Canada, our first record went multi-platinum, and we had a huge following and huge tours in Canada. When our second record came out, Canada — being the country that loves to eat its own — decided we weren't going to have any success at all."
"One day we got a call. Apparently this radio station in Atlanta, Georgia had been playing our song. People were calling in and saying 'What is that voice? Who is that guy singing that Mmm Mmm Mmm Mmm song? What do those words mean and why is his voice so low? We've never heard anything like this.'"
Advertisement - story continues below
"The record broke in America and it was precisely because it was unusual that it broke. I had this strange low voice that people weren't used to hearing. In pop music, the tenor has ruled for a very long time. The only few low voices I can think of are Johnny Cash, Leonard Cohen, and Nick Cave. It was very unusual to hear a bassy voice like that on the radio."
Following the early 1995 release of the single "The Ballad of Peter Pumpkinhead", which found its way onto the soundtrack of the hit comedy film Dumb And Dumber, Crash Test Dummies' third album A Worm's Life brought Canadian music fans around again, going platinum with the single "He Liked To Feel It" peaking at #2. That was followed in 1999 by the album Give Yourself A Hand featuring Reid singing lead vocals on three tracks and Roberts proving he can also sing falsetto.
VIDEO: "The Ballad Of Peter Pumpkinhead" with Ellen Reid – Crash Test Dummies

Starting in 2001 with I Don't Care That You Don't Mind and culminating with Ooh La La! in 2010, Crash Test Dummies issued five more studio albums while band members worked on various side projects. An indefinite hiatus followed Ooh La La! and there things sat until August 2017 when the band, minus Darvill, reunited for a concert in Winnipeg.
"It was just a one-off," recalls Roberts of the band's Manitoba resurrection.
"To be honest, I didn't think it was going to turn into a full-blown reunion tour. I thought we would just take a few more one-offs here and there because my brother has a couple of young kids and the rest of the band members have long since turned in different directions in their lives. But we started to get offers that were much more significant than one-offs."
Advertisement - story continues below
"In fact, we were getting offers for going out at like two or three weeks at a time. So I called up the rest of the band and said, 'Listen you guys, these offers are coming in. The money is pretty good. Do you want to consider quitting your day jobs?' So everybody had conferences with their husbands and wives and they all agreed that they would like to take up the opportunity to do this again."
The second coming of Crash Test Dummies, adds Roberts, has dawned at the right time for it to work and work very well.
"I'm not on a major record label. In fact, I'm on no record label but my own and I am in control of the whole thing. I'm actually in the driver's seat. So, in that sense, it's much more comfortable for me, much more enjoyable for me. I think too that everybody just missed it a little bit. We were all happy to get off the road when we did, but years later, it's quite appealing."
VIDEO: "Afternoons & Coffeespoons" – Crash Test Dummies

VIDEO: "Swimming In Your Ocean" – Crash Test Dummies

Peterborough Musicfest is presenting 16 free-admission, sponsor-supported concerts featuring a total of 21 acts during its 33rd season — each concert staged on Wednesday and Saturday nights at Del Crary Park.
Overseen by general manager Tracey Randall and staff, a board of directors, and numerous volunteers, Peterborough Musicfest's stated mission is to "provide diverse, affordable live music to enrich cultural and economic prosperity in our community."
For more information on this concert or the entire 2019 season, visit www.ptbomusicfest.ca or phone the Peterborough Musicfest office at 705-755-1111.