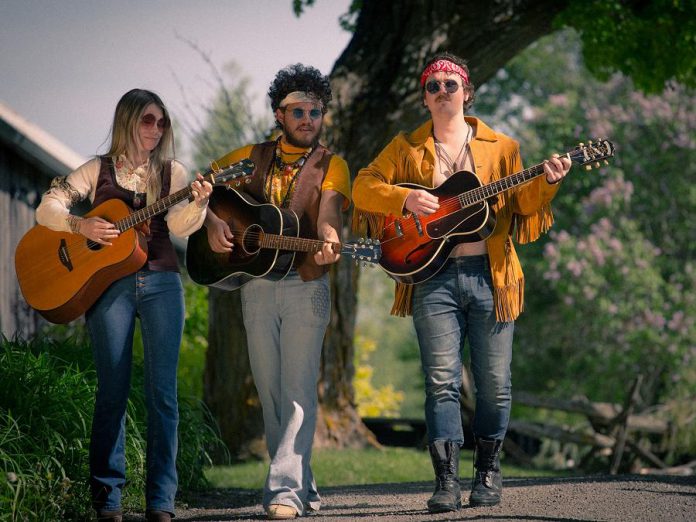 If you've seen 4th Line Theatre's production of Beau Dixon's Bloom: A Rock 'n' Roll Fable, you'll know that music — particularly the original songs written by Beau Dixon and Dave Tough — figures prominently in the play.
But some of the key roles in the play are also performed by actual musicians, including Kate Suhr, Griffin Clark and Owen Stahn (who have their own Toronto band The Slivers), Justin and Mark Hiscox, and Geoff Hewitson. So 4th Line Theatre has decided to highlight the musical talent in the play in the first of two Midsummer Night's Music concerts this summer.
The first concert will take place on Saturday, July 20th at St. Thomas's Anglican Church (16 Centre St., Millbrook), immediately following that evening's performance of Bloom at the Winslow Farm.
"When we realized the level of musical talent we had at the farm this summer, we knew we had to harness these amazing artists to perform their own music this summer," says Kim Blackwell, 4th Line Theatre's managing artistic director and the director of Bloom.
Advertisement - story continues below
Described as "an extraordinary and intimate night of music", doors open at 8:30 p.m. with the concert beginning at 9:30 p.m. There will be a cash bar and snacks.
Along with the aforementioned musicians, the concert will also feature Ennismore musician Melissa Payne, who is making her 4th Line Theatre debut as Audrey Barstow this August in the world premiere of Ian McLachlan and Robert Winslow's Carmel, the third in the Barnardo children series of plays (Doctor Barnardo's Children and Wounded Soldiers).
Tickets for the July 20th concert are $15 and can be ordered online at 4thlinetheatre.on.ca and by calling 705-932-4445. Seating is limited. Tickets will also be available at the door on the night of the performance.
Tickets are also available for the second Midsummer Night's Music concert, taking place on Saturday, August 24th during the run of Carmel. Performers at that concert will be announced closer to the date.
Bloom: A Rock n' Roll Fable runs from Tuesdays to Saturdays until July 27th at the Winslow Farm near Millbrook, with an additional performance on Monday, July 22nd. Advance tickets can be purchased by phone at 705-932-4445, online at www.4thlinetheatre.ca, at 4th Line Theatre's box office in Millbrook at 4 Tupper Street and in Peterborough at the Peterborough Museum and Archives at 300 Hunter Street East (atop Armour Hill).
Tickets can also be purchased from 4 to 6 p.m. on performance nights at the Winslow Farm (779 Zion Line, Millbrook) but are subject to availability.