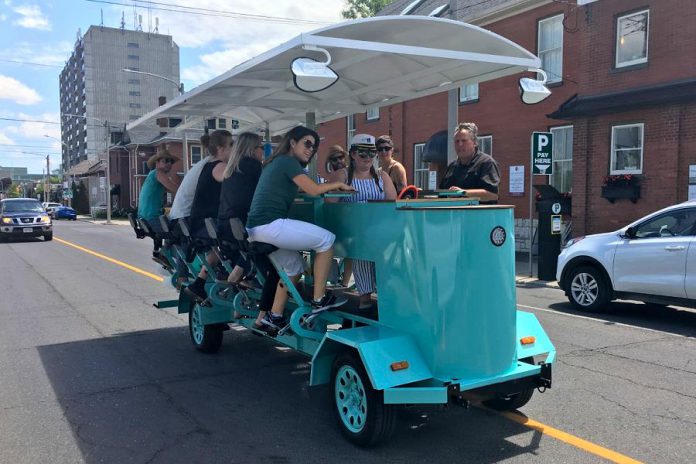 With a 'We're all in this together' spirit at its centre, PedalBoro unveiled Peterborough's first party bike on Tuesday (July 16) in downtown Peterborough.
Owned and operated by Hillary Flood and Peter Rellinger, the 15-passenger group pedalling experience went on its inaugural tour, travelling from The Olde Stone Brewing Company on George Street North to The Publican House Brewery on Charlotte Street before heading off to its final stop at Millennium Park.
All along the way, the eco-friendly transportation alternative drew the attention of motorists and pedestrians, many of them taking cellphone photos or offering a friendly wave.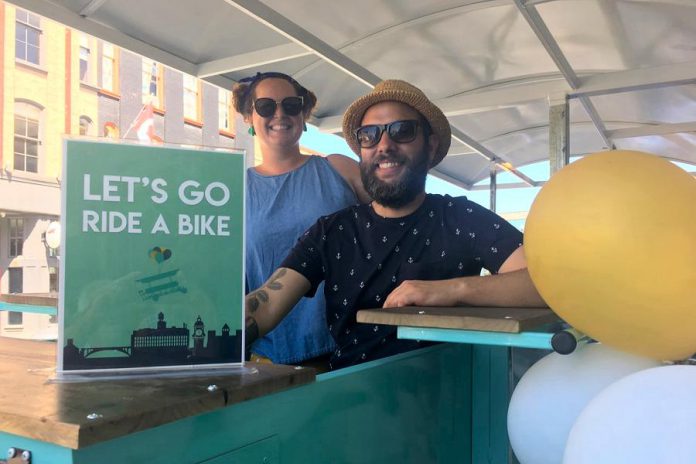 According to Flood, initial PedalBoro tours will take participants to downtown core pubs for pub crawl "brew stops" featuring samplings of their beer, with the plan to expand that offering later this summer to include Dish Crawls to four restaurants for a "progressive" meal.
Current pub crawl partners are The Olde Stone Brewery Company, The Publican House Brewery, Next Door, and The Twisted Wheel.
"It's kind of a crazy thing to have a spunky ginger pop up in a business and say 'Hey, I want to bring a party bike here. There will be about 15 of us and, P.S., can you give us beer?'" said Flood.
Advertisement - story continues below
"There's something to be said for our community and how lovingly receptive people are. They (PedalBoro's partners) saw the value in this. When we work together, we're able to build a destination eco-system as part of an enviable downtown where people want to be and want to be seen."
According to Flood, the idea for PedalBoro first evolved about three years ago when she was working as a member of the team organizing Peterborough Pulse.
"We were trying to come up with solutions for getting folks from one end of the (Pulse) route to the other. I was checking out bike taxis and happened upon the party bike. I thought 'What a wonderful idea' and the next thing I know I'm thinking about it weekly, and then I'm thinking about it daily."
"I pitched the idea to my partner. He thought I was crazy at first. Then he saw what I was talking about on the internet and was like 'Yeah … maybe.' I'm a contract worker. I was coming into a time when I wasn't sure what was next, so I thought 'Let's do it.'"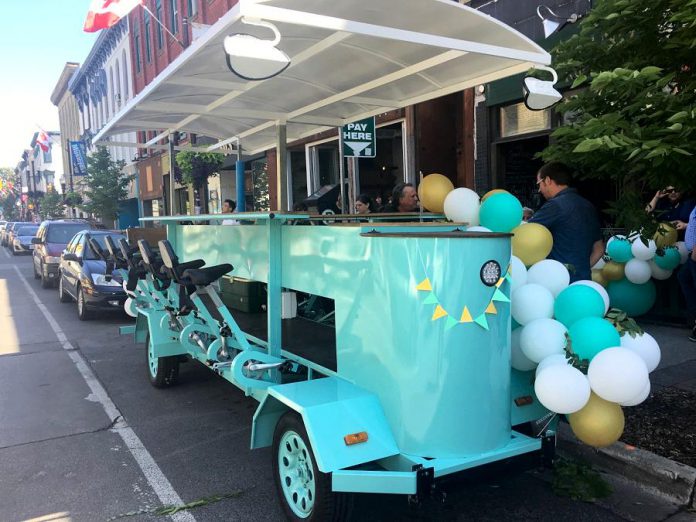 Through the Starter Company Plus program offered by the Business Advisory Centre at Peterborough & the Kawarthas Economic Development, Flood and Rellinger received mentoring and secured a $4,000 grant for their new venture. In addition, their PedalBoro pitch lifted them to a top-three finalist spot at the 2019 Bear's Lair Competition, bringing another $1,000 their way.
"We connected to the entrepreneurial ecosystem, got all the support we could hope and dream for, and were able to activate this business in under a year," noted Flood.
The party bike was manufactured in Europe according to specifications spelled out by Flood and Rellinger — "PedalBoro is a fun and cheeky business so we wanted something that reflects that" — and shipped to Halifax before travelling by train to Toronto and then by truck to Peterborough, a journey that took three weeks.
Advertisement - story continues below
With the launch of PedalBoro, Peterborough is just the fifth Canadian city offering the party bike experience, the others being Vancouver, Calgary, London, and Montreal.
"This is something you don't see in a lot of downtowns … it's extremely creative and animated and it has the fun factor," lauded Peterborough Downtown Business Improvement Area (DBIA) executive director Terry Guiel.
"Kudos to Hillary and Pete for taking on this challenge. So many things are so overdone. Stepping outside the box is what you need to do in order to stand out. This is a perfect example of that. It's hugely creative. I can't wait to see the positive spin-offs for businesses because of what they're doing."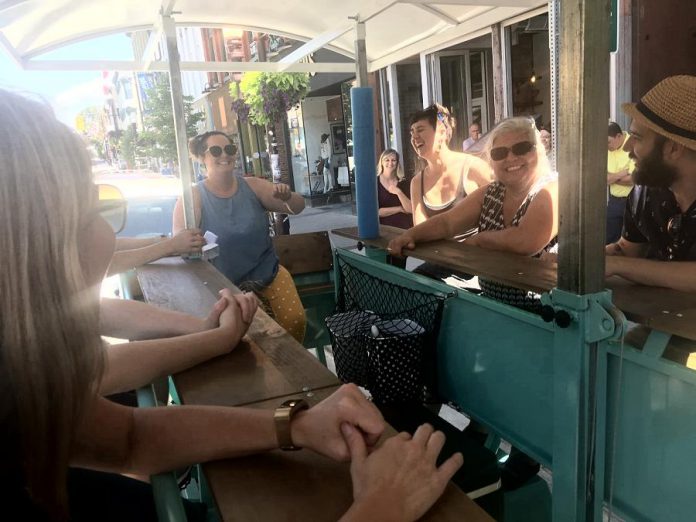 For her part, Kelly Jessup, corporate marketing officer with Peterborough & the Kawarthas Tourism, said "the immersive experience" PedalBoro offers is something that travellers are looking for, while Mayor Diane Therrien termed the group pedaling concept "super cool," adding, "I can't wait for the day when I can join in and have some beers."
"We want to be that go-to spot where you celebrate milestones," said Flood, noting the party bike experience is perfect for all get-togethers, from bachelorette parties to workplace team-building functions.
Due to Ontario liquor licensing regulations, no alcohol is permitted on the party bike itself and, as such, isn't made available. That suits Flood just fine.
"I would much rather showcase the vibrant downtown businesses that are doing what they do best than slap a keg on the bike. It's a stronger value proposition if we bring new faces into businesses."
Advertisement - story continues below
Full details on PedalBoro's Pub Crawl, Team Building, Dish Crawl and Private Pub Crawl tour packages are available at www.pedalboro.com where you can also register as an individual or group.
The Pub Crawl and Team Building rides are offered at $40 per person, the Dish Crawl cost is $75 per person, and the Private Pub Crawl tour costs $525 for the group.