Paint The Town Red, where local eateries donate 25 per cent of the day's net sales to United Way Peterborough & District, returns on Wednesday (July 17).
For the 2019 event, 35 restaurants, cafes, and pubs are participating — the most since the annual fundraiser first began seven years ago, says United Way campaign chair David Goyette.
"I am thrilled be part of Paint the Town Red this year, and even more excited to see restaurants in the County of Peterborough participating for the first time, including Jack's Restaurant in Lakefield and Rallis Burger Family Restaurant in Bridgenorth."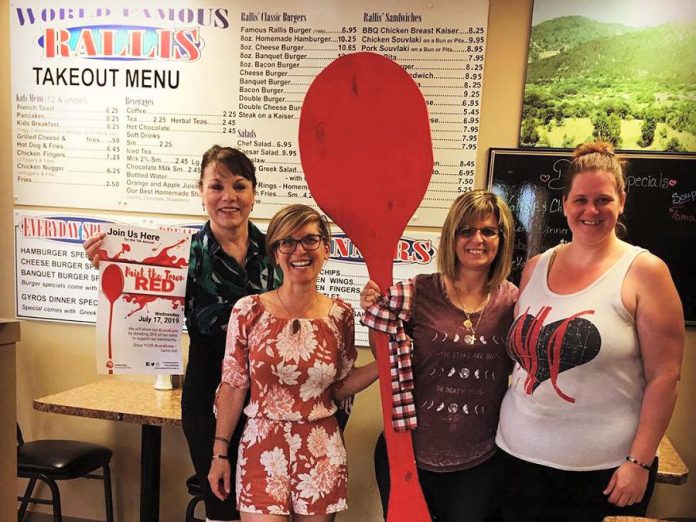 Since 2013, local businesses participating in the event have donated more than $75,000 to the United Way to support the community; last year's event raised $16,000.
The event was founded in 2013 by Michael VanDerHerberg when he was co-owner of the popular Silver Bean Café in downtown Peterborough, which is participating in the fundraiser for the seventh straight year.
"When I think of Peterborough, the generous hearts, the passion to be inclusive, and the importance of breaking bread together, I thought it was a perfect partnership to have the restaurant community collaborate with the proud work of United Way in strengthening the place where we live," VanDerHerberg said after founding the event.
You can help paint the town red by ordering food on Wednesday, July 17h at one or more of the 35 participating eateries.
While you're there, make sure to thank the restaurant owners and staff for their generous support of the United Way of Peterborough and District, and share your experience on social media using #PaintPtboRed.
Map of Participating Restaurants
Here's a map of all 35 restaurants participating in Paint the Town Red on July 17, 2019.

View a larger version of the map in a new window
List of Participating Restaurants
Here's a list of all 35 restaurants participating in Paint the Town Red on July 17, 2019, with links to their websites and Facebook and Twitter accounts. Please show your appreciation to these supporters of the United Way by visiting their websites and by following them on social media.
Restaurant
Address
Phone
Hours
Web
Amandala's
375 Water St., Peterborough
705-749-9090
11:30am - 10pm
Website
Facebook
Ashburnham Ale House
128 Hunter St. E., Peterborough
705-874-0333
11am - 11pm
Website
Facebook
Twitter
BE Catering
356 Charlotte St., Peterborough
705-750-1265
8am - 3pm
Website
Facebook
The Boardwalk Board Game Lounge
261 George St. N., Peterborough
705-312-7529
11am - 9pm
Website
Facebook
Twitter
Black Honey Dessert and Coffeehouse
217 Hunter St. W., Peterborough
705-750-0014
8am - 10pm
Facebook
Twitter
Chick-a-biddy Acres (Wednesday Market)
Charlotte St., Peterborough
705-696-3506
8:30am - 2pm
Website
Facebook
Cork & Bean
382 George St. N., Peterborough
705-742-0144
7:30am - 11pm
Website
Facebook
Cora - Peterborough
815 High St., Peterborough
705-741-4500
6am - 3pm
Website
Facebook
Dodrio Bubble Tea, Anime Cafe & Game Lounge
404 George St. N., Peterborough
705-748-3636
10am - 8pm
Website
Facebook
Twitter
The Edison Espresso & Pastry Bar
270 George St. N., Peterborough
705-874-7640
8am - 5pm
Facebook
Twitter
Fresh Dreams
373 Queen St., Peterborough
705-559-7731
11am - 3pm
Facebook
Twitter
Freshii
234 Hunter St. W. , Peterborough
705-874-3532
8am - 8pm
Website
Facebook
Gerti's
225 Hunter St. W., Peterborough
705-743-7212
11am -11pm
Website
Facebook
Twitter
La Hacienda Mexican Restaurant
190 Hunter St. W., Peterborough
705-742-1559
11am - 9pm
Website
Facebook
Twitter
Hunter Street Tavern
211 Hunter St. W., Peterborough
705-775-2033
5pm - 10:30pm
Website
Facebook
Twitter
Island Cream Caribbean Cuisine
227 Hunter St. W., Peterborough
705-743-8398
11am - 10pm
Facebook
Jack's Restaurant - Lakefield
1 Strickland St., Lakefield
705-652-3474
7am - 8pm
Website
Facebook
Jack's Restaurant - Peterborough
91 George St. N., Peterborough
705-740-9776
7:30am - 8pm
Website
Facebook
Kettle Drums
224 Hunter St. W., Peterborough
705-874-1500
11am - 9:30pm
Website
Facebook
La Mesita Restaurante
229 Hunter St. W., Peterborough
705-304-2415
11am - 9pm
Facebook
The Night Kitchen
168 Hunter St. W., Peterborough
705-741-0300
10am - 12am
Website
Facebook
Twitter
The Olde Stone Brewing Company
380 George St. N., Peterborough
705-745-0495
12pm - 11 pm
Website
Facebook
Twitter
The Only Café
216 Hunter St. W., Peterborough
705-743-7591
9am - 12am
Instagram
Pita Pit (George St.)
347 George St. N., Peterborough
705-745-9119
11am - 10pm
Website
Providence
131 Hunter St.W., Peterborough
705-741-1812
8am - 8pm
Website
Rallis Burger Family Restaurant
888 Ward St., Bridgenorth
705-292-7222
7am - 8pm
Real Thai Cuisine
415 George St. N., Peterborough
705-743-8828
11am - 9pm
Website
Facebook
Riley's
251 George St. N., Peterborough
705-750-0375
11am - 2am
Website
Facebook
Twitter
Sam's Place
188 Hunter St. W., Peterborough
705-876-1900
10am - 7pm
Facebook
Twitter
Silver Bean Cafe
130 King St., Peterborough
705-749-0535
8am - 9pm
Website
Facebook
Twitter
St. Veronus
129 Hunter St. W., Peterborough
705-743-5714
11:30am - 12am
Website
Facebook
Twitter
Sunset Grill
1005 Lansdowne St. W., Peterborough
705-749-0222
6:30am - 3:30pm
Website
Facebook
Tiny Greens Vegan Plant Café
431 George St. N., Peterborough
705-874-7554
9:30am - 7pm
Website
Facebook
Twitter
Turnbull Cafe
170 Simcoe St., Peterborough
705-775-2233
8am - 5:30pm
Facebook
Twitter