Growing up in Hialeah in Florida, Barry Davis had two passions: sports and music.
While those areas of interest have been, and remain, far from uncommon for countless youths around the globe, fortunate indeed are those who are able to have success pursuing both in their adult years.
For Davis, a broadcasting career — first with Sportsnet covering both the Toronto Maple Leafs and the Toronto Blue Jays before hosting his own hugely baseball-related podcast — more than fulfilled his sports passion.
As for the music half of the equation, his impressive tribute to the music of American singer-songwriter Tom Petty has more than fit the bill.
On Saturday, August 3rd at Del Crary Park, Davis will front Petty tribute band We Ain't Petty as Peterborough Musicfest's 33rd season continues. Admission to the 8 p.m. concert is free, thanks to the support of sponsors.
Advertisement - story continues below
Formed in 2016, We Ain't Petty pays homage to Davis' fellow Floridian native who, as the lead singer of Tom Petty and The Heartbreakers, as a member of The Traveling Wilburys, and as a solo artist sold more than 80 million albums before his death in October 2017.
"One of the first albums I remember having as a kid was Damn The Torpedoes (The Heartbreakers' third album)," Davis says in an October 2017 interview with Matthew Strader of the Caledon Enterprise.
"I remember my older brother playing it over and over again. All of those songs became ingrained in my brain. As I grew older, I started to have a deep appreciation for anything Tom Petty did in his career."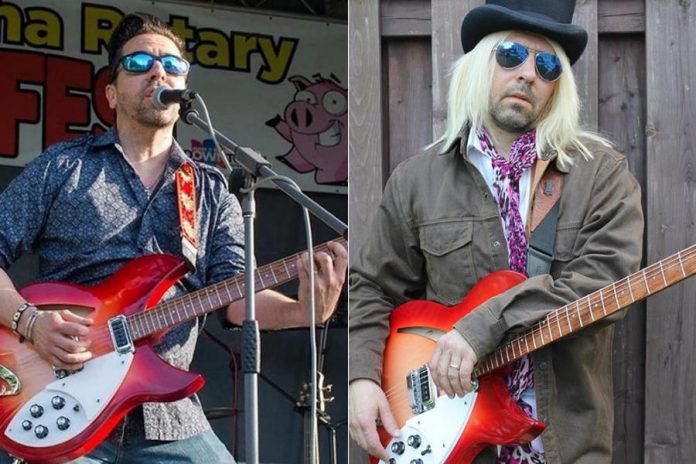 There was much to take in.
Inducted into the Rock and Roll Hall of Fame in 2002, Petty recorded 13 albums with The Heartbreakers, the aforementioned Damn The Torpedoes a platinum-selling breakthrough in 1979 on the strength of the hit singles "Don't Do Me Like That", "Here Comes My Girl", and "Refugee".
The following decade saw Petty's star continue to rise, a period which produced the singles "The Waiting" and "Don't Come Around Here No More" and, in 1989, the release of his first solo album Full Moon Fever with the hit singles "I Won't Back Down", "Free Fallin'", and "Runnin' Down A Dream".
VIDEO: We Ain't Petty promo

During the same time, Petty hooked up with Roy Orbison, George Harrison, Bob Dylan, and Jeff Lynne to form supergroup The Traveling Wilburys — a union that produced two albums, their biggest hit "Handle With Care", and brought a new generation of fans to each member of the super group.
In 1991, Petty reunited with The Heartbreakers and didn't miss a step, releasing Into The Great Wide Open, with the title track and "Learning To Fly" returning the band to music chart prominence. Five more albums took the band into 2014.
It was just a few weeks after The Heartbreakers' 40th anniversary tour in 2017 and just two weeks before his 67th birthday that Petty died — the cause of death later ruled accidental as a result of mixed drug toxicity.
Advertisement - story continues below
"I was sitting in my basement, guitar in hand, hearing myself in headphones singing a Tom Petty song at the exact moment a tweet came to me asking if I had heard the news … it hit me like a ton of bricks," recalls Davis of learning of Petty's death.
"We were paying tribute to great music. Now we're paying tribute to an artist, someone who meant so much to so many people. Someone I've been living with for 40 years now. Your heroes always seem to be immortal. When they pass, it really hits you."
Prior to beginning his broadcasting career in 1992 as a technical operator at CJCL 1430 in Toronto (currently 590 The Fan), music was a huge part of Davis' life. By age 16, he was playing bass and gigging across Ontario with his band Fusion.
VIDEO: "American Girl" performed by We Ain't Petty

VIDEO: "Don't Come Around Here" performed by We Ain't Petty

The formation of We Ain't Petty marked a return to the stage for Davis, after a 25-year break during which he became best known as the on-field face and voice of Blue Jays baseball, reporting from Rogers Centre during the Jays' 2015 and 2016 playoff runs.
The following year, Davis and Sportsnet parted ways. He started his own media company, No Suit Required Media, and his Outta The Park podcast that boasts some 50,000 Twitter followers.
Free of his Sportsnet obligations, Davis has been able to set his own schedule, of which performing with We Ain't Petty is a very big part.
Advertisement - story continues below
"To sit and listen to the music is one thing, but it's deceptively challenging to play and perform."
Along with Davis, who plays rhythm guitar, We Ain't Petty band members are Ken 'Smog' O'Gorman (lead guitar), Emilio Lamorte (bass), Armin Leonard (keyboards)m and Matt McFarland (drums).
VIDEO: "Won't Back Down" performed by We Ain't Petty

Peterborough Musicfest is presenting 16 free-admission, sponsor-supported concerts featuring a total of 21 acts during its 33rd season — each concert staged on Wednesday and Saturday nights at Del Crary Park.
Overseen by general manager Tracey Randall and staff, a board of directors, and numerous volunteers, Peterborough Musicfest's stated mission is to "provide diverse, affordable live music to enrich cultural and economic prosperity in our community."
For more information on this concert or the entire 2019 season, visit www.ptbomusicfest.ca or phone the Peterborough Musicfest office at 705-755-1111.