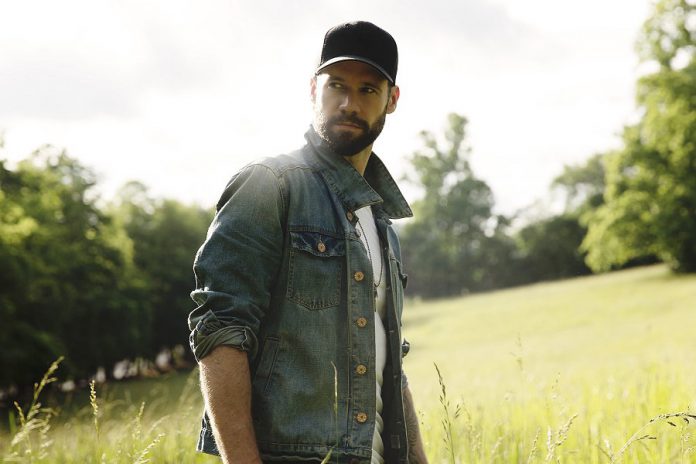 While admittedly way overused, there remains a fair amount of truth attached to the declaration "If it ain't broke, don't fix it."
Earlier this 33rd Peterborough Musicfest season, country music fans flocked in big numbers to Del Crary Park to soak in the music of brother-sister country duo The Reklaws, a concert opened by pop-country singer Emily Reid.
The summer concert series now is turning to the country music genre once more, welcoming back multi-awarded recording artist Chad Brownlee to the Fred Anderson Stage on Wednesday, August 7th. Brownlee last performed at Musicfest in July 2015.
Admission to the 8 p.m. concert is free, thanks to the support of sponsors.
While all genres of music claim loyal fans, country music — be it new or old — enjoys a particularly dedicated following.
Advertisement - story continues below
That's not been lost on each general manager of Peterborough Musicfest over the years, including current overseer Tracy Randall. After all, giving the people what they want is the name of the game. In Brownlee, she's bringing to Peterborough one of the most-loved performers that calls the Canadian country music scene home.
"I call it a healthy competition … everybody is releasing such great music that it helps elevate the bar," Brownlee says about the country music industry in a June 2018 interview with Jeff DeDekker of the Regina Leader-Post.
"When you're listening to the radio, it's hard to tell, most times, between an American act and a Canadian act. The level of talent, from the artistry to the songwriting to the production, is world class and that only helps everybody at the end of the day."
VIDEO: "Carried Away" – Chad Brownlee

VIDEO: "Hearts On Fire" – Chad Brownlee

"My fans are also Dallas Smith fans or Jess Moskaluke fans or High Valley fans," Brownlee add. "They're very loyal to the country genre. It really does feel like one big family but we do keep each other honest and push one another."
Born and raised in Kelowna, B.C., the 35-year-old Brownlee's trajectory was originally destined for a much different arena, literally as well as figuratively.
Selected in the sixth round of the 2003 National Hockey League draft by the Vancouver Canucks at the age of 19, the defenceman made his pro debut in 2007 with the Idaho Steelheads of the East Coast Hockey League. But when a series of injuries crushed his hopes of playing NHL hockey, at 25 years old Brownlee turned to Plan B: music.
VIDEO: "I Hate You For It" – Chad Brownlee

VIDEO: "Somethin' We Shouldn't Do" – Chad Brownlee

It didn't take long for Brownlee to make his mark in an equally demanding profession, releasing his self-titled debut album in 2010, featuring the singles "Hood Of My Car", "Day After You", and "Carried Away" — all of which cracked the top 20 of the Canadian country music chart.
Buoyed by his receiving the 2011 Rising Star Award from the Canadian Country Music Association, Brownlee subsequently released the albums Love Me Or Leave Me (2012) and The Fighters (2014). While both produced a bevy of top-charting singles, it was the 2016 EP Hearts On Fire that twice granted him gold-certified status for the hit songs "I Hate You For It" and "Somethin' We Shouldn't Do".
Now his latest record, Back In The Game (released just this past June) has returned Brownlee to the top of his genre with the singles "Forever's Gotta Start Somewhere" and "Dear Drunk Me" having charted at #1 and #3 respectively.
Advertisement - story continues below
"Forever's Gotta Start Somewhere" in particular is a huge fan favourite, sitting amongst the top of the most streamed Canadian country songs in Canada so far in 2019 with more than 10 million global streams — 4.4 million in Canada alone.
Bestowed an award an incredible 16 times by the British Columbia Country Music Association, Brownlee has also been twice nominated for a Juno Award, both times in the Country Album of the Year category — in 2013 for Love Me Or Leave Me and in 2017 for Hearts On Fire.
"I think I've evolved in probably all aspects of my career — as a songwriter, as an entertainer and even as a human being," Brownlee reflects. "That's the progression that you want; to constantly be growing."
VIDEO: "Dear Drunk Me" – Chad Brownlee

VIDEO: "Forever's Gotta Start Somewhere" – Chad Brownlee

"When I was playing hockey, it was the same thing. If you think you're as good as you can be, then your career is done. You have to be constantly moving forward and making new music. Otherwise everything will just pass you by and your career could be done."
Now 12 years into plan B, it's clear that Brownlee isn't taking anything for granted.
"There's always a part of you that thinks you're the new guy and the underdog but I'm definitely not that anymore," acknowledges Brownlee. "It feels good to still be able to keep doing this. I'm extremely blessed."
Advertisement - story continues below
Note: Brownlee, who is also known for his philanthropy, will autograph an acoustic guitar donated by Long & McQuade that will be raffled off at his Musicfest appearance. Tickets for the guitar raffle cost $5.
Peterborough Musicfest is presenting 16 free-admission, sponsor-supported concerts featuring a total of 21 acts during its 33rd season — each concert staged on Wednesday and Saturday nights at Del Crary Park.
Overseen by general manager Tracey Randall and staff, a board of directors, and numerous volunteers, Peterborough Musicfest's stated mission is to "provide diverse, affordable live music to enrich cultural and economic prosperity in our community."
For more information on this concert or the entire 2019 season, visit www.ptbomusicfest.ca or phone the Peterborough Musicfest office at 705-755-1111.