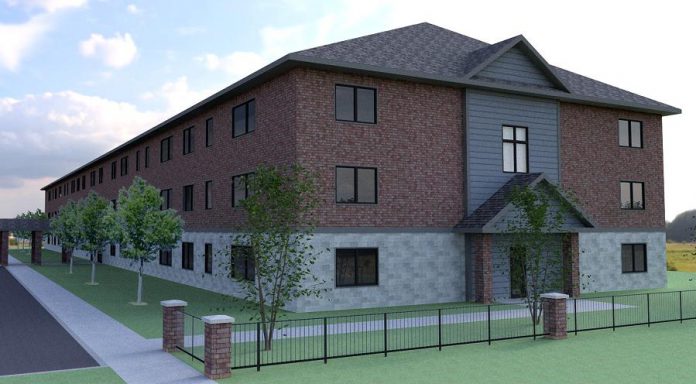 The federal government is investing up to $3.2 million in Habitat for Humanity Peterborough & Kawartha Region for the construction of a 41-unit affordable condo development at 33 Leahy's Lane in Peterborough.
Peterborough-Kawartha MP Maryam Monsef made the announcement on Tuesday (August 13) on behalf of Jean-Yves Duclos, the federal minister responsible for Canada Mortgage and Housing Corporation (CMHC).
The funding for Habitat for Humanity Peterborough & Kawartha Region is part of a $32.4 million financial commitment over three years (2019-2021) under the federal government's National Housing Co-Investment Fund to support Habitat for Humanity Canada and its affiliate organizations across Canada.
In total, the funding will create around 405 new homes and support the repair of around 105 units for lower-income families in communities across Canada.
Advertisement - story continues below
In 2019, Habitat for Humanity Peterborough & Kawartha will receive up to $3,183,250 in federal funding for 35 new homes within its Leahy's Lane project. The three-storey 41-unit building is the largest multi-residential development by Habitat for Humanity Peterborough & Kawartha.
"We just can't stay on the sidelines any longer, confining our building activity to the traditional single-detached home built one at a time," says Sarah Burke, CEO of Habitat for Humanity Peterborough & Kawartha. "We need to innovate in a big way — the need is just too great. With this development, we aim to provide homes not just for low-income families, but also for low-income couples, singles, and seniors."
The Leahy's Lane project will include six one-bedroom units, 29 two-bedroom units, and six three-bedroom units. All units will be energy efficient, accessible, and affordable, intended for families with a mixture of incomes from around $20,000 to $50,000 depending on family size.
The 33 Leahy's Lane property across from Garside Drive fronts onto Parkhill Road East, with a bus stop adjacent to the property. The development will include trees, gardens, a small covered walkway with a bench. The building will also feature a party room/social lounge on the first floor.
To qualify for a Habitat condo, applicants need to prove they can repay an interest-free mortgage with repayments geared to income, and that they do not have the means to get their own conventional mortgage. All applicants who partner with Habitat are required to achieve 500 "sweat equity" hours, providing volunteer service on the build site, at the ReStore, or through other Habitat initiatives.
Advertisement - story continues below
Normally, applicants can contribute their hours by participating in the construction of the home. This will not be the case with the Leahy's Lane project, which will be built by a professional developer; however, applicants will be able to participate in landscaping and similar activities.
Habitat for Humanity Peterborough & Kawartha is planning to start construction on the Leahy's Lane project in the fall of 2019, with completion slated for 2020. For more information on applying for home ownership with Habitat, visit www.habitatpkr.ca/homeownership/.