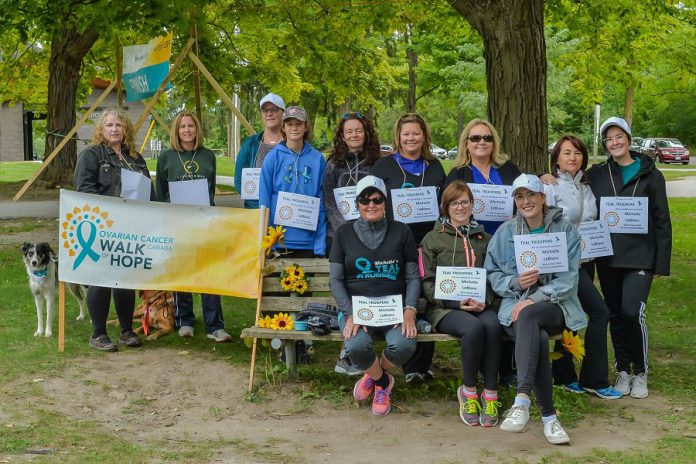 While it's often said that numbers don't tell the whole story, the numbers associated with ovarian cancer do tell the whole story … and it's a frightening tale indeed.
Some 2,800 Canadian women receive an ovarian cancer diagnosis annually. One of every two women diagnosed is given less than five years to live. Five Canadian women die of ovarian cancer every day. And then there's zero — as in there currently being no reliable screening test for ovarian cancer.
But as discouraging as the numbers around the most deadly of women's cancers are, there's another number and it offers abundant hope. Since 2002, the Ovarian Cancer Canada Walk of Hope has raised more than $27 million for research, advocacy and support efforts.
On Sunday, September 8th at Nicholls Oval Park at Armour and Parkhill roads, the Peterborough edition of the annual fundraiser will again be held, coming at the conclusion of Ovarian Cancer Awareness Week as declared by Mayor Diane Therrien.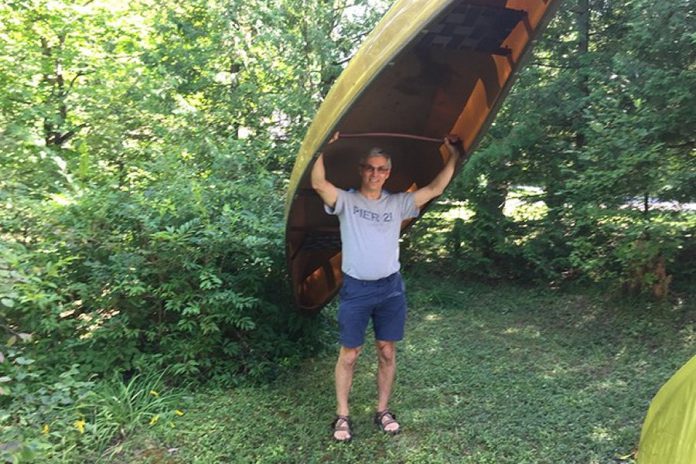 According to Marilyn Robinson, the chair of the local walk's organizing committee and a 43-year ovarian cancer survivor (she was diagnosed at age 11), the event was initially held at Trent University in honour of a university staff member diagnosed with ovarian cancer. Along with her husband, she got involved in 2014 when a search for new committee members was launched.
"We try to keep it as positive as possible … we're there to honour the people who are dealing with it (ovarian cancer)," says Robinson about the walk, admitting the numbers associated with the disease are discouraging.
"Breast cancer is more common, but ovarian cancer has the highest death rate. Treatment hasn't really advanced in 50 years. You still have the same chance of dying from it now as you did when I was diagnosed. Up until about two years ago, if you look at where money goes for cancer research, it was the lowest funded."
A big step in overcoming that funding deficiency was realized this year when Ottawa provided $10 million to Ovarian Cancer Canada for research — a first-ever investment that came after years of lobbying by women living with the disease and others advocating on their behalf. And then there's the dollars raised by the Walk of Hope in 35 communities nationwide — close to $20,000 last year in Peterborough. The goal of this year's walk is $25,000.
Not unlike any one of the similar fundraisers held annually, each Walk of Hope participant has a clear reason for taking part.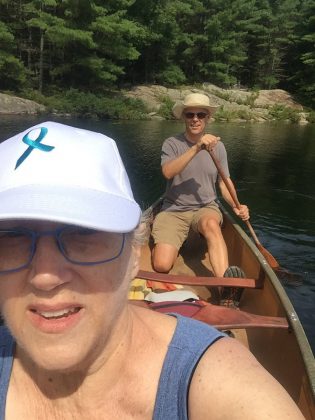 For Paul Plant, his motivation is as personal as it gets. On July 26th, his wife Karen Hoffman (sister of local musician John Hoffman) died after a determined battle with the disease. To honour Karen, and bring on more donations, Plant will walk the five-kilometre route carrying a canoe upon his shoulders.
"Karen and I enjoyed canoeing together, but the honest answer is I don't know where the idea came from," says Plant.
"I did say to people after her Celebration of Life that I was going to be on this walk. I later looked on the website and saw that I had about $1,000 (in pledges). I thought maybe I could motivate people to give more."
Pledging to portage his way along the route if $2,061 in pledges came in, the total amount pledged to date is over $3,700.
"Many donated $61 based on how old Karen was when she died … that's how I ended up with that funny number," explains Plant.
"That (the total to date) speaks to how much people in this community cared about Karen. She was very well connected in many different ways. It's an outpouring of support for her. People are contributing based on who she was and how she managed her cancer."
"She was updating people constantly on Facebook. For a lot of people, that was surprising and some felt she was being very brave for doing that. Karen didn't think of it that way. She was really good at separating the disease from who she was. It didn't become her identity. It wasn't 'I'm Karen Hoffman, a cancer victim.' It was 'I'm Karen Hoffman, who happens to have cancer.'"
Admitting "I can't deny I'm looking for any distraction" in the wake of his loss, Plant says "something good" has to result from the tragedy of Karen's death. As he sees it, "making the point that this is a terrible disease that affects a lot of women and is extremely hard to diagnose" is the Walk of Hope's purpose, raised dollars aside.
According to Ovarian Cancer Canada, all women are at risk of developing the disease but one is at higher risk if she is more than 50 years old, has a family history of certain types of cancer such as ovarian, breast, endometrial and colorectal, is of Ashkenazi Jewish descent and/or has a genetic mutation linked with ovarian cancer.
Plant says his wife had abdominal pain in conjunction with bloating, prompting her to see her doctor. After her tests came back, she was sent to Kingston for a hysterectomy. It was during that surgery that her cancer was discovered. What followed was a six-month clinical trial at Princess Margaret Hospital in Toronto that involved the administering of two drugs together.
"When Karen was back in Peterborough and feeling well, we would go canoeing or go for a walk or whatever. She didn't let her cancer diagnosis stop her from doing things."
For her part, Robinson is hopeful that same determined spirit is clearly evident at the Walk of Hope event. Not lost on her is how very fortunate she has been to be gifted so many years after her own diagnosis.
"I was so young that I didn't understand; I didn't know what cancer was. It was harder on my parents. Here they are with an 11 year old and not sure if she's going to survive. At that time we were told I was only one under 21 in Canada to be diagnosed with ovarian cancer. It's still not common (under age 21), but it's much more common than it was then."
"When I was diagnosed, it was automatic that you were not having a family. Now the prognosis for that is a lot higher. They have found ways to protect ovaries when you're having treatment. There are more people going on to have a family afterwards."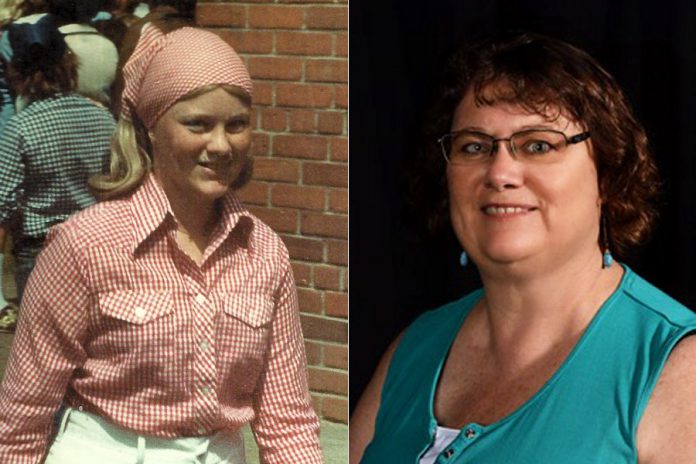 Registration for the Walk of Hope begins at 10 a.m. followed at 11 a.m. by the opening ceremony and warm-up. The walk begins at 11:45 am. Post-walk there will be food and entertainment as well as the awarding of draw and top fundraising prizes.
The event will be held rain or shine with a shorter 2.5-kilometre walk option available. You can register as an individual or team, or pledge an individual or team, at noca.convio.net/site/TR?fr_id=1502.
For more information on ovarian cancer, visit the Ovarian Cancer Canada website at ovariancanada.org.