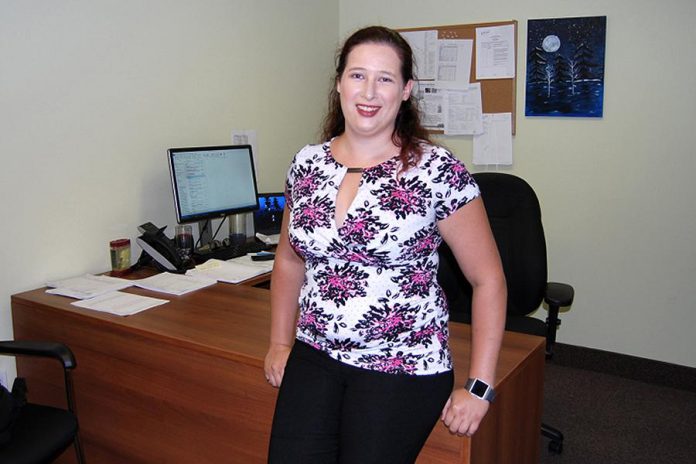 Rachel Northey, project manager with environmental engineering consulting firm Pinchin Ltd., obtained her engineering degree at the University of Waterloo but she grew up in Peterborough.
Her family lives here, as do the members of her team at Pinchin's office in downtown Peterborough. And, while Pinchin is a national organization, Rachel's local team can respond to emergencies in the area faster than many environmental services companies.
As a Peterborough resident herself, Rachel takes great pride in keeping her neighbours safe from environmental dangers.
"Pinchin is a national firm with 40 offices and 900 staff," says Rachel. "We were voted one of the best workplaces from 2006-2016 and were a finalist for the Chamber's best employer in Peterborough award last year. I started out as a tech doing field work, asbestos assessments of buildings, mould surveys — working lots of evenings and weekends. Now I manage projects and work on business development. I've been here for five years."
Offering a wide variety of services, Pinchin first opened its doors in 1981 and has since grown to have multiple branches across the country.
"Our local office is a group of six people — and we are pretty autonomous," Rachel explains.
The Peterborough office provides a variety of assessment, cleanup, and educational services to local businesses and homeowners, with a lot of autonomy from head office to get jobs done quickly at the local level.
"We can run most of our main service lines through our office without requiring any sort of support from our head office," Rachel explains. "We deal with a lot of mould and hazardous building assessments — searching for mercury, lead, polychlorinated biphenyls (PCBs), silica, and asbestos. We also do property due diligence for real estate transactions and provide occupational health and safety testing."
Rachel says that having a local team means Pinchin can respond quickly when the need arises.
"Our people are local and within the community already, so we can be on site for an emergency faster than other companies who aren't based in Peterborough."
Rachel's fellow project manager is also from Peterborough, so the company feels small to them both. Even though they recognize Pinchin as a national entity, being connected to the community on a personal level makes their local office feel like a small business.
"A smaller, local focus is really the people we want to be connecting with," she explains. "We have our own labs and our own lab staff and our samples don't have to cross the border or go out of province for testing. So, if you need results fast, we can turn them around pretty quickly and our ability to do this is definitely a benefit."
Rachel has recently taken up running and will be participating in a half marathon in Hawaii this year. In her spare time, she is part of an axe-throwing league at a club in Peterborough. In addition to her client work at Pinchin, her team recently volunteered to work on a shoreline cleanup project and to assist with the 2019 MS Walk. She once volunteered with Scouts Canada, overseeing the greater Peterborough area, including 15 different chapters of Scouts.
"If you can make an impact where you physically are located, that sometimes is just as good — if not better — than trying to make an impact on a larger scale," Rachel says, "We supported the MS walk this year. I volunteered and got to meet some interesting people in the city. We did a shoreline clean up and removed 60 to 70 kilograms of garbage from Roger's Cove. We've also done a few Habitat for Humanity builds in the past."
As well as investing in her community, Rachel keeps people safe and helps building owners to avoid the negative consequences of ignoring environmental issues — consequences that can include sick employees, costly physical or reputational damages, and even government fines.
"We try really hard to put the client first," Rachel says. "If they need someone quickly, we'll find someone quickly who can be there to do the work. We target our service to who you are and what you need. Keeping people safe by getting in quickly is important."
To the broader community who may never know how close they may have come to encountering something hazardous like asbestos or mould, Rachel and her team could be considered unsung heroes. To Rachel, it's all just part of keeping Peterborough safe.
"We're all local and we spend time here," Rachel says. "It's nice to make a difference."
Pinchin Ltd.'s Peterborough office is located at 160 Charlotte Street, Suite 204. For more information, visit www.pinchin.com and also check out their blog at www.pinchin.com/whats-new/. You can also follow Pinchin Ltd. on LinkedIn, Twitter, or Facebook.
Rachel Northey, EIT, B.A.Sc., can be contacted at rnorthey@pinchin.com or 705-748-4627 ext. 3606, and you can follow her on LinkedIn.