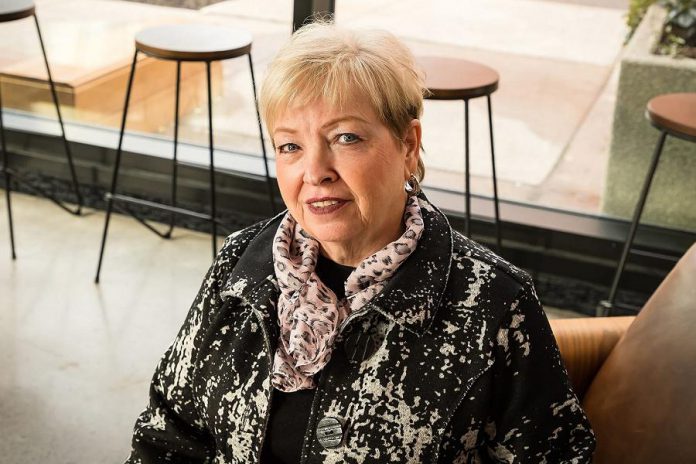 If you're working on launching any kind of a successful business, you'll want Gail Moorhouse in your corner.
As executive director of Community Futures Peterborough, Gail works hard to support entrepreneurs in all phases of business development, from start up to succession planning.
Before taking the helm at Community Futures, Gail worked for leading technology companies including in sales at Hewlett-Packard and as a sales trainer at Microsoft. She was an agent for Catalyst Finance Partners Inc. and also ran her own business offering sales training and coaching to business people.
During that time, she spent two years volunteering on Community Future's board of directors and acted as interim director for two months that she realized she wanted the leadership role. She accepted the position fulltime in March 2018.
"The experience of being a Community Futures board member made the learning curve much easier," Gail says.
Community Futures is a business development organization that helps create jobs in the City and County of Peterborough, primarily by offering financing and business counselling services.
The non-profit has seen entrepreneurs from different industries walk through its doors — starting restaurants and retail stores, to inventing products, to selling their creative or professional services.
Since 2018, Gail has led a team of professionals who have dispersed close to $4 million in loans to nearly 70 businesses in the region, an investment that has impacted more than 500 local jobs.
Add that to the $28 million already invested in more than 700 small businesses and the creation and maintenance of over 3,300 jobs in the region over the past 35 years, and you've got an impressive record.
Many businesses that would be ineligible for loans from traditional banks are able to access funds through Community Futures, Gail explains.
"A lot of the clients we fund may not have access to funds from traditional lenders. In comparison, our rates are attractive, usually six to eight per cent. It's certainly wiser to work with us than put money on your credit card."
She says her hope is to see the funds have a positive impact in the community and create local, sustainable jobs.
Over the years, Community Futures has added new programs and services to respond to community need. Since the inception of the Eastern Ontario Development Program (which is no longer accepting applications), it has invested $80 million in more than 7,600 businesses and community development projects. In the last two years, 55 businesses received $900,000 in non-repayable grants.
In 2018, Community Futures launched the Ignite100 program, an innovation competition that allowed local businesses to compete for a $100,000 loan, interest-free for the first three years with no payments for the first year.
While consulting and engineering company Cambium Inc. won the grand prize, the other two finalists — Cottage Toys and Goodwin Metals Products Ltd. — also benefited from participating in the challenge. They too are now working with Community Futures to finance their new business ventures.
In 2019, Community Futures announced the Rural Innovation Initiative Eastern Ontario to support advanced manufacturing innovation and business expansion. Applications have been received and the majority of funds have been allocated to 30 local businesses.
A tireless ambassador on behalf of Community Futures, Gail is passionate about helping business owners navigate the challenges of growing their companies. As a mentor, she has personally helped hundreds of people understand the ways to plan out the necessary steps needed to achieve growth and success.
To see it with her own eyes is very rewarding.
"It's feels great when I'm out driving around and I see the businesses that we have helped," she says.
With her wealth of sales, technology, and financial knowledge, Gail consults with local business owners on financial and innovative strategies, while still maintaining the drive and compassion that fuels enthusiasm among her team.
Moving the Community Futures offices from Charlotte Street to the VentureNorth building in downtown Peterborough last year was a key milestone and also a strategic decision, she notes.
It brought them under one roof with economic development organizations Peterborough & the Kawarthas Economic Development and the Innovation Cluster, increasing opportunities for collaboration and further strengthening Community Futures' mandate.
"Our mandate is all about partnership," Gail points out. "The relationship we have with our valued partners has given the organization additional exposure to more businesses."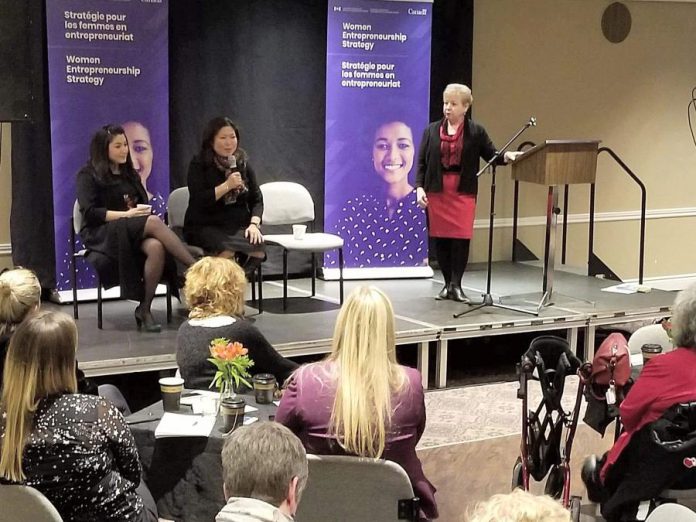 While Gail is the first to acknowledge that the success of Community Futures is not hers alone, there's no denying the impact of her leadership in that success.
Gail's passion for helping the community extends beyond her office. She has sat on the board of directors for the Women's Business Network of Peterborough and coaches women in business, offering some gems of wisdom she's gathered over the years.
As for giving advice to those looking to start a business or expand upon an existing one, Gail offers up a suggestion.
"Many businesses require financing, but they also need more than money to be sustainable. They require strong business plans, marketing strategies, and an advisory team comprised of people you will listen to when they give sound advice."
Community Futures Peterborough is located at 270 George St N (Suite 103) in Peterborough. For more information about Community Futures and how it can help your business, call 705-745-5434, email info@cfpeterborough.ca, or visit communityfuturespeterborough.ca. You can also connect with Community Futures Peterborough on Facebook, Twitter, and LinkedIn.