Sarah Susnar, founder and owner of Play Café Family Activity and Play Centre in Peterborough, is excited that her business has outgrown its original location.
On November 1st, she moved the business to 1434 Chemong Road in Peterborough. The new event space, play place, and learning centre is for all parents and caregivers with babies and children up to six years old. The new location includes an outdoor play area and many more options for her community of parents.
Sarah established her business with a vision of a place where moms could convene without having to juggle young children. She quickly learned there was also a need for special interest, exercise, and creative programming for young families — a need she could better fulfill with more space.
"We outgrew our space two years in," Sarah says. "I didn't realize that people would want to sign up for our programs as much as they have. I thought the play area would be popular, but I quickly realized that while people wanted to get out with their babies — they also wanted experiences like mom and baby yoga and mom and baby art class.
"We've just moved into a bigger space and we have two program rooms as well as a play room. So we're excited to offer a lot more programs and party options."
Sarah thought her café's play area would be popular because the idea struck her while struggling to socialize with other new moms. With her firstborn in her lap, Sarah conceived the idea that would one day become her own business.
"I first had the idea when I was a new mom 13 years ago living in Toronto," Sarah explains. "I was part of a strollercize group and would go out to café's with other moms. I noticed that there was nowhere for babies to go to be safe and the idea came to me."
Sarah often discussed her dreams of opening a café with a play area for babies on walks with her mother. It wasn't until after she relocated to the Kawarthas that she opened her business in 2014/15.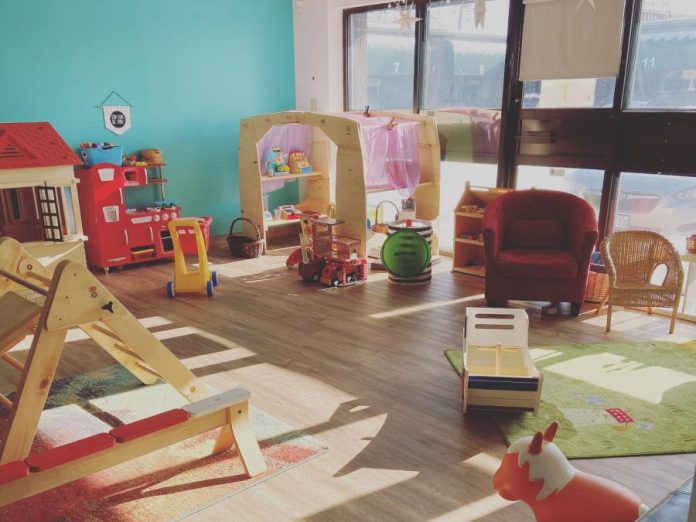 "We moved to Peterborough and I went back to school to study early childhood education," says Sarah. "I worked in a daycare for a bit. I had two more kids and then I left my job. I was hoping to get a position with the school board. Now I had three young children."
"I didn't get in with the school board after interviewing twice. I was heartbroken and didn't know what to do. I decided to work for myself — and the idea for Play Café came back to me. I started researching it and that's how we got started."
Fast-forward to 2019 and now, providing a positive mental health environment for moms and babies is among Play Café's many accomplishments since opening.
"I suffered from post-partum depression with my second baby and there was nowhere to go," Sarah recalls. "So one of the things I do now is run a mom and baby group to encourage moms to get out of the house, meet people, and discuss the struggles and joys they're experiencing in this new chapter of their lives."
As a result, moms often thank her for providing this platform. She has received many cards, letters, and encouragement from the families she's met.
"A lot of moms thank me," Sarah says. "On days when I think running a business is hard, a mom will send me a message that says 'Thank you so much for being here', and I know the roller-coaster of running a business is worth it."
To make entrepreneurship a little bit easier, Sarah also chose to participate in the Women Business Network of Peterborough (WBN) mentorship program last year. She says she has benefited from the experience and advice of other successful women in business.
"I love going to WBN meetings," she says. "Before I joined, I'd attended meetings as a guest a few times and wasn't sure if it was for me. Last year I wanted to hear a particular guest speaker, so I attended and made a few connections. I thought, 'This is the place to be if you have a business. A lot of the women here have been in your shoes and they can offer a lot of advice and mentorship'."
Sarah says she joined WBN immediately after attending this event, and her business continues to blossom and grow.
Play Café is located at 1434 Chemong Road (Unit 1 and Unit 2) in Peterborough. Hours of operation are 9:30 a.m. to 3 p.m. Monday to Friday and 9:30 a.m. to 1 p.m. on Saturday, with Sundays are reserved for party and private event bookings. For more information, call 705-874-3517, email playcafeptbo@gmail.com, or visit playcafepeterborough.com. You can also follow Play Café on Facebook, Instagram, and Twitter.