We can be many things at once, but how well do these "things" connect?
Therapy, coaching, human resources management, business consulting, and quilting instruction may seem unrelated to some people, but for Colleen Carruthers these disciplines are all connected. She uses a combination of all of these skills to help both individuals and businesses.
Colleen leads The T-R Group's coaching and learning practice area and she also runs independent psychotherapy practice Growing Edge. As a Personal Certified Coach (PCC), she became accredited through the International Coach Federation. She also holds a degree in adult education from Brock University.
"We take a comprehensive approach," says Colleen. "Our human resources business includes a full range of HR services for our clients. Services include writing policies and procedures, training employees, conflict resolution, and more."
In her role with T-R Group, she teaches leadership and development skills to supervisors, managers, and senior executives. Her specialty is communication and relationship dynamics, using a coaching approach that embraces conflict resolution. Her Action Learning Programs help to facilitate group processes and strategic planning.
"Everything we do at T-R Group fits really well together and it's truly full service," Colleen explains. "We cover all of the things that have to do with the people side of a business."

"On one hand, we're going into a business and we're doing all of the things they need us to do from an HR/administrative perspective," Colleen adds. "Our primary goal is to keep any business running properly on the people side. And then I might go in to that same business and do workshops to help everyone cope with stress and learn how to handle conflict better."
While an organization's HR needs may vary, anxiety is a common problem that people face both in the workplace and in every day life. Colleen believes that a sense of purpose and direction is one of the keys to combating the pressures of modern life.
"So many people are struggling with anxiety today," she notes. "I help people grow beyond it, whether I'm working with an individual or members of an organization."
Stitching together her passion for helping people cope with anxiety with her own favourite hobby, Colleen instructs quilting classes out of a store located in Millbrook called The Quilter's Bolt.
"I teach quilting because I hope that other people who learn how to do it will have something to keep them feeling good about life in general," says Colleen. "Quilting does bring people together. And I know that if people don't have some kind of hobby or some kind of a passion, they often aren't as happy."
Colleen herself keeps very busy. In addition to teaching the art of quilting, she is a faculty member at Fleming College. She has instructed the school's Peak Leadership Program for several years.
In addition to her work and hobby, Colleen is a member of two boards: she is the director of Tri-County Community Support Services and sits on the Alternatives Community Program Services boards (both are organizations that support people with intellectual disabilities and/or autism). She has also served on the board of the Women's Business Network of Peterborough, on the committee to run events for International Women's Day (IWD), and has spoken at past IWD celebrations.
In fact, in 2017 for Canada's 150th birthday, she coordinated a special IWD quilting project for the June gala of the Women's Business Network of Peterborough. The project honoured "unsung female heroes of Canada's history". Proceeds from the fundraiser were given to the YWCA Peterborough Haliburton's Crossroads Shelter for women and children escaping abusive situations. At the time, she had completed approximately 40 quilts; two years later, and she has increased that number to almost 70 quilts.
While Colleen's work keeps her busy, her quilting passion and her volunteer work reflect her belief that people need to think about leading a purposeful life when they retire and exit the workforce.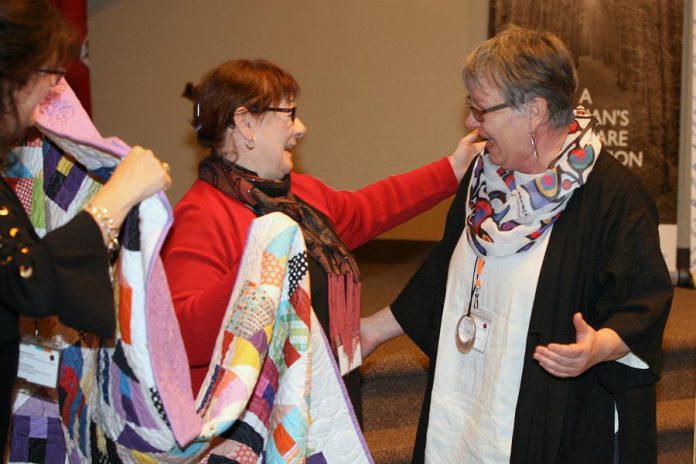 In Colleen's experience, many retirees finish working with no activities planned. Working takes up a lot of time and retiring leaves a void that needs to be filled.
"Retirement is great, but I'm trained in positive psychology and we are always working with people in terms of discovering their purpose," she says.
"It's an interesting thing about going to work: when we wake up on a holiday Monday and have nothing to do, we think it's great to have nothing planned and nowhere to be. But if you're retired and that's your reality every day, you never get to feel that. Today people are living to 100, so you've got to have something to do, to have a purpose."
With everything she does, the quest for a raison d'etre is not a problem that Colleen herself has to face.
"I definitely have a lot of purpose in my life," Colleen affirms.
The T-R Group and Growing Edge are both located in Peterborough. To contact Colleen Carruthers for HR/executive consulting, coaching, workshops or individual therapy sessions, call 705-872-2172 (cell) or 705-760-9409 (direct) or email growingedge@sympatico.ca. For general enquiries, you can also visit trgroup.on.ca. You can also follow Colleen on Twitter @growingedge.