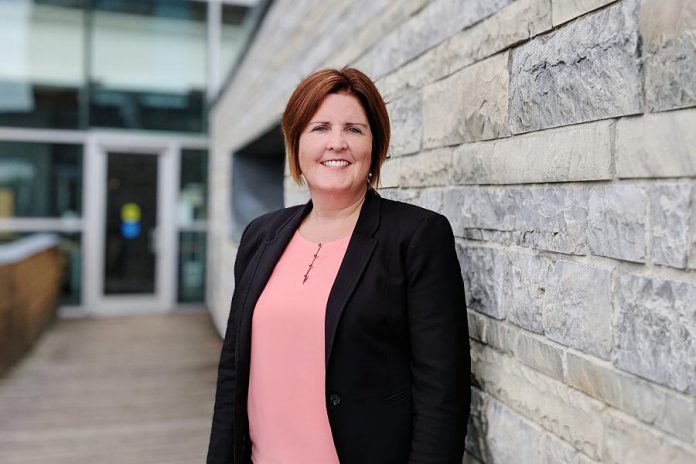 Lesley Heighway is in the big business of saving lives.
As President and CEO of the Peterborough Regional Health Centre (PRHC) Foundation, Lesley juggles multiple hats in her philanthropic role: business, policy, advocacy, and charity. At the end of the day, her main responsibility is to ensure money keeps rolling into the Foundation and through to the region's only full-service, acute care hospital to provide continuous high-quality care for patients and their loved ones.
The PRHC Foundation is committed to supporting the hospital's Regional Centres of Excellence for cancer care, cardiac care, and vascular surgery — some of the fastest growing and most innovative areas of healthcare, and which serve a population of up to 600,000 people from across Peterborough County and beyond.
Lesley works diligently within the community to help fill the gap where government funding ends by increasing annual revenue, developing new partnerships and extending the philanthropic reach of the Foundation needed to deliver everything from compassionate care to scientific advances.
For eight years, Lesley has led a team of professionals and volunteers who raise between $5 and $7 million every year for PRHC — more than $25 million over the past five years alone.
"The government does fund a portion of hospital operations, but it doesn't fund hospital equipment and technology that our doctors and nurses use here every day to deliver great care," she says.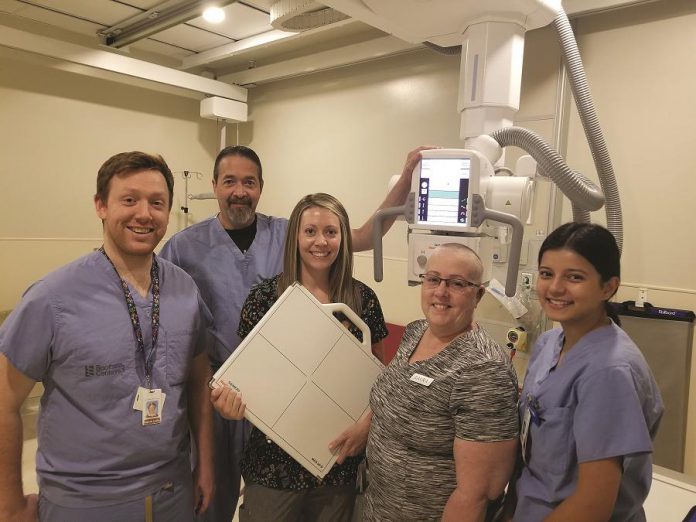 Community donations fund the ground-breaking education, leading-edge research and innovation, state-of-the-art technology and facility enhancements that form the backbone of patient care at PRHC and help bring new lifesaving services to our region.
"Without donor investment, none of this would be possible," Lesley says. "Our donors truly have touched every single area of care in this hospital."
The hospital's ability to fund the best equipment and technology is also key to attracting and retaining the brightest minds in healthcare, and to keeping PRHC's standard of care on par with the top hospitals across Canada.
Lesley's passion for healthcare philanthropy and improving a patient's experience runs deep and is rooted in her family's lived experience of having to travel long distance for cancer care services in her home province of New Brunswick.
She recalls the physical, emotional and financial strain on her parents, who had to drive hours from a small community to a hospital in Saint John, for her father to receive cancer radiation treatment, five days a week over a six-week period.
"I saw the toll that this had taken on their lives, with the three-hour drive and having to reside in Saint John, which was the only regional centre in New Brunswick at that time," she says. "For me, I feel like it has come full circle. Through the work that I do, we can ensure that in Peterborough, people won't have to travel far from home to receive great care."
For anyone interested in giving, the Foundation welcomes and encourages donations of all kinds: life insurance, bequests, cash, securities, and memorial donations.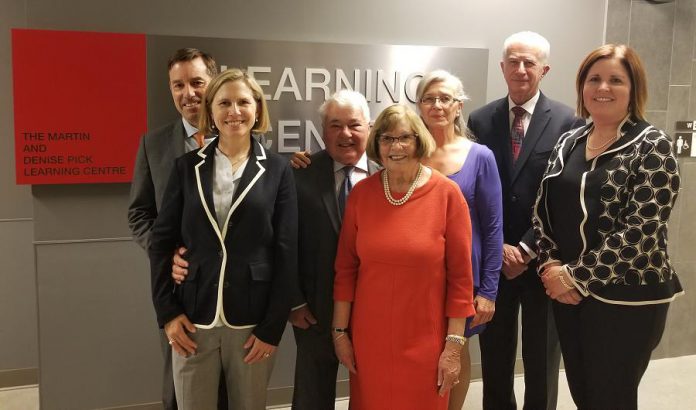 No matter how big or small the donation, Lesley and her team help thousands of people understand the tangible ways their dollars are transforming healthcare for patients from across the region.
"Donors are touching the lives of patients every day," she adds. "As a foundation, our accountability is first and foremost to our donors. While we give donors the opportunity to give back, we also have the responsibility to communicate to them how their donations are making a real difference in the lives of patients."
To recognize the generosity of donors, the Foundation communicates impact in its publications and social media, through the media, invitations to donor recognition events, and permanent recognition on the donor wall at the Health Centre. They also share inspiring stories of patients and donors themselves, as well as community partners who have dedicated themselves to the cause of bettering local healthcare.
Lesley says a high point of gratitude to existing donors is inviting them for a tour at the hospital after an investment has been made.
"Donors get to see firsthand how our physicians and our patients are benefiting and how they have contributed to enabling our hospital to deliver better care."
Using her vast experience in sales and marketing management and an MBA specializing in leadership, Lesley aims to foster innovative and out-of-the-box thinking when it comes to fundraising, while still maintaining the drive and compassion that fuels inspiration among her team.
"Our hospital is at the forefront of innovation, leading with forward-thinking teams. Our job at the Foundation is to listen to the vision the hospital has in each of the critical areas and then come up with our own creative ways for raising funds to support it."
Over the last two years, Lesley has successfully led efforts to fund:
The $1.1 million needed to install two Emergency Department X-Ray Trauma Suites featuring wireless imaging technology that reduces the need to reposition patients during image-taking and quickly produces sharper images for faster, more accurate diagnoses.
The Martin & Denise Pick Learning Centre, a $3.1 million, 4,300 sq. ft., state-of-the-art clinical, education and meeting facility supporting continuous learning, innovation and the future of world class patient care at PRHC.
A $250,000 investment in the Pediatric Oncology Group of Ontario (POGO) Clinic at PRHC, where staff provide quality cancer care to children in their own community.
$230,000 for seven new incuwarmers in the Neonatal Intensive Care Unit (NICU), enabling the vital care of vulnerable newborns in critical situations through the warmers' open warm workstations with access for up to three medical experts and built-in life-saving resuscitation equipment.
$550,000 in state-of-the-art laboratory equipment and technology to facilitate faster and more accurate diagnoses and treatment.
While the success of PRHC Foundation's fundraising efforts speaks for itself, Lesley's passion for philanthropy extends far beyond Peterborough and the Kawarthas. She works with an advocacy and advisory group of regional hospital foundation CEOs from across Ontario. As one of Peterborough's leading experts in legacy giving (donating through estate plans), she plays an active role in working with financial and legal advisors.
She also shares her extensive knowledge and experience with the community through a wide range of board and advisory roles with other organizations and service clubs, as well as a variety of coaching and mentoring relationships with fundraising and young business professionals.
Delivering world class patient care, Lesley points out, is a complex endeavour with many dedicated people working on the front line as well as behind the scenes, including her team who works hard to create a workplace culture that fosters collaboration, engagement, creativity, passion and results.
"I'm very proud of my team and what we've been able to accomplish," she says, smiling. "There is great meaning in what we do. Some of us have had jobs where we've had to leave our heart and soul at the door. That's not the case here."
The Peterborough Regional Health Centre (PRHC) Foundation is located at One Hospital Drive in Peterborough. For more information about the PRHC Foundation and how you can make great health care possible in our community, call 705-876-5000, email foundation@prhc.on.ca, or visit www.prhcfoundation.ca. You can also connect with the PRHC Foundation on Facebook, Twitter, and Vimeo.