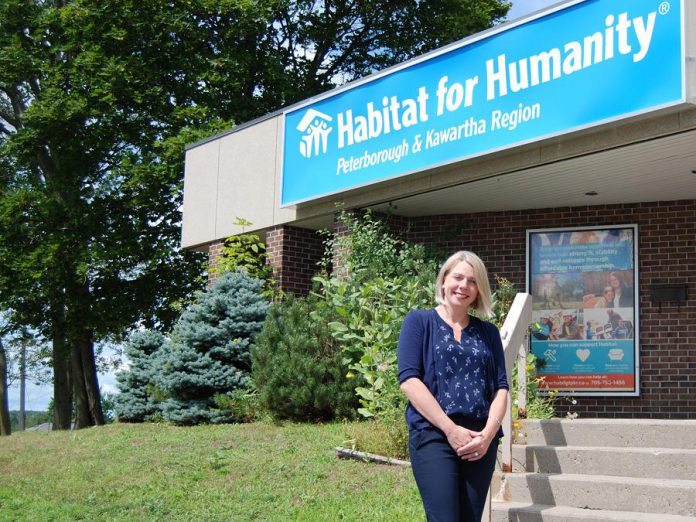 The affordable housing crisis is something that Sarah Burke, Chief Executive Officer of Habitat for Humanity Peterborough & Kawartha Region, is very passionate about. For the past 11 years, she has increased the number of affordable home builds for her local Habitat for Humanity affiliate, while continuously striving to "do more" — and it's working.
Thinking back on one of her first Habitat home dedications, Sarah remembers the moment when she knew that she was on the right track by thinking bigger.
"I had just returned from maternity leave," Sarah explains, "We were building on Towerhill Road and we had a huge ground-breaking ceremony. It was a momentous event for us. I remember thinking this is it — we're on the right path. When I realized the amount of support we had and how excited people were — well, it fuels you, it fuels your passion."
Sarah has devoted her career to increasing the number of people that Habitat is able to help. However, having a bigger impact means building more homes. The easy answer would be to enter the rental market, but Habitat's mission is to empower families by helping them build strength, stability, and self-reliance through affordable homeownership.
"I love our mission: it's not just a hand out, it's a hand up," she says. "It's a beautiful model. I love what we do and I love the premise. If we want to have a real impact, we have to think differently — we have to think like a developer. We can't just stay on the sidelines any longer, confining our building activity to the traditional single-detached home built one at a time. We need to innovate in a big way — the need is just too great!"
By the end of 2011, Habitat was completing an average of eight homes over a two-year period. Sarah was able to hire a solid team to support her while she continued to build upon her affiliate's growth. She was now able to focus on growth initiatives such as partnerships, acquiring new properties, and figuring out new ways to finance projects — more time to do more and continue to evolve for affordable housing.
"We're about to transform again," says Sarah. "What I've learned over the years is that nobody has the silver bullet when it comes to solving the affordable housing crisis. But Habitat has a lot of resources and a lot of really good support to bring to the table. We're a really strong organization, but we're not doing enough. People just want a safe place for their kids to play and, while there are tears of joy and happiness every time a home dedication happens, I always think we could be doing more."
For Sarah, doing more means taking on one of the most ambitious projects Habitat has ever attempted.
"The board and I had a discussion two years ago and they were really ready for change," she recalls. "We decided that we want to be more about impact and that we want to be leaders helping to address the affordable housing crisis."
The plan was to move beyond Habitat's traditional model of single-family homes being built one at a time. As a result of this shift in thinking, Habitat for Humanity Peterborough & Kawartha Region is launching its first-ever multi-residential project to construct a 41-unit affordable condo building in Peterborough.
The three-storey, 41-unit building will be located at 33 Leahy's Lane in Peterborough's northeast end. The project is slated for completion in 2020. Suites will have one, two, or three bedrooms. Smaller units mean smaller families (single parents), couples, and seniors will be able to apply. The single family homes Habitat traditionally builds have only been available to families with children.
"It's really innovative and hasn't been done by Habitat before," Sarah notes. "If it can work in Peterborough, it can work in any community in Canada."
Energy efficiencies will be standard issue in the building of the condominium units, with an aim to help owners live a greener lifestyle while keeping their household costs down.
The 33 Leahy's Lane development will offer a fully universal design that will accommodate current or future homeowners' accessibility needs. Located near green spaces, schools, and playgrounds, this new development will provide safe and affordable housing for residents of Peterborough who need affordable housing.
VIDEO: What a new Habitat home means

Qualifying for a condo will require applicants to demonstrate they can afford to repay an interest-free mortgage. Payments are geared to income to help those who don't qualify for a conventional bank mortgage.
Each homeowner will be expected to put in 500 "sweat equity" hours at the ReStore (Habitat has two retail thrift shop locations in Peterborough) or by helping with other Habitat initiatives. For single-family builds, homeowners can contribute their hours by participating at the build site; however, due to the scale and complexity of the 33 Leahy's Lane development, homeowners will not have the same role at the build site as in past single-family builds.
While volunteers will have less of a role at the Leahy's Lane build, there are many other opportunities to donate your time to Habitat, including volunteering at a ReStore, volunteering at future single-family builds, or volunteering at the office. Sarah says that, by volunteering with your Habitat, you can be a part of the change you want to see in the community.
"People want to be inspired and they want to inspire," Sarah explains. "The way we inspire people is by empowering our volunteers to support affordable housing in the community. When you're a volunteer you learn a new skill, make a difference, and meet new friends in your community. Together, we can do amazing things."
Habitat for Humanity Peterborough & Kawartha Region is located at 300 Milroy Drive in Peterborough. Habitat for Humanity Peterborough ReStores are located at 300 Milroy Drive and 550 Braidwood Avenue. Sarah Burke can be reached at 705-750-1456 extension 202 or at sarah@habitatpkr.ca.
For more information about Habitat for Humanity Peterborough & Kawartha Region, visit habitatpkr.ca. You can also follow them on Facebook, Instagram, and LinkedIn.