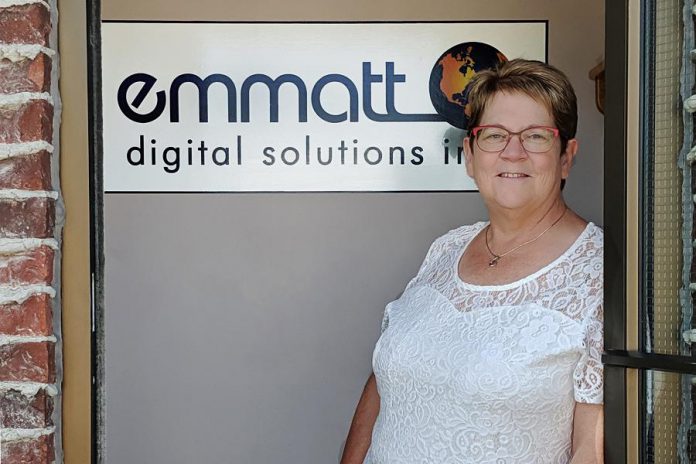 Finding success and happiness by doing work that matters are words that Kim Appleton truly lives by. So it was to no one's surprise when Kim took home the 2019 Judy Heffernan Award at the Women In Business Awards gala last spring.
The award, named in honour of Heffernan, a well-respected leader of the local business community who passed away in 2013, recognizes a female entrepreneur, mentor, or student who embodies her legacy of humbly helping others succeed.
"Winning that award holds a special place in my heart," says Kim, who was a mentee of the late Heffernan. "I feel blessed and grateful. It was a nice reminder of how others view my contributions to our community."
As a business owner, mentor, and volunteer, Kim takes great pride in helping others reach their full potential through sharing her knowledge and experience and by mentoring business professionals.
Kim is the co-founder, president, and CAO of Peterborough-based technology company Emmatt Digital Solutions. For over 20 years, the company has provided support to businesses across North America — including government healthcare agencies, manufacturers, small businesses, and not-for-profits — to modernize and expand their digital presence, with everything from document scanning to web development.
In 1998, Kim launched Emmatt Digital Solutions with fellow Fleming College classmate, Chris Calbury, not long after they both graduated from the Business Administration program, specializing in Information Technology. Kim handles the finances, administration, and human resources, while Chris manages sales and client projects.
Starting out, the partners successfully tapped into the then-new disruptor of microfilm and fiche: document imaging, which quickly became the flagship of the company.
It has remained lucrative to this day, Kim explains, due to the fact that in areas such as healthcare, records must be kept for decades, and scanned files are much more efficient to store and retrieve when necessary. Plus, attempts at making offices paperless have just not fully materialized.
"We recently finished a scanning project that was close to 300 boxes and took nearly 2,000 hours to complete," Kim points out.
Since its humble beginnings, Emmatt has moved with the times and evolved to offer website design and custom development services, which put it in a great position to begin offering search engine optimization, web hosting, cloud-application development, and e-commerce systems.
VIDEO: Emmatt Digital Solutions Inc. – Full-Service Web Agency

Emmatt also offers unique custom platforms, including a specialized e-commerce payment solution, an online e-learning management system, a digital signage communication system called BallyhooTV, membership management platforms, and a customer relationship management and call-centre management system for real estate sales professionals.
Looking back, Kim recalls how so much has changed in the technology and marketing landscape. When they started the business, there was no such thing as Google.
"Back in our early days, which was before Google, we used to teach people what a search was and how to do it," she says, laughing.
In order to navigate the rapidly evolving business world, Kim also needed to adapt with the changes. To stay laser-focused on her path to professional and personal fulfillment, she sought out self-development training courses, many of which were taught by the Law of Attraction teachers from The Secret: Jack Canfield, Hale Dwoskin, Abraham Hicks, and John Assaraf — and others including Tony Robbins. And yes, she points out, she did do the "fire walk" across the hot coals.
Over the course of five years, she and Chris travelled throughout North America learning the secrets of how to create rapid and lasting transformations in both life and business.
"We aren't as immersed it in as we once were, but we've stayed in that mode and it's an ongoing evolution," Kim says. "I think that's the reason why we've been able to keep the company flourishing. We learned that we don't have to struggle. The more gratitude you have, the more joy and abundance you experience — and it just keeps coming back."
It's this expression of gratitude that has fostered continuous loyalty from Emmatt's clients. After two decades in business, the tech company still works with some of their original clients.
"Today, we're still working every week for the very first document imaging client we had 21 years ago," Kim says.
Even though technology is the backbone of the business, she says it doesn't run the company — relationships do.
"If I've learned anything over the years, it's that sales is all about relationships. We listen to and understand our customers, and then give them what they want."
For Kim, that also means delivering projects on time and on budget, keeping clients informed and giving them full transparency, and solving problems immediately when they arise.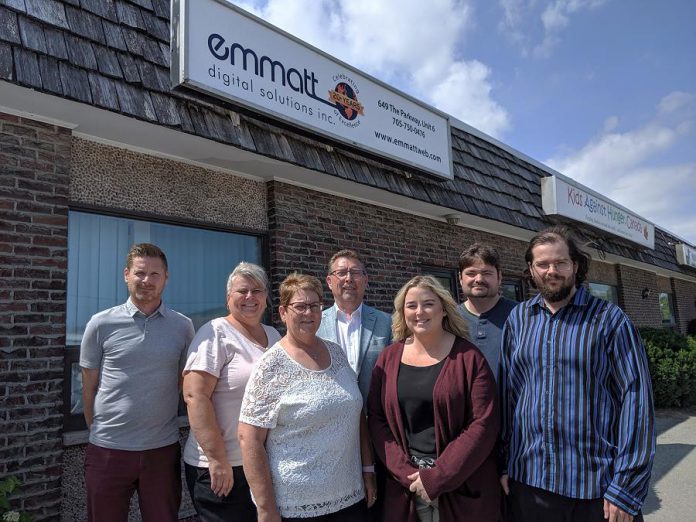 When she's not co-leading a full-time staff of seven, Kim is busy honing her skills as a certified holistic life coach and volunteering in the community.
She served with Community Futures Peterborough for nearly eight years, including time as both board treasurer and chair, and she is a past president of the Women's Business Network of Peterborough as well as long-standing member.
Kim is also a member of both the Peterborough and Kawartha Chambers of Commerce and the local 100 Women's group, supports businesses through a mastermind group that meets regularly, and is a formal mentor to entrepreneurs who are just starting out.
Through Emmatt Digital Solutions, Kim and Chris support local charities including the BEL Rotary Club's golf tournament, Shared Dreams for Independent Living, Soroptimist Peterborough, the YWCA Women's Shelter, and have provided the Peterborough Humane Society with a free website for their "Our Pet Project" fundraising initiative.
While giving back is good for the company's reputation, Kim says it's just plain good for the soul.
"You have to live with a more joyous, abundant and grateful heart. It's so true: when you give, you get it back tenfold."
Emmatt Digital Solutions Inc. is located at 649 The Parkway in Peterborough. For more information call 705-750-0476, email info@emmatt.com or visit www.emmattweb.com. You can also connect with Emmatt on Facebook, Instagram, and Twitter.