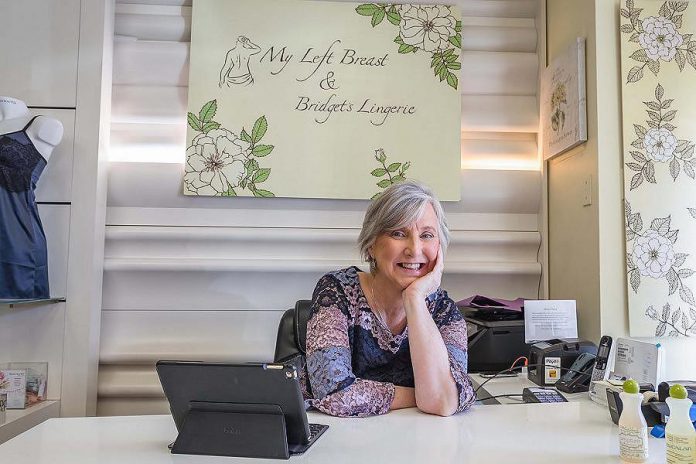 When Bridget Leslie felt a lump in her breast in 2006 at the age of 44, she didn't want to believe the lump was a concern.
She was in good health, had just relocated to Peterborough from the country, was working at a local health unit as an infant development worker, and busy raising two young daughters with her husband Jim.
The breast cancer diagnosis that followed was "devastating and came as a shock" due to her young age and no family history of breast cancer.
"It was like I was on a fast-moving train down a track," Bridget says of her life-changing realization.
After going through active treatment for 18 months, Bridget decided she wouldn't let the disease derail her life, and seized the opportunity to re-evaluate her life and rediscover a new purpose: to help and support others going through breast cancer.
Through her boutique My Left Breast, Bridget helps women gain back their confidence — from a breast cancer diagnosis to treatment and beyond — with prosthesis- and mastectomy-friendly lingerie and wig fittings.
Located in downtown Peterborough, the charming and cozy shop offers a vast collection of silicone or non-silicone breast forms, mastectomy bras, shapewear, tops, swimsuits, as well as custom bra fittings for all women.
For women who have gone through reconstruction surgery, balance and compression bras are available for comfort as they work through the reconstruction process.
Bridget notes she has plenty of regular bras and other products on hand for customers who aren't navigating the post-surgery world. A variety of wigs, hats, and headpieces are also available for all types of hair loss due to medical illness, thinning, or alopecia.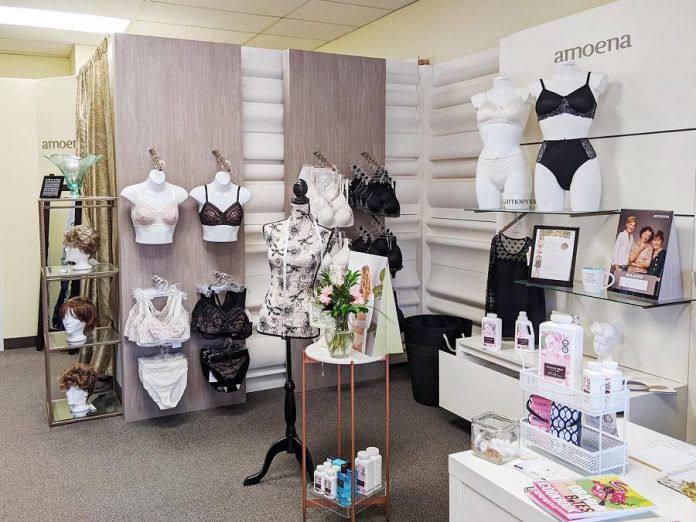 "My goal was to create a space where women could have a personal fitting in a comfortable environment," she explains. "Many women are tired of being in a clinical environment, so it's nice to offer them a place that feels normal — because through it all, that's what you want your life to be."
Bridget points out that My Left Breast is more than just a boutique. It's a safe space and a support network where you receive personalized service from staff who know first-hand what cancer survivors are going through, having been through recovery themselves. Customers can draw on the staff's expertise, experience, and emotional support as they heal from surgery and treatments.
"We're here to guide, inspire, and empower those women," says Bridget.
According to the Canadian Cancer Society, breast cancer is the second leading cause of cancer death in Canadian women. One in eight women is expected to develop breast cancer in her lifetime.
For women coping with the aftermath of full or partial mastectomy (breast-removal surgery) and the loss of an essential part of their being — and, in particular, their femininity — the reality is many of them struggle to find a selection of comfortable post breast surgery lingerie in department stores.
Bridget knows first-hand what that experience is like. When she considered shopping for breast prosthesis and mastectomy wear at medical equipment stores and pharmacies during her treatment, it left her feeling emotionally drained.
"I just found it sad that there was no place in town to get comfortable mastectomy wear," she says.
If it weren't for her good friend, Bridget's story might have been significantly different. Her friend took Bridget for a mastectomy fitting in Kingston — which Bridget says turned out to be another disappointment.
"It was rather a depressing experience and there were limited options of mastectomy bras," Bridget recalls. "I thought, 'There's got to be a better way to do this, to make it more uplifting for women, and to offer a good selection for women who are going through the same thing I'm going through.'"
"When my friend and I walked out of that store, she said, 'You should do this, you'd be really good at it.' And that was it. That was the spark I needed to make a change."
In 2008, Bridget began the process of opening up My Left Breast from her basement, doing home visits while selling merchandise out of her suitcase. She relocated to the Peterborough Clinic, which the shop outgrew, and then moved to the shop's Charlotte Mews location, where the store remains to this day.
My Left Breast holds information sessions on topics such as essential oils, reflexology, and lymphedema. For the past six years, the business also been doing monthly bra-fitting clinic pop-ups at retailer Style Boutique in Bridgenorth. The shop is registered with the Ontario government's Assistive Devices Program as fitters, and is a vendor for medical compression garments for lymphedema.
Marlene Jenkins and Peggy Flanagan Quirion are also on staff as certified breast prosthesis and bra fitters. Along with Bridget, Marlene and Peggy are members of Peterborough's Survivors' Abreast Dragon Boat team, which hosts the Peterborough Dragon Boat Festival, an annual fundraiser for breast cancer treatment at the Peterborough Regional Health Centre.
In July 2018, the team participated in the International Breast Cancer Dragon Boat Festival in Florence, Italy, and in 2022, they plan on attending the same festival in New Zealand.
The trio is also proud to call themselves "BraBassadors", collecting old or gently used bras from donors for the Bras Around the Building campaign every October, and also help raise funds for Birdies 4 Breast Cancer Care Memorial Golf Tournament.
"This is a way for us to give back to community that have stood by us and been our customer for a long time," says Bridget.
The most rewarding part of this business for Bridget is witnessing that people feel safe and comfortable in her care.
"When women first come in the door, you can see they're carrying the weight of the world on their shoulders," she explains. "They often say, 'I never thought I would be here,' and I always say to them, 'It's okay, you're not alone'."
"When they get their prosthesis, they stand up straight again like, 'I don't have to hide or put a scarf on.' Seeing brave women walk through this so-called journey and come out the other end is very rewarding. They can still smile, stand tall, and go on with their lives, and they've made friends and made a community."
To learn more about mastectomy bras and prostheses, visit My Left Breast's website at www.myleftbreast.ca. My Left Breast is located in the Charlotte Mews at 203 Simcoe Street #3 in Peterborough, Ontario. Book your fitting by calling them at 705-876-3333. You can also follow My Left Breast on Facebook and Instagram.