After years in the financial sector, Suzanne Cody and Gwyneth James are taking their clients beyond the basics with a goal to connect clients to a higher level of financial management.
"Our plan is to add controllership functions to our suite of accounting services," Gwyneth explains. "It is a level of expertise that smaller businesses find impossible to staff in-house."
Controllers go beyond simple bookkeeping by providing reports, analysis, and advice. They not only prepare financial reports, they also interpret these reports and turn these observations into advice — something that all businesses need to survive and grow.
"Our staff are good at analysis and systems," Suzanne says. "It's hard for smaller businesses to afford someone to do this in-house. Sometimes they will have the same person who answers their phone doing their books and they may be missing out on important financial and business support."
This is the big gap that Cody & James Chartered Professional Accountants (CPAs) are looking to bridge.
Clients who receive this controllership support have a better handle on when to expand, when to make big purchases, whether to buy a company car or enter into a lease, and whether to increase prices.
These are the additional pieces Cody & James CPAs want to offer to more businesses and, as a result, more businesses should do better in our community.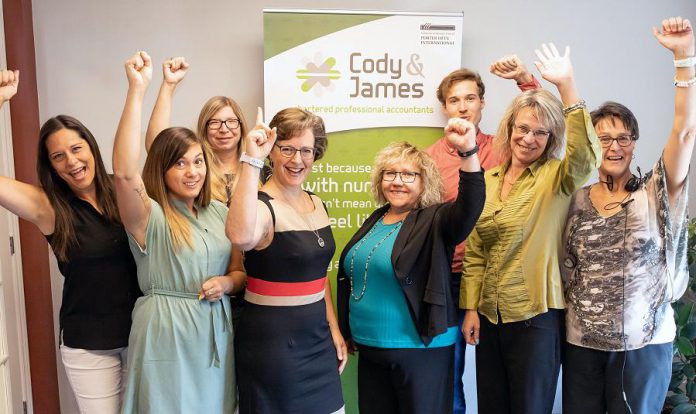 Cody & James CPAs are now offering this higher-level support to clients on an hourly basis, saving smaller businesses the financial burden of a full-time controller.
"There are lots of people who are good at data entry or people who use on-line bookkeeping but then they're not looking back at the numbers," Gwyneth says, "whereas our team has really good controller instincts."
These instincts include understanding what the numbers are saying, being able to ask the right questions, and having the confidence to offer advice that can save a business from a long list of potential vulnerabilities.
Gwyneth explains that the numbers tell the story but unless you speak the language well, unless you have spoken the financial language well for many years — you're not doing the best you can with your business.
"We do this because we care about our clients," Gwyneth says. "Working with our team, your company will do better."
The growing firm in the north end of Peterborough offers a full suite of accounting services — everything from financial statements, corporate and personal tax returns, bookkeeping, and payroll — in their personable, approachable manner and in a language the clients can easily understand.
Through their membership in Porter Hétu International they offer assurance engagements (reviews and audits) to clients. This association also provides research, support, and shared resources through fellow accounting firms.
The Porter Hétu connection aside, Cody & James have earned their local reputation for excellence in their services to small business and a long list of local not for profits — something that comes from the partners' dedication to volunteerism. Both Suzanne and Gwyneth volunteer with different community organizations and not for profits and this hands-on experience is translated into more support for their clients.
Both partners love the company they have built, and the satisfaction that comes from supporting such a diverse client list. They have attracted a solid team of professionals and they look forward to taking the business in a direction that will create a climate of success for all the individuals and businesses they support across the region.
Cody & James CPAs is located at 260 Milroy Dr. #1 in Peterborough. For more information, call 705-876-6011 (toll free at 1-888-511-2791), email info@codyandjames.ca, or visit www.codyandjames.ca. You can also find Cody & James CPAs on Facebook, Twitter, and LinkedIn.
You can also follow Gwyneth James on Twitter at @ghj_cpa and connect with her on LinkedIn. You can connect with Suzanne Cody on LinkedIn.