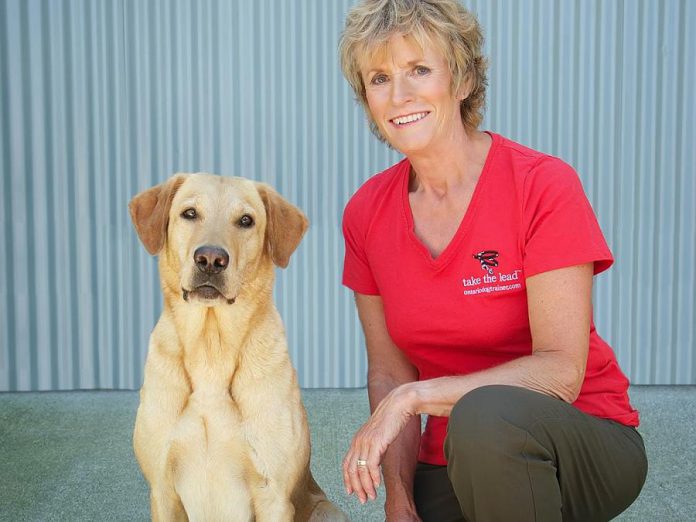 Karen Laws is a pack leader with a heart for helping dogs and their owners have the life of their dreams together.
Now, with her sights set on helping more people and pooches, she's focusing on growing her "dog university" program. She's spent years developing the program for the dogs she trains and for their families — and the results are monumental.
Karen promotes and teaches five basic principles of leadership at Ontario Dog Trainer, but number one on her list is to build the dog-owner relationship. This is what inspired the switch in focus to her success-building boarding programs.
Karen knows that dogs are not verbal creatures. The pack animals hear with their noses and they use physical interaction to message to the rest of their pack. And just like humans, dogs need to build solid relationships, so that's what Karen teaches the people she works with — and their four-legged family members.
"We focus on the relationship first," Karen explains. "With dogs, with staff, and with our clients: relationship first."
This approach means more time with dogs, so Karen has stopped teaching group classes and put more energy and expertise into her boarding programs — including dog university, where dogs come to stay at Karen's facility for three weeks or longer.
"We need to build trust with the dog," Karen says. "If it takes ten days for the dog to understand that we are going to be consistent, then that's how long we take before we start the formal obedience training."
The training Karen and her staff cover can include whatever the dog needs to be part of their family, especially real-world adventures in everyday places like stores where dogs are allowed.
"With so many urban dogs, we do lots of work on how to behave in public places and how to greet people and dogs properly," Karen explains. "And just like some humans, sometimes we teach how to be tolerant without actually meeting."
All of this takes time — time for Karen to build the relationship with the dog and then additional time to help rebuild the relationship between the dog and its family. And every step of the way, with the dog university program, it's about benevolent and predictable leadership.
While the doggie students are at school and after they graduate, there are up to five more private sessions together with the human student that take a couple of hours each: two sessions at the facility and also three on-site or in-home sessions post-graduation.
The first session, mid-way through a dog's stay, focuses on how far the dog has come. It's also a chance for Karen to learn more about the owners and the life they dream of with their dog.
"I need to show them what's possible with their dog," Karen points out. "Then it's time to help the owners understand it's possible for them to live a life with their dog beyond basic obedience."
Karen says she helps her clients feel comfortable enough to reveal where problems might be lingering, so that everyone can experience the success that comes from being focused on a desired behaviour — as opposed to dishing out discipline after something bad has happened.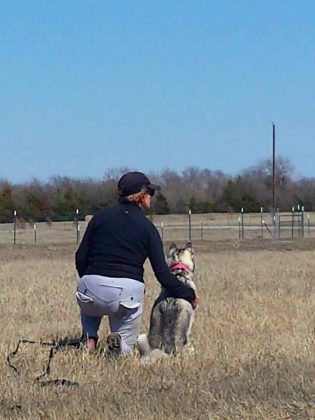 "People think I'm in the dog business, but that's only part of it," Karen says. "I'm in the relationship business."
The shift to more boarding programs is having a positive result. Karen says she's constantly hearing positive feedback from more than just dog owners. She's also hearing from vets, dog walkers, and groomers who appreciate the huge changes they are all seeing.
And it's not just about immediate results. Karen says she hears from past clients all the time — like the dog she just received an email about, who graduated four years ago.
The dog was supposed to be chasing geese off a golf course, but he would never come back if he was off leash. The dog and his owners completed Karen's program and kept working to build their relationship. The geese are now gone, and the dog has become a valued member of the family and golf club staff.
Karen is excited about taking her dog university in a new direction as she trains more staff to do what she does. As a coach, she believes in making everything easy for the client and this means having more trainers available with her skills.
Once this happens and she has some additional free time, Karen says she's finally ready to start writing a book that will provide one more way for people to build lasting positive relationships with their dogs.
Karen Laws is a certified dog trainer and pet food nutrition specialist. Her business, Ontario Dog Trainer, is located at 814 Lifford Road in Bethany. For more information, call Karen at 705-277-1503 (mobile: 705-761-2159), email karen@ontariodogtrainer.com, or visit ontariodogtrainer.com.
You can also find Ontario Dog Trainer on Facebook, Instagram, and Twitter, and connect with Karen on LinkedIn.