When Allison Laming entered an online contest for a complimentary 12-month membership to the Women's Business Network of Peterborough (WBN), she was shocked — and delighted — to find out that she'd won.
An anonymous donor had offered the complimentary 12-month membership and Allison thought, 'Why not enter?' To sweeten the pot, she was also vying for this profile feature in kawarthaNOW's 2019-20 WBN digital section.
Allison had attended two previous WBN meetings as a guest. With her eye on the prize, she submitted her entry with the expectation that it would get lost among the multitude of deserving entrants.
"I saw all of these amazing reasons why other entrants thought that they should win this contest," Allison recalls. "Then (kawarthaNOW.com publisher and WBN member) Jeannine Taylor announced that she would like to include a feature in the digital section with this wonderful donation."
"I have wanted to be a member of the WBN for years," she adds. "There's so much value in it. The speakers are great and the networking is fantastic. It's great just being able to go out and meet other like-minded people."
When she was contacted about her win, she was told that the donor wanted Allison to "give as much as she gets and pay it forward" with her free membership. Allison set her intention to do exactly that.
"I was shocked to win, I couldn't think of any words to say, and there wasn't just one person I could go and hug to thank," Allison explains, "I thought to myself, 'I need to make sure that, every Wednesday night when I attend these meetings, I bring my best game in with me, include other women when I can, give back to other entrepreneurs, and bring people with me on this journey.' It's a wonderful opportunity and not everyone gets to do this."
Before joining WBN, Allison had joined a free group called the Lady Bosses of Peterborough (now The Founders Collective).
"I could chat and network with other like-minded women," she says of the Lady Bosses. "There are a lot of really wonderful, kind and involved/connected women in that group."
Allison also joined Inspire: The Women's Portrait Project — founded by local photographer Heather Doughty — as a board member in charge of grant research and fundraising. The project aims to create a safe space to honour, share, and celebrate the stories of women by recognizing the remarkable in the regular. Allison herself has been recognized by Inspire.
"I was nominated as an Inspire woman back in 2018," Allison notes. "And then I was featured at the Inspire display (at VentureNorth) on George Street earlier this year."
Her work with Inspire is her first experience on a non-profit board, and she's pleased to report that there has been a lot of partnership and support from the city. She now chairs her own subcommittee and is proud to see Inspire continually growing.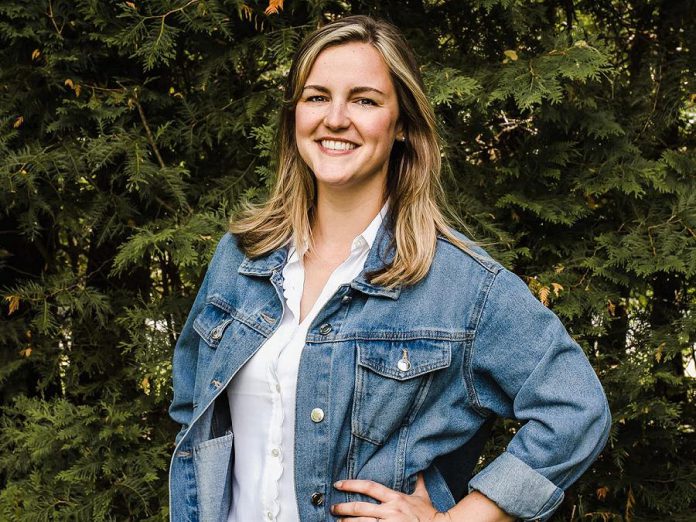 Also growing in Allison's life is the business she and her partner established together. In 2018, Allison and her fiancée Ryan (who both attended Trent University) decided Peterborough would be the home base for their advisory business and would continue to be the place where they would raise their two children.
"We met while working at the same company back in 2016," she recalls. "We had dreams of one day going off on our own and working together."
She says their business now takes them "anywhere from Ottawa to Niagara" and won a couple of local awards during their first year.
"We deal with a lot of small and medium-sized businesses," Allison explains. "It's important that people make educated choices and understand their options. I speak to people the way I'd want to be spoken to. I want to sit down and talk about what worries them, what their intentions are, what their timeline is, and how I can help."
Her biggest focus is making people feel safe and comfortable, so that they won't shy away from asking tough questions.
"People perpetuate the cycle of not getting advice out of fear," Allison says. "Everyone has a different history and they all have different goals going forward, so it changes with every person we talk to."
You can follow Allison Laming on Instagram and connect with her on LinkedIn.