Ally Pyle thought she wanted to be a nurse, but after she finished her first year Trent University, it was evident that she needed to find another path to supporting people in her community.
"I was terrible at biology and anatomy," she laughs. "But I was pretty good at economics."
With her father's influence — he was an economist on Bay Street — and an early start at Scotiabank, Ally's path became clearer. She loved finances, was an avid learner, and knew she wanted to pursue a career empowering others.
"I always felt a strong connection to my community," Ally explains. "The support I received over the years helped me understand the importance of giving back. The financial service industry offered me an opportunity to do just that."
After working her way up the professional ranks, Ally eventually found her perfect fit as a Wealth Advisor at ScotiaMcLeod®, a division of Scotia Capital Inc. Part of a team of six located in Peterborough, she delights in her daily role supporting clients with education, knowledge, advice, and guidance.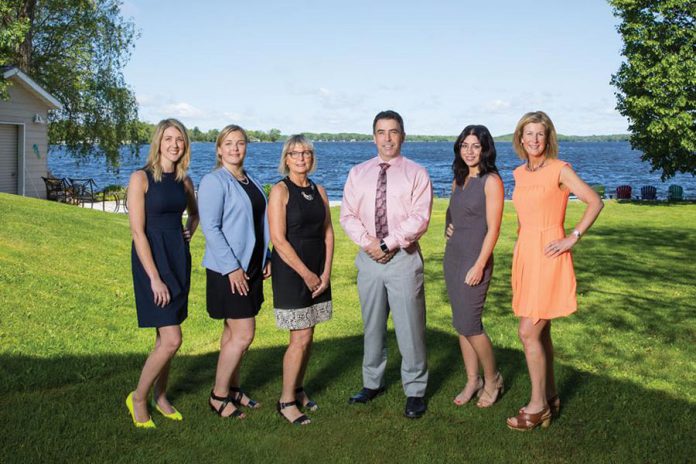 "There is so much diversity in what we do," Ally says. "I'm always learning — if you're not learning every day, you're not doing the best for your clients."
The learning that Ally does includes professional development; she recently passed the Chartered Financial Analyst (CFA) Level 1 exam and is currently a Level 2 candidate. She also admits to spending a lot of time listening to Bloomberg Radio and processing as much data as possible to be prepared to assist her clients.
The other big component of this learning, though, is understanding the needs of each individual client.
And these needs are important, especially when Ally is assisting individuals, family members, and businesses through a comprehensive financial planning process. She develops relationships and determines clients' objectives and risk appetite based on their unique life circumstances and goals. From there, she gets to work on making recommendations and providing advice.
Ally says these client relationships bring her tremendous personal satisfaction and fulfillment. She takes great pride in easing the financial concerns that some clients have, and helping to turn their challenges into achievements. For Ally, it's all about helping people realize their dreams.
She also loves seeing her clients move through life's milestones. In fact, the simple honour of being invited into a client's home where she can get to know their kids and pets reinforces the fact that she's made the right career choice.
"This is all about the individual, what we do," Ally notes. "There is no one-size-fits-all approach. We tailor our offering to each client who walks through our doors."
From choosing suitable investments for clients' portfolios to determining how to assist the transition of wealth to loved ones at the end of life, Ally will work independently, with her team, or with other Scotia Wealth partners to develop the best strategy.
"There is a great feeling of satisfaction that comes from seeing the weight lifted when we let a client know that we can look after their loved ones and that everything will be okay," she says.
Ally prides herself on being a problem solver and creative thinker. She knows that the key to delivering exceptional results for her clients is how focused she is on listening to the important information they have to share. This also involves asking the right questions at the right time.
"The numbers are important, but this is only part of the equation," Ally explains. "Everyone measures success in different ways. And we always need to see the big picture. If you focus on one data point, you'll miss something. We focus on the forest as well as the trees."
Ally's passion for empowering others is evident in her professional life, but she also takes it outside the office with her busy volunteer schedule. Her charitable spirit was inspired by all the support she and her family received helping to raise her younger brother who has Down Syndrome.
"Seeing the impact of all that support made me understand how important it is to donate your time and energy to helping those in need," Ally says. "I'm a board member of 4th Line Theatre, the PRHC Professional Allied Counsel, and treasurer for the Down Syndrome Association of Peterborough."
She is also a member of 100 Women Peterborough and is actively involved with the Butterfly Run, Habitat For Humanity Peterborough & Kawartha Region (Women Build), and many other local charities.
When asked how she fits so many commitments into her week, Ally laughs and confesses that she's bad with idle time. For her, helping others is life's most uplifting reward. Thanks to her valued clients and volunteer community, she's never lacking for motivation.
"Connecting with others is what makes me happy."
Alexandra "Ally" Pyle (B. Sc. Econ, C.I.M) is a Wealth Advisor with The Pyle Group of ScotiaMcLeod®, a division of Scotia Capital Inc., located at 111 Hunter St. W., 2nd Floor, Peterborough. You can reach Ally by calling 705-876-3703 (toll-free 1-855-870-7112) or by email at alexandra.pyle@scotiawealth.com.
For more information about Ally, visit her on LinkedIn. For more information about The Pyle Group, visit pylegroup.ca.