On Friday, November 29th, Enter Stage Right will hold its annual student talent showcase, Storm the Stage, at the PCVS Auditorium in downtown Peterborough.
A chance for local students in Peterborough and the surrounding area to perform in front of a local audience, the event is also a fundraiser for Enter Stage Right, a community-based theatre company for secondary students focused on collaborative creation.
With Storm the Stage happening each year at the beginning of the holiday season, I always assumed it was a holiday show. However, as the company's student spokesperson Taite Cullen explains, the show is a much broader event that doesn't necessarily celebrate the holidays as much as the talents and achievements of the area's young performers and artists.
Advertisement - content continues below
"It's not a Christmas pageant," Taite says. "It's more of a concert. We get a bunch of the Enter Stage Right performers, as well as local groups and individual artists from different high schools, and they all come and perform. It's a really awesome event because we have a lot of talented groups that are fun to watch."
This year, Storm the Stage will not only feature performances by members of the Enter Stage Right company, but also sets by local bands The Nicotines, Out By Lucy, and Drift and Collide, an appearance by the Adam Scott Collegiate improv troupe The Disappointments, and more.
The show is heavily music oriented, with some spoken word and comedy included in the evening, and will also have a student art collection on display in the lobby.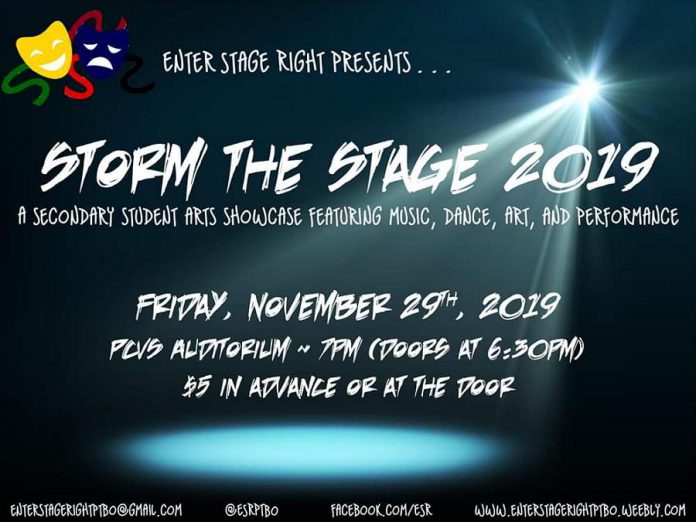 "It's an opportunity for high school students to perform and showcase their art, which is important when you're a budding performer — you need to play everywhere," Taite points out. "It's really fun to see because, when these bands and performers are famous Broadway stars or musicians, we can all say that we saw them first on Storm the Stage in Peterborough."
Traditionally, the final act of Storm the Stage is a preview of Enter Stage Right's upcoming spring production. This year, the group will be presenting an original musical number written by Taite and Enter Stage Right's co-founder Jen Nugent for the upcoming production of Of Mortals and Myths, set to premiere in April 2020.
"Of Mortals and Myths is a really fun show," Taite says. "It's about a high school on Earth where Gods from Mount Olympus have come to choose their prodigies. I really like the humour in the show, because it's a lot different from other shows Enter Stage Right has done. We also have a massive cast this year of 20 people."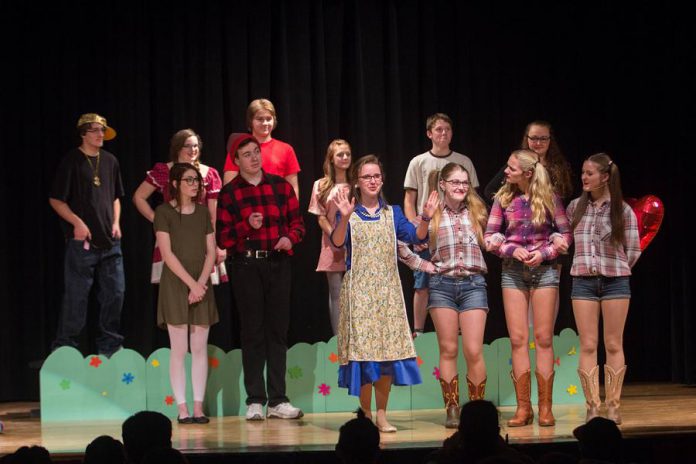 Enter Stage Right was formed by brother-and-sister team Greg and Jen Nugent in 2014, when they noticed insufficient opportunities for high school students to get involved in theatre because of shrinking arts programs. The pair, who both work as educators, created their company so that local high school students who are unable to get involved in a school production can still have that experience.
Since 2014 the group has put on a number of colourful and fun original productions including Welcome to Butternut Grove, Everybody Loves Archie, and After the Battle.
Now in her third year with Enter Stage Right, Taite has become the company's student liaison and has been visiting local schools to talk to students about getting involved with the company — explaining the heavy turnout this year for auditions for Of Mortals and Myths.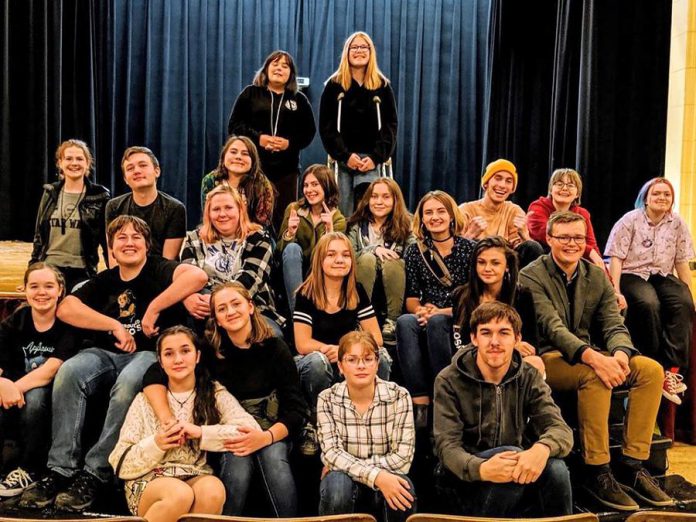 "If you're a teenager in Peterborough and want to do community theatre, there are always adults taking the roles in adult shows, and kids that get the roles in kid's shows," Taite says. ""Jen and Greg are amazing because they take us seriously as teenagers and as artists, they give us responsibilities, and they trust us to act like adults to learn and to grow. It's an amazing opportunity. We are like a family, and we all get along well because everyone in the show takes the show seriously."
"Everyone gets a role, and that role is written for you. The show is written to be performed by our peers and so we all like the show, which is really important. We hope everyone else likes the show because it's really fun to create. It's perfectly targeted to people our age or older."
To continue the development of Peterborough's artistic community, it's important for the existing community to support the next generation of performers That's why Storm the Stage is such an important event.
Advertisement - content continues below
Not only does it allow us to see and encourage young performers, it also gives Enter Stage Right — a not-for-profit organization — financial support to continue its programming and to grow as an important theatrical institution.
"Enter Stage Right is a growing company," Taite says. "It's grown exponentially in the last few years, and I think it's only going to get bigger. It's really awesome being a part of it when it's just getting started, because one day it'll be a big company in Peterborough. I'd like to see more people get involved now, so we can continue to grow and get more talent involved and more people putting their creative energy into it."
Storm the Stage takes place on Friday, November 29th at the PCVS Auditorium (201 McDonnel St., Peterborough). Doors open at 6:30 p.m., with the show starting at 7 p.m. Tickets are $5 at the door, with proceeds supporting Enter Stage Right's spring musical, as well as the company's scholarship fund.