As the old saying goes, home is where the heart is — even more so during the holidays, when we gather with family and friends to celebrate the season. And if you suffer a heart attack, keeping your heart close to home can mean the difference between life and death.
Thanks to life-saving care provided by the Cardiac Catheterization Lab (Cath Lab) at Peterborough Regional Health Centre (PRHC), thousands of people from across central eastern Ontario are still here to enjoy the holidays with their loved ones.
In fact, patients come from across Peterborough and Peterborough County, Lindsay and the City of Kawartha Lakes, Campbellford, Cobourg and Port Hope, the Durham region, all the way north to Haliburton Highlands, and all points in between.
VIDEO: How keeping your heart here can save your life

That includes people like Ernie, who suffered a heart attack due to a blocked artery. When he arrived at PRHC without a pulse, his heart muscle was dying with every second that passed. He needed a stent to clear the blockage.
Fortunately for Ernie and his family and friends, Dr. Warren Ball, an Interventional Cardiologist in the PRHC Cath Lab, found and reversed the blockage so that Ernie's heart — and his life — could be saved.
"My colleagues and I can stop a heart attack in its tracks," Dr. Ball says. "But we can't do it without the help of donors. Their generous support is the reason we have the two Cath Lab suites here at PRHC. Without them, we'd have to transfer patients like Ernie to another hospital hours away, at a time when every second can make the difference between life and death."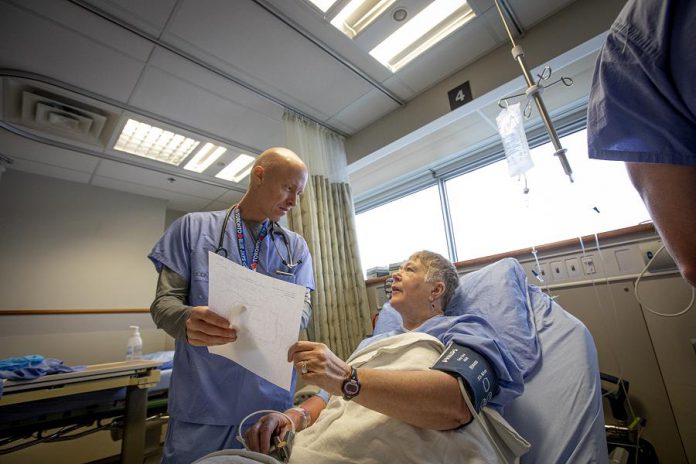 More than 40,000 people in Canada suffer a heart attack each year. Surviving a heart attack has everything to do with time. When a heart attack happens, "time is muscle" according to Dr. Ball — 500 heart cells can die every second. Delay in diagnosis or treatment can seriously impact recovery and, in many cases, it means the difference between life and death.
Last year, the PRHC Cath Lab performed 2,918 cardiac procedures including 885 stenting procedures. Amazingly, 213 of these procedures were performed while a heart attack was taking place.
But now, after a decade of being used to diagnose, prevent, and treat serious cardiac emergencies and chronic conditions — after a decade of saving heart muscles and saving lives — the PRHC Cath Lab need to be replaced.
"Just like your laptop or smartphone, there have been many advances to medical technology in the past 10 years," Dr. Ball explains. "That's why we need the latest equipment in our Cath Lab — we want our patients to benefit from those advancements."
This holiday season, the PRHC Foundation is asking people to help "keep your heart here" by making a donation in support of the PRHC Cath Lab. Many people don't realize the government does not fund hospital equipment or technology. That's why the most generous communities have the best hospitals.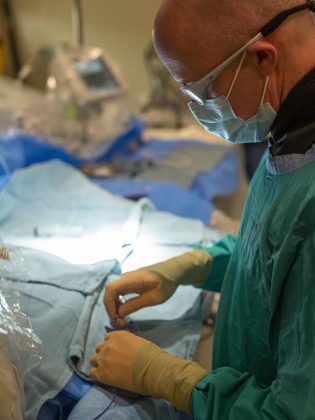 Not only will your donation keep expert care close to home, but it means the PRHC Cath Lab will be able to take higher resolution images of heart arteries — more quickly and using less radiation — so Dr. Ball and his colleagues can make an accurate diagnosis and deliver the best possible treatment to patients.
Upgrading to state-of-the-art technology also helps PRHC attract and keep the best and brightest healthcare professionals. Talented physicians want to join a hospital where they have access to leading-edge technology so they can take the best possible care of their patients — including patients like Ernie who, thanks to the world-class treatment he received at the PRHC Cath Lab, is able to enjoy the holidays this year with his loved ones.
"This holiday season I hope you'll consider making a donation to the PRHC Foundation," Dr Ball says. "Together we'll reinvest in the most advanced technology for our regional Cath Lab, allowing my colleagues and me to continue to provide the highest level of cardiac care possible to save more heart muscle — and more lives.
Give today and help us keep your heart here tomorrow. Call 705-876-5000 or visit prhcfoundation.ca.
This story was created in partnership with the Peterborough Regional Health Centre Foundation.