This month, New Stages opens its 2019-2020 season, which is shaping up to be a very ambitious and different season for the Peterborough theatre company.
Mixing visiting professional actors from some of the biggest stages in Ontario with local favourites, this year New Stages Theatre Company will be presenting two staged readings alongside three complete productions, beginning with a reading of Harvey Fierstein's award-winning play Torch Song on Sunday, September 15th at Market Hall Performing Arts Centre.
A show with a long history of different versions, Torch Song was originally known as Torch Song Trilogy, and was comprised of plays Fierstein had been developing as early as 1978. Torch Song Trilogy opened at the Richard Allen Center in New York City in October 1981, starring Fierstein as the show's hero Arnold Beckoff, alongside notable co-stars Estelle Getty, Mathew Broderick, and Joel Crothers.
Over 117 performances the show became a massive success, and moved to Broadway in June 1982, where it earned both the Tony Award and Drama Desk Award for best show and actor. In all, Torch Song Trilogy would run for 1,222 performances.
In 2017, the play was restaged for an Off-Broadway revival in which Fierstein completed a massive revision of the script, greatly shortening the show (which originally ran for over four hours) and compressing it from three acts into only two. No longer a "trilogy", the new version was simply titled Torch Song, which is the version New Stages will be performing at the Market Hall.
"I went to New York and saw Torch Song Trilogy in 1985," recalls New Stages artistic director Randy Read. "I had been married to a woman, my marriage had just ended, I was just coming out, and this was the play that I saw. It was a very seminal piece of theatre for me, because I was watching someone trying to get the respect they want despite not fitting in the box that society wants them to be in."
Torch Song follows the life and loves of Arnold Beckoff, a Jewish gay man, drag queen, and torch singer who lives in New York City in the late 1970s and early 1980s.
"Arnold opens the show with a monologue before he goes on to do his act," Randy says. "He falls for this guy who is actually bisexual and is torn between Arnold and a woman he wants to marry. By the third act some time has passed, and Arnold has adopted a street kid and has become the kid's father and mother. Arnold's mother comes to visit, and she is kind of like the Jewish mother from hell. She can hardly deal with the fact that Arnold is gay, but when she realizes he has a son she really can't cope with it."
"The humanity of Torch Song keeps it relevant. Arnold is essentially looking for love and fulfillment and having a really hard time of it. But this is not just a play for gay people. Love and respect are something we are all searching for, so in that regard everyone can relate to it."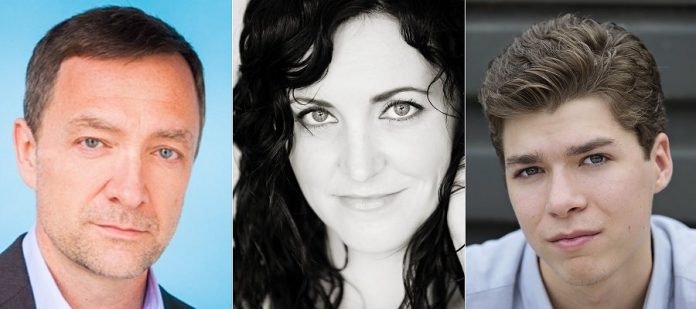 In the New Stages tradition, Randy has put together a cast combining visiting performers with local talent. Playing the role of Arnold is Jonathan Wilson, who won a Dora award for playing Timon in the original Mirvish production of The Lion King, and was nominated for a Gemini for the film version of his play My Own Private Oshawa.
Jonathan is joined by Toronto-based actors Tracey Hoyt (Soul Prints, Cottagers and Indians, Suits, The L.A. Complex) as Mrs. Beckoff and Jeff Miller (The Normal Heart, My Night with Reg, Taken, Queer as Folk) in the role of Ed.
Local favourites Meg Murphy (Between the Sheets, Our Town, Angels in America) and Quinlan Shearer (Late Company) perform as Laurel and David.
As part of Peterborough's Pride celebration, New Stages is offering a special discount.
"Because our first event is in September, I always wanted to find something to go alongside Pride," Randy says. "The show is being included as part of Pride week, and the theme this year is Unstoppable, so if you want to buy a ticket ahead of time and you quote the word 'Unstoppable', you get five dollars off."
VIDEO: New Stages Subscription & 2019-20 Season Promo

Torch Song is the first in what will prove to be a powerful and unique season for New Stages. In the months to follow, New Stages will be presenting the following productions:
Bang Bang by Kat Sandler (November 10, 2019)
The only other reading this year, Bang Bang is a 2018 play dealing with subjects of race, police violence, and fiction versus reality in the aftermath of the shooting of an unarmed black man by a black police woman.
When a white male playwright finds fame via a play he wrote about the event, he faces the officer for the first time when his script is opted for a movie.
"Bang Bang has some very important things to say about our society, but most importantly about the phrase 'inspired by true events' and what we are brought to believe," says Randy.
Every Brilliant Little Thing by Duncan MacMillan and Jonny Donahoe (January 16 to 25, 2020)
New Stages leaves its usual home at Market Hall and takes over The Theatre on King (TTOK) in January for nine performances of Every Brilliant Little Thing, co-directed by Randy Read and Linda Kash.
Steve Ross stars in this funny and moving one man show about a young man caring for his mother.
"It is brilliant," Randy tells. "It may be the most brilliant one-person show I've ever seen."
Canadian Rajah by Dave Carley (March 8, 2020)
New Stages presents something truly special when they welcome the cast and crew of the Toronto production of Canadian Rajah, who will be recreating the show at Market Hall for a one-night performance.
The play is about the true life story of Esca Brooke, born in Malaysia as the son of "White Rajah" Charles Brooke of Sarawak, who fought for recognition of his royal title from his home in Madoc, Ontario.
Iceland by Nicholas Billion (April 28 to May 2 2019)
New Stages returns to TTOK for their final production of the 2019-2020 season with Nicholas Billions' award-winning play Iceland.
The winner of the 2013 Governor-General's Literary Award for Drama, Iceland is a story of greed, capitalism and gentrification. Iceland will mark New Stages third full production of the season.
Tickets for each performance can be purchased individually, or you can buy a season subscription to all five plays for $110. For more information on New Stages entire season and season tickets, visit www.newstages.ca.
Torch Song will be presented at 7:30 p.m. on Sunday, September 15th at Market Hall Performing Arts Centre (140 Charlotte St. E, Peterborough). General admission tickets are $25 ($15 for students, art workers, and the under waged) and are available in person at the Market Hall Box Office or by phone at 705-749-1146 (12 p.m. to 5 p.m. Monday to Friday) or online anytime at markethall.org.