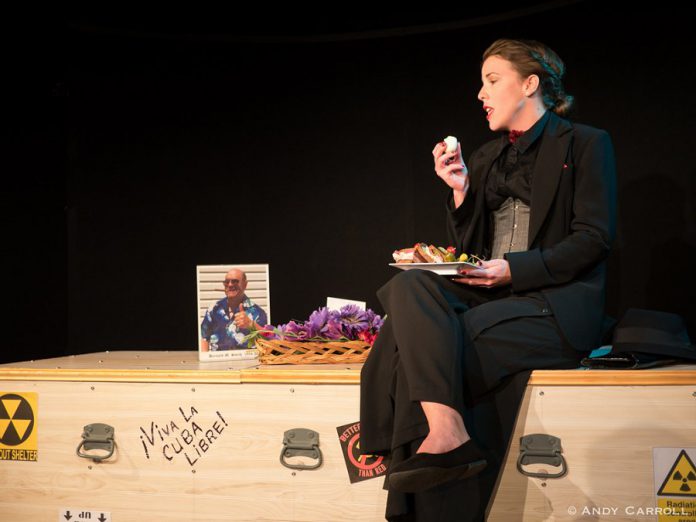 On Wednesday (September 11), The Theatre on King (TTOK) opens its 2019-2020 season by hosting the Peterborough debut of Park Street Productions' Bernie and Nick.
Written and directed by Ken Bolton with assistance from Eryn Lidster, Bernie and Nick is a Faustian comedy — the play's tagline is "The eternal struggle between evil and stupid" — starring TTOK regulars Brad Brackenridge and Lindsay Unterlander.
It's a story about a final game of chance played between an ambitious loser and a devilish woman. Featuring big stakes and bigger chances, the one-act play is a clever comedy for winner and losers alike.
Bernie and Nick represents a return to directing for Ken, a semi-retired journalist and columnist, after a 50-year hiatus.
"Bernie is a loveable kind of guy, but he's a bit of a loser," Ken says, describing the story. "He's a gambler and he's facing mountains of debt. In fact, he is going to be at the Gulfstream racetrack in Florida with his last ten bucks. The sharks are circling. He owes over a hundred thousand bucks."
"Then Bernie meets a woman named Nick. Nick is bright, articulate, and is a graduate of Sarah Lawrence College — she's no slouch. She's in the collection business and she offers him a way out of his dilemma."
Advertisement - story continues below
What follows is a lively game of wits and revealing conversation by a couple of wily characters played by two of Peterborough's great performers. In an unusual and difficult bit of staging, Lindsay and Brad never look each other in the face once, yet are able to maintain the energy and chemistry between one another and the connection to the audience through comical patter and by giving their characters a sense of true depth.
"Brad and Lindsay may be dealing with characters that seem a little stock, in a way, but actually Bernie and Nick have a lot of depth and emotion and very interesting back stories," Ken explains. "It's so exciting to work with people who get it and are bringing everything to the table."
This is the first time that Ken, who moved to Peterborough in July 2017, has had one of his plays produced here. He made his TTOK debut in Ryan Kerr's production of F. Scott Fitzgerald's Mr. Icky in September 2017, which led to the production of Bernie and Nick almost exactly two years later.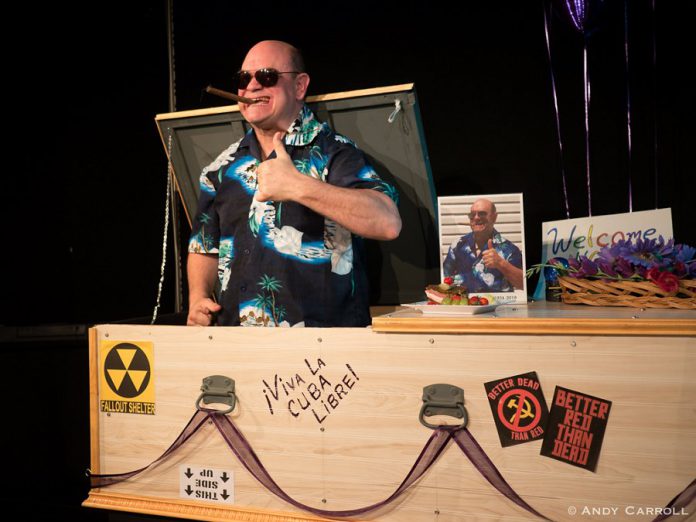 "I was a bit reclusive as a writer, and my wife saw an ad for auditions at TTOK but I was at first uninterested," Ken recalls. "I said 'I don't do community theatre anymore.' She said 'Go, they do very innovative interesting stuff and you need to get out of the house.' I think that was more for her sake and not mine."
"So I went and got cast in this absurd F. Scott Fitzgerald show and thoroughly enjoyed it. I said to (director) Ryan Kerr that I had a few plays ready to be produced. I sent him two of them and he said yes to both. I'm not ready to produce the other one yet, but we decided to produce Bernie and Nick."
For the staging of Bernie and Nick, Ken received funding from Theatre Trent, the Trent University student levy group that assists with production costs of locally produced theatre, such as space and costume rentals.
Advertisement - story continues below
"I'm very grateful to receive some financial support from Theatre Trent," says Ken. "It's not something that I'm used to and I hope to god that what's happening at the provincial level doesn't destroy that. I don't know if it's unique, but it's very important for student fees to be used to support the arts, and I know that it's helped a lot of people in Peterborough."
Although this is the Peterborough debut of Bernie and Nick, it's actually the second time the play has been staged. However, as Ken bluntly admits, the first time it was produced didn't go as well as he hoped, and this is the chance for the show to find its own sort of redemption.
"Bernie and Nick was produced before in 2015 in Saint John and it was appallingly bad," Ken says. "It was so bad that my wife and I were almost in tears. The director did not understand comedy, and he had two actors who had never been on stage before. I wanted to sneak out."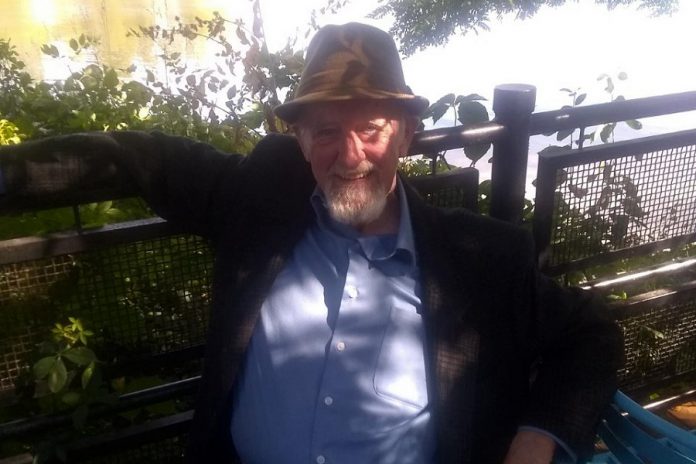 "This time, thank god, the play is in the hands of two very good actors," Ken notes. "I've never worked with Brad and Lindsay before, but I've watched them many times. They both have really good instincts and their comic timing is superb. But they also have a kind of depth to them as well."
It is that combination of comedic delivery and ability to create characters that have multiple dimensions that makes Bernie and Nick work. Without giving away too many surprises, the staging of the show is very unique, and for less-experienced actors would prove to be very challenging.
Both being excellent performers who have plenty of experience qith experimental and unorthodox stage situations, Lindsay and Brad manage to play off each other with just the sound of their voices. With little else to support each other's performances, they somehow manage to make the magic work, creating an imaginative and fun performance.
"It's been a gas … I've enjoyed doing it," says Ken about the production. "I still laugh when I read this play and when I hear Brad and Lindsay find things that I might not realize are in there."
Bernie and Nick is a strong start to TTOK's upcoming season of exciting events and highly original productions. The play opens on Wednesday, September 11th and runs until Saturday, September 14th. Tickets are $15 or pay what you can and are available at the door, or by contacting TTOK at contact@ttok.ca. Shows start at 8 p.m.