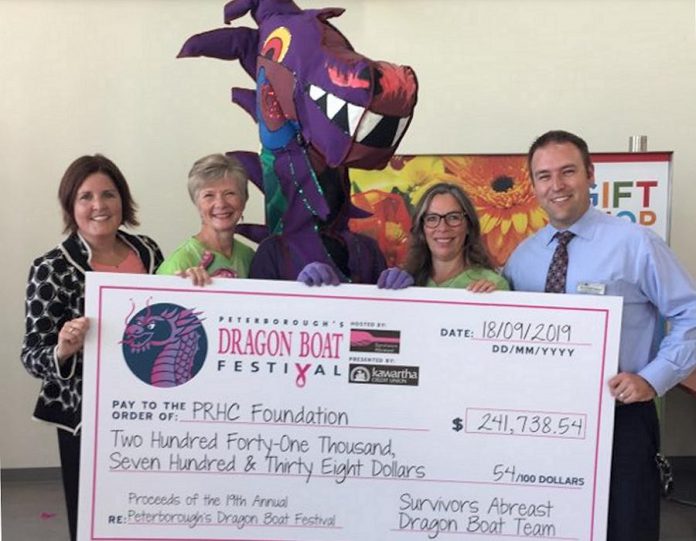 On Wednesday (September 18) at Peterborough Regional Health Centre (PRHC), volunteers from the Peterborough's Dragon Boat Festival organizing committee and Survivors Abreast dragon boat racing team presented a cheque for $241,738.54 to representatives of the hospital and the PRHC Foundation.
The funds were raised during this year's Peterborough's Dragon Boat Festival, which took place on June 8th at Del Crary Park in downtown Peterborough. The annual festival has now raised more than $3.6 million raised for breast cancer screening, diagnosis, and treatment at PRHC.
"It feels good to give back to your community and sharing that feeling with as many people and organizations that make the festival possible is important," said outgoing festival chair Michelle Thornton.
"It is truly a pleasure to work with the talented, generous and enthusiastic members on the planning committee, as well as all of the participants and members of the community who donate their time and energy to the event as captains, paddlers, volunteers, and donors."
Advertisement - content continues below
Thornton, who recently celebrated her five-year milestone as a breast cancer survivor, was also festival chair in 2018 and co-chair in 2017. In October, she is passing the leadership role to fellow Survivors Abreast member Gina Lee.
"Peterborough is a phenomenally giving community and I am grateful to have this opportunity to give back," Lee said. "I have some big shoes to fill and very much look forward to the challenge."
PRHC Foundation president and CEO Lesley Heighway said the proceeds of the 2019 Peterborough's Dragon Boat Festival will be used in PRHC's laboratory to support fast and accurate diagnosis of both breast cancer and other cancers.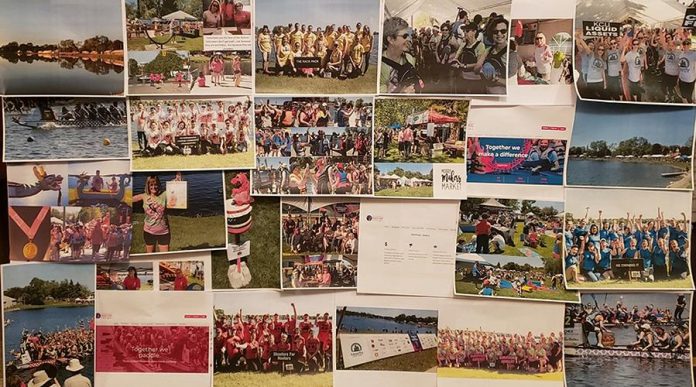 "Breast is just one of the cancers that this vital piece of technology will be used for," Heighway said, noting that there would be no cancer care at the hospital without the laboratory. "PRHC's lab processes more than 20,000 cancer-related cases annually. That number represents thousands of additional people who will benefit from the festival and its donors' investment every single year."
"We're so grateful for the support of our partners Survivors Abreast and Peterborough's Dragon Boat Festival, and to every one of the paddlers, donors, volunteers and sponsors who helped make this amazing event such a success."
Breast cancer now affects one in eight women in her lifetime and experts predict that one of every two Canadians will develop cancer in their lifetimes. Heighway said waiting for and uncertainty about a diagnosis are two of the hardest things that cancer patients and their loved ones have to deal with, so technological innovation that provides fast and accurate diagnosis is a huge benefit.
Advertisement - content continues below
"Doctors rely on lab results to determine and confirm cancer diagnoses and treatment decisions," she explained. "So we're investing in new laboratory automation technology known as Cellavision, a laboratory system that performs automated digital cell mapping of bloodwork, allowing doctors to determine and confirm 100 per cent of cancer diagnoses and make treatment recommendations with less waiting time and uncertainty for patients and their loved ones."
For the 18th year in a row, Kawartha Credit Union has been the festival's platinum sponsor. Crystal Dayman, vice president of marketing and corporate communications, said that caring for others is one of the financial institution's core values, which it demonstrates through donations and volunteering in the community.
"Being the platinum sponsor of Peterborough's Dragon Boat Festival allows us to provide financial support while also participating in a fun event that unites Peterborough and surrounding areas in a common goal to improve local health care resources," Dayman said.
Planning is already underway for the next Peterborough's Dragon Boat Festival, marking the festival's 20th anniversary. The 2020 event is scheduled for Saturday, June 13th at Del Crary Park.