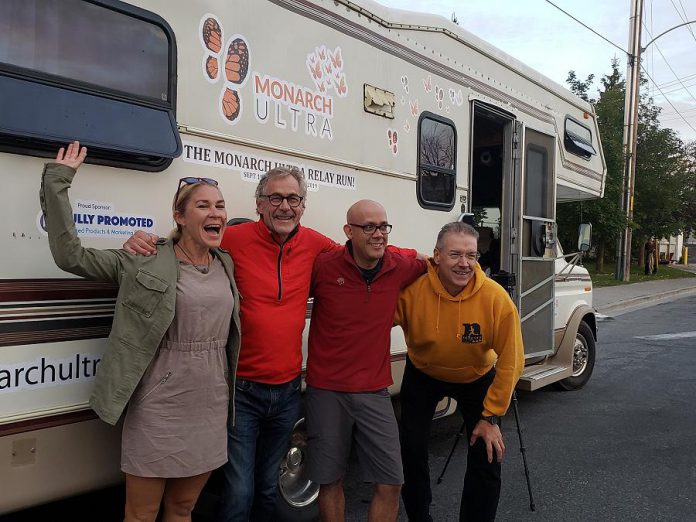 When I ran, I felt like a butterfly that was free. – Olympic medallist Wilma Rudolph
One can get to Mexico's Sierra Madre Mountains from Peterborough via any one of a number of ways, the 4,300-kilometre distance no big deal in a world that has become increasingly smaller.
That said, it's a safe bet that running that distance has never been high on anyone's list of options, if it's listed at all. Then again not everyone is so concerned about the threat facing monarch butterflies that they would actually do just that.
VIDEO: The start of the Monarch Ultra Relay Run in Peterborough (September 19, 2019)

Early Thursday morning (September 19) at the Depave Paradise garden site in Peterborough, members of the Ultra Monarch Relay Run team departed in their collective bid to traverse the same migratory route followed by monarch butterflies at this time of the year.
When they arrive at the Cerro Pelon Monarch Butterfly Sanctuary near Zitácuaro, Mexico on Monday, November 4th, team members will have traversed three countries, all for the purpose of bringing wide attention to monarch butterflies' declining population and what the loss of the pollinator would mean in terms of the adverse impacts on biodiversity and food security.
Advertisement - content continues below
"There are many messages, the first one being about pollinators and their decline," says pollinator advocate and runner Carlotta James, whose vision prompted the project.
"Pollinator populations are in decline all over the world, so we're trying to do something positive and hopeful and inspiring to raise awareness about pollinators and that citizens can do simple things like plant pollinator gardens."
"We have such a short time on earth, so why not do something as ambitious as this?" James asks. "Monarch butterflies are an incredible species but what really connects us to them is human beings, so if we want to do something positive we have to connect both. Ultra runners, because they run such long distances … well, we see that connection with monarch migration."
"Another thing is to educate. We're hoping schools across Canada, similar to the Terry Fox Run, will engage in positive ecological projects and hopefully do mini monarch ultras and get kids outside running and planting gardens."
Advertisement - content continues below
The Monarch Ultra relay run will see runners — 50 initially with room for another 20 to register — teamed in pairs where possible, covering 50- or 100-kilometre segments daily for 47 days.
Joining the runners is filmmaker Rodney Fuentes, the end result of his participation being a documentary about the migratory flight of the monarch butterfly and their plight, the participating runners, and conservation efforts across the continent.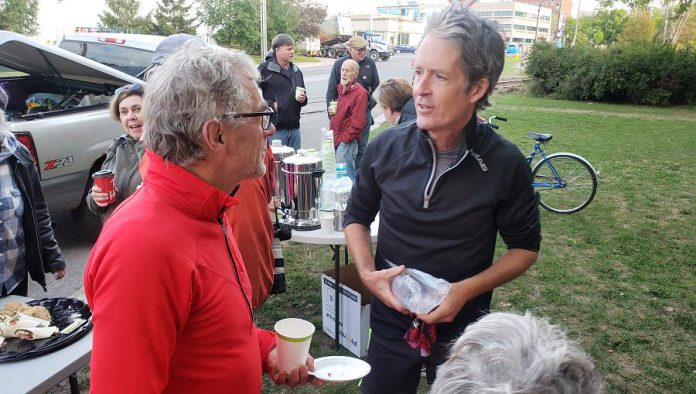 "Carlotta approached me in January 2018 with the idea," recalls Fuentes, who hopes to have his documentary ready to screen by next spring.
"She asked me if I thought it was crazy and I said 'You have no idea how much I love crazy. Let's do this.' We put our brains together and said 'OK, how can we make this work?'"
"I have a vision of how this should look as a documentary, but it's one of those projects that will unfold as we go, so it's hard to plan. We have a vision but we don't know if we're going to get there. Despite having a framework in mind in terms of how the story is going to flow, there's still going to be tons of improvisatio … a lot of filming on the fly. It's very exciting because every day will be a learning experience."
Key to the Ultra Monarch team's success has been, and will be, the involvement of Clay Williams, serving as race director. Responsible for mapping out the route, he brings to the table five years' experience as director of the Canal Pursuit for Mental Health Relay Run that annually traverses the Trent-Severn and Rideau canal systems.
"We sat in a little restaurant in town here and I got a glimpse of her (James') vision," says Williams.
"I saw the distance was more than I'd ever done before, but the logistics weren't a huge challenge. Some of the challenges we are going to see included crossing two international borders and just being able to verify the course. Most of the work I've done I couldn't have done 10 years ago. We didn't have Google street view; we didn't have Google satellite images."
"As I've gotten to know Carlotta and her vision and the kind of different world she lives in, there's so much more we all can do. And I think we can encourage others to do something."
Eileen Kimmett and her husband Joel needed little encouraging. The Peterborough couple signed to run back in February. On September 27th, they'll run a 50-kilometre segment just south of Fort Wayne, Indiana.
Advertisement - content continues below
"Being ultra runners, we saw this as a really unique experience," says Eileen. "We read into it more and it really caught our interest, especially since our kids are getting very concerned about the environment."
"We decided to plant a pollinator garden in our backyard. We planted milkweed seeds and we started to see some monarchs come. I'm so excited — I ran here this morning."
And more – Sorry! Hairy deserves her moment… I know, name doesn't fit this Lovely Lady. Priceless moments with Kedron. 💕🦋

So active after 3hrs! Flying all over in sunroom. A competitive one, racing to Mexico for top hibernation spot. Safe travels. @monarch_ultra @kawarthaNOW pic.twitter.com/KE1QY6bKzw

— Eileen Kimmett (@EileenKimmett) September 17, 2019
Since beginning the Monarch Ultra project last October, the team has connected with conservation organizations across North America to support their work at the local and international level.
That has resulted in partnerships with Bee City Canada, Monarch City USA, Monarch Joint Venture, David Suzuki Foundation, Butterflies and Their People, Ecosistemica AC, Environmental Concern, Monarch: A Living Resort, Save Our Monarchs Foundation, Little River Wetlands Project, and the National Butterfly Centre.
All donations raised by runners' fundraising efforts will go to Monarch City USA, a non-profit group committed to monarch conservation across the United States.
VIDEO: kawarthaNOW.com Publisher Jeannine Taylor talks about sponsoring Monarch Ultra
Jeannine Taylor from Kawartha Now

The effervescent Jeannine Taylor from kawarthaNOW.com shared with us why she decided to sponsor the Monarch Ultra…a local Peterborough project goes global with ultrarunners running a 50km or 100km leg each across North America in order to raise awareness of monarch butterflies whose populations are in decline. Our 4,300km ultra marathon & documentary project will engage communities in Canada, USA and Mexico as we aim to inspire people into environmental & climate action. And what better way to tell the epic story of the monarch's migration by running in their shoes! Please consider supporting our project by becoming a sponsor. With immense gratitude & respect, xx The Monarch Ultra Team

Posted by Monarch Ultra on Friday, July 19, 2019
In addition, the support of a number of local sponsors has been secured, kawarthaNOW among them.
Locally, donations to the project can be made via the Rotary Club of Peterborough Kawartha website at portal.clubrunner.ca/220 A large number of Rotarians were on hand for the launch to lend their support.
To follow along the Monarch Ultra's journey, visit www.themonarchultra.com.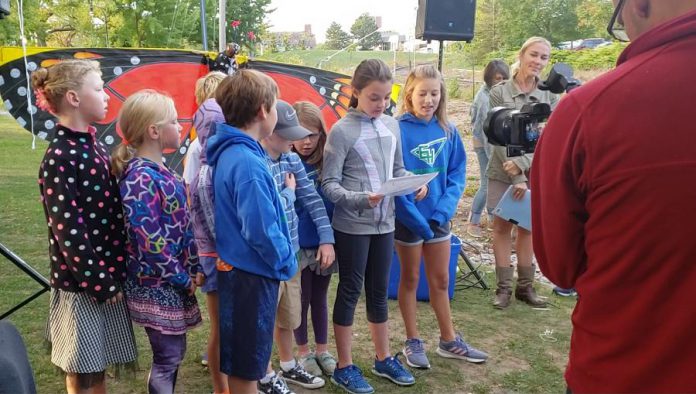 This original version of this story has been replaced with full coverage from the event.