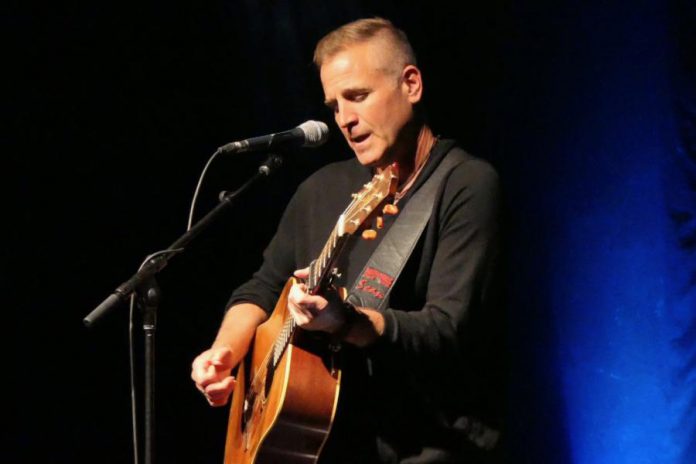 If Old Brown could talk, he would no doubt refer to his lifelong friend as New Beginning.
But here's the thing. Old Brown does talk, every day, and Séan McCann hears every word.
"I tried to leave him home once and I paid a terrible price … he never forgave me for that," says the folk-rock musician of the guitar he bought 30 years ago and has since always had by his side, first as a founding member of Great Big Sea and then as a solo artist.
"When I sobered up and started to deal with my problems, the first side effect of that sobriety was I lost all my friends," McCann recalls. "My phone stopped ringing instantly. I thought I had lots of friends but, when the liquor wasn't there, I was alone."
"I was lucky Old Brown was there for me. We sat down together and I poured my heart and soul into that guitar and songs came out. Those songs are really conversations with myself, encouraging me to not give up and to find new friends and new ways to cope with the stresses of life."
On Sunday, September 29th, Old Brown will be there for McCann once again as he takes to the Market Hall Performing Arts Centre stage. Tickets for Face To Face with Séan McCann cost $33 (including fees) and are available at the Market Hall box office, by phone at 705-749-1146, or online at markethall.org
VIDEO: "Help Your Self" – Séan McCann at TEDxOttawa

Along with a generous selection of songs culled from five solo albums, McCann will bring to his audience a refreshing openness about his battle with alcoholism — a painful journey that he willingly shares to inspire others struggling with and/or recovering from an addiction.
Three years ago, he brought his Road To Recovery Tour to Peterborough, with that concert presented in partnership with the Canadian Mental Health Association, Haliburton, Kawartha, Pine Ridge.
"It's hard but it's part of my job now," says MCann who, since quitting drinking on November 9, 2011, has made a huge mark as an addiction recovery advocate.
Advertisement - story continues below
"That's how I came out of my own denial: by witnessing people talk about their own addiction," McCann explains. "I was sexually abused by a priest when I was a teenager. I didn't admit to that until I saw someone else do that. I was floored that he could just get up and say that out loud."
Saying his time with Great Big Sea — he co-founded the multi award-winning band in 1993 with Alan Doyle, Darrell Power and Bob Hallett — "never cost me one emotional minute," McCann is now focused on "making a difference".
"It gives me a sense of purpose. If you're an addict, a sense of purpose is sometimes the thing that keeps you sober."
VIDEO: "Take Off My Armour" – Séan McCann

Still, McCann is coming to Market Hall to perform and that he indeed will do, his song lyrics highlighted by the same healing words he speaks. Included will be selections from There's A Place, his most recent album.
"The whole record is about being true to yourself," he says of the album produced by Jeremy Fisher and featuring fellow East Coast musicians Joel Plaskett and Meaghan Smith — "The few friends in the musical world that never left me."
"I tried to write a meditative soundtrack to ease people into that, to take anxiety away so they can sit and think about who they actually are," he explains. "That's what music's purpose has always been: to guide you through life, giving examples of how good we can be and helping us navigate difficult questions. There's A Place is really a meditation about trying to find out where I belong in the universe."
Advertisement - story continues below
Where McCann belongs is clearly in front of people, sharing his journey through his words, both spoken and lyrical. As beneficial as that is upon the ears of those who hear his story, it's a shared experience that has an equal, if not greater, impact on McCann.
"What I love doing most, the coolest thing about being Séan McCann, is I get to get in front of an audience," says the 52-year-old Newfoundland native who now calls Ottawa home.
"Being with people, singing with people, and getting people to sing … it's not just a career. It's my recovery. It's what keeps me sober. I'll do that until I drop dead. It's what I need to do. My wife is the first one to say 'Sean, you only did three gigs this month. That's why you're surly. You need to go out. Get in your Subaru and find a gig and do it, wherever that is.'"
VIDEO: "Hold Me Mother" – Séan McCann with Joel Plaskett

"I've met so many beautiful people who have continued to encourage me — people who suffer, people who are resilient, who encourage me to keep trying," McCann says. "I go out after my show to the merchandise table and everyone tells me their stories. Some are devastating, but they're not giving up. My former alcoholic-addicted self wouldn't have met those people. I wouldn't be exposed to their beautiful stories."
If sharing his story through his music isn't enough, McCann, with his wife, has spent the better part of the past two years detailing their journey that will be published as a yet-to-be-titled book in April 2020.
"The book is both of us telling our collective story — where we both come from, how we got together, and all the stuff we went through in recovery," explains McCann.
Advertisement - story continues below
"We're still together and we still love each other very much. I think if you're a couple and you live through something that hard, you can live through just about anything. What we agreed to do is be completely honest, so it's really impactful."
"I've spent my entire creative writing life condensing big stories into 14-line sonnets in the form of songs, trying to encapsulate truth and meaning in very small pieces. Writing a book is the opposite. It's like unravelling all the details that you're used to condensing to one word. It's digging deeper, shaking all the pieces of the puzzle onto the table, and putting it together from a different perspective."
VIDEO: "One Good Reason" – Séan McCann with Meaghan Smith

While McCann admits to having great memories musically of his years with Great Big Sea, "a different person" emerges when he allows himself reflection.
"I was someone who was afraid, someone who was in the dark, someone who wasn't not dealing with pain and hiding in plain view," he assesses. "I was sober for the last Great Big Sea tour, which caused no end of tension. If I had my time back, I probably wouldn't have done it."
"I don't think they (his band mates) would know what to make of me now. I'm not the person they knew. I remember that person. I was always in there but very little of me was seen. They were my brothers but we never had conversations like this. I wish those conversations had happened. Shanty Man (his Great Big Sea persona) was a character I played and I was happy to do it, but it wasn't who I really am."
Advertisement - story continues below
McCann says this tour features him alone on stage, which he loves — "I can literally do whatever I want and change my mind on a dime and go in different directions" — but he won't tolerate any passengers on this ride.
"The goal of my show is everybody has to sing," he says. "You're not going to just be there and mouth the words. I will know. I will come down (from the stage) and squeeze it out of you."
"When you get in a group of people that are singing together, that's really powerful. That's what it's about for me. I don't get to Peterborough often, but when I do I want to make a noise that's joyful and loud and strong enough that it'll be layered for quite awhile on your heart."
In retrospect, McCann very much likes the 2019 version of himself.
"I'm more productive, in business and musically," he says. "I get a lot more done. I'm a better father and a better husband. I'm a healthier person, mind and body."
"I don't make anywhere near as much money but I'm alive. The people around me are thriving, and the people I'm supposed to be helping are getting what they need from me."
"Alcohol and drugs build walls around us so we don't feel. I'm headed in the opposite direction. I'm out there to reach in with my hand and squeeze your heart. It's going to hurt a little, but it's going to feel really good when I let go."
For more information on Séan McCann, visit www.seanmccannsings.com.