Halloween comes early this year when Planet 12 Productions premieres Tex at The Theatre on King (TTOK) in downtown Peterborough from September 25th to 28th.
A supernatural thriller written and directed by Derek Weatherdon, Tex is a creepy ghost story in the vein of Stephen King, mixed with a hint of Rashomon. Starring Samuelle Weatherdon, Aimee Gordon, and Emily Keller, Tex mixes urban legends with a hint of nostalgia in Planet 12's most ambitious production to date.
Ouija boards, apples, and the grave of an unknown man set the stage for this chiller. Tex follows three friends — Max (Samuelle Weatherdon), Billie (Aimee Gordon), and Regi (Emily Keller) — on Halloween. Just at the age where they are almost too old to go out for candy, the three girls spend the early evening trick or treating and return to Max's home for candy and scary movies.
Advertisement - story continues below
However, Max has other ideas. Having borrowed a Ouija board from a school friend, Max chides her reluctant friends into using it. Almost immediately the threesome begin communicating with a spirit identifying himself as Tex, leading the girls into a local cemetery in search for the answers to a gruesome murder from their town's past. What follows is a night of secrets, confessions, and revenge as the girls spend their Halloween in the company of spirits of the past, and the horror of Tex.
Although Planet 12 Productions has created a lot of interesting shows since their inauguration in 2017, Tex is the strongest offering from the group since Boy Wonders. Exploring themes from his own youth, writer/director Derek Weatherdon has a masterful way of capturing the nostalgic wonderment of yesteryear, especially when writing about the 1970s.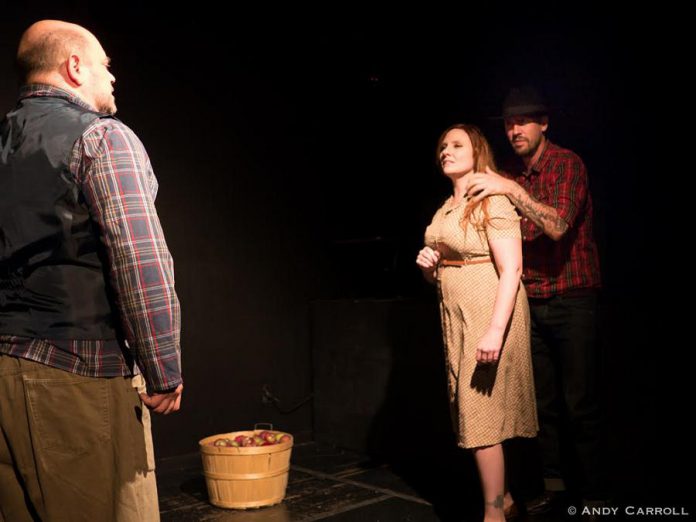 Set in 1974, Tex is a love letter to Halloween nights of the past, when parents allowed their children to run wild in the dark, dressed in garish plastic Ben Cooper Halloween costumes, with little to no supervision.
From the perfect vintage look of the set and costumes to zippy dialogue bursting with era-appropriate cultural references, to musical interludes featuring music by Gladys Knight and the Pips, Cher, Screaming Jay Hawkins and Skeeter Davis, Derek and his company manage to capture that simpler time, immediately creating a nostalgic feeling for anybody who lived in that era.
But Tex is not just a ghost story — it's also a coming-of-age tale, written to usher in the Planet 12 regulars who are no longer kids but growing into both young adults and fine performers.
Advertisement - story continues below
As someone who has been following these young actors working together in productions since 2016, it is really wonderful for me to see them grow from performance to performance. I have a natural soft spot for the Planet 12 performers, but in Tex they raise the bar to a new level.
Although still in her teens, Samuelle Weatherdon has already become one of the most prolific young performers in the Kawarthas via her appearances at TTOK, 4th Line Theatre, the Peterborough Theatre Guild, and other various stages.
In Tex, Sam plays the slightly naive but forceful Max. Seemingly the most stable of the three friends, Max is the girl that leads the girls into the darkness of the past.
I don't want to give away any of the story but, in the role of Max, Sam is able to put on duo hats as a curious teenage girl looking for mystery and adventure, and something else from beyond the grave. It's a great role for a fine actress.
I have been very vocal that Aimee Gordon, who plays Billie, is one of my favourite local young actresses, and it's wonderful to see her again with Planet 12 after a short absence. Although a wonderful musical theatre actress, Aimee also has some serious dramatic chops and she once again flexes those muscles in Tex.
In the role of Billie, Aimee is the cool girl with a complicated family situation. She is also the medium between the two other girls, who wavers between siding with Max's spooky ideas and Regi's cautious ones. Aimee brings a sense of reality to the role, giving another fine performance to her growing theatre resume.
The biggest shout-out goes to Emily Keller as Regi. Although Emily has always had a solid presence with Planet 12, in the past she has always been the quiet (bordering on docile) performer. In the role of Regi, Emily has finally found her voice and she steps up her performance tenfold.
As the cautious, if not slightly dorky, of the three girls, Regi is the voice of reason. However, as the night goes forward, Regi is fighting a losing battle against the spirits that surround them. Emily gives her greatest performance to date and often stealing the stage from her co-stars — a big role for an emerging actress who finally takes centre stage.
Advertisement - story continues below
Tex also features a series of flashback scenes featuring Ben vanVeen, Nicole Roy, and Brad Brackenridge.
In his first appearance at TTOK, Ben shows great dramatic chops by playing the role of Tex in three very different fashions, embodying different versions of the same character. It's a strong debut by a promising actor who I hope we will see much more of on stage.
Nicole Roy also gives one of her strongest performances to date as the tragic Catherine, who she plays as both sultry and sweet. Brad, who is always interesting to watch, plays the town's leading citizen August La Grande, who holds the key to the mysteries of the past, and gets entangled in the horror of Tex.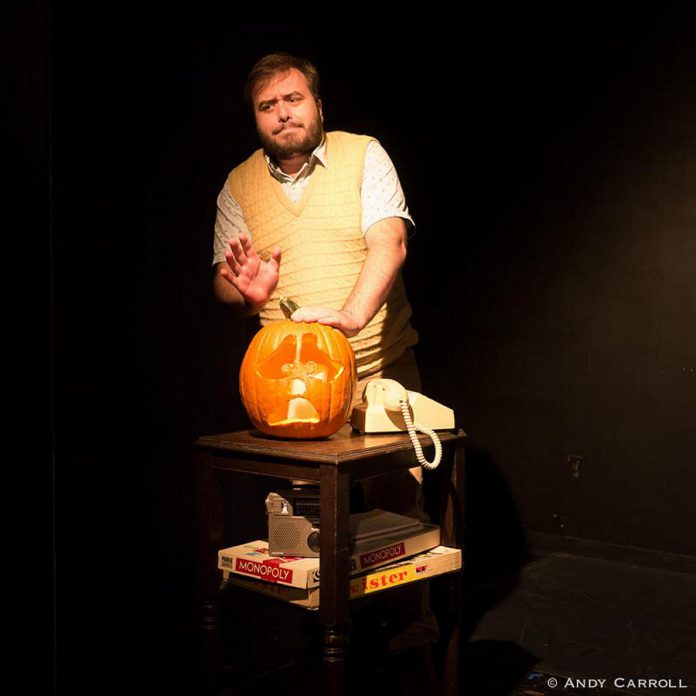 Tex is also unique by including two short film sequences, created by Adam Martignetti (who makes a small but potent cameo in the show as Max's father).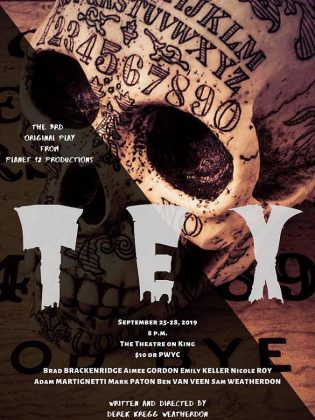 The filmed sequences are a brilliant and well-executed element of the production, allowing the story to be told beyond the confines of the physical theatre.
One of the pieces is a beautiful and moody opening sequence that gives Tex a cinematic feel, adding an exciting element to the play.
There is a lot to be excited about when it comes to Tex. It is a perfect mix of clever dialogue, endearing characters, universe-building moments, and chilling horror centred around three talented young actresses.
Tex sits well amongst recent film releases It Part Two and Stories to Tell in the Dark in relation to theme and genre, but out of the three I'll admit I'm most excited about Tex.
Come out to this great show this week for some early trick or treats and to discover the truth about Tex.
The play runs from Wednesday, September 25th to Saturday, September 28th at TTOK. Each performance start at 8 p.m. and is $10 at the door or pay what you can.