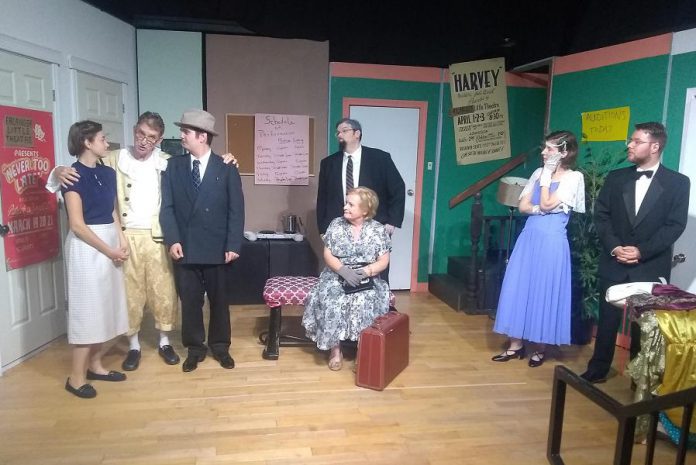 On Friday, September 27th, the curtain goes up on Lindsay Little Theatre's 2019-2020 season with Ken Ludwig's farcical comedy Moon Over Buffalo.
Directed by Pamela Brohm and Beth Harrington, Moon Over Buffalo is a likeable comedy lampooning the backstage antics of repertory theatre and the ambitions of aging actors who have seen better days.
Written by award-winning playwright Ken Ludwig, Moon Over Buffalo debuted directly on Broadway in 1995, where it saw the return of comedian Carol Burnett on stage after 30-year absence. A hit with curious audiences, the play saw Tony nominations for Burnett and her co-star Phillip Bosco, and was the subject of a documentary by famed filmmaker D.A. Pennebaker. The show ran for 300 performances and has had a life on the stage ever since.
Set in 1953, Moon Over Broadway centres on the fading careers of married actors George and Charlotte Hay (Michael Chapman and Lorna Green). Once famous on Broadway, the couple were the darlings of New York and even appeared on the cover of Life magazine.
Advertisement - story continues below
However, after a failed attempt to make it in Hollywood, where they perished in B-movies, George and Charlotte are now appearing in repertory theatre in Buffalo during an era where the advent of television is replacing people's interest in theatre. Performing daily performances of Cyrano de Bergerac and Private Lives, things are about to go from bad to worse for the couple.
When George and Charlotte's daughter Rosalind (Shannon Peters Bain), who gave up acting to live a 'normal' life, arrives in Buffalo to introduce her parents to her new fiancé Howard (Colin Dusome), she doesn't expect to run into her old flame Paul (Michael Hart), who is producing the couple's show.
Furthermore, an unexpected night of passion paired with the return of an old flame threatens to break George and Charlotte up, marking the end of the theatre company. But everyone soon needs to get things together because it is revealed that famous Hollywood director Frank Capra has lost his leading man to an accident on the set, and he is on his way to Buffalo to see the couple perform as possible replacements.
From that moment on, everything goes wrong, leading to mistaken identities, misinformation, disastrous performances, and plenty of slamming doors in the classic comedic farce style.
In the Lindsay Little Theatre production of Moon Over Buffalo, Michael Chapman and Loran Green are well cast in the roles of George and Charlotte Hay. The audience can find comedy as George, a likeable cad, has the worst day of his life.
As George, Michael is highly energetic with expressions that fall somewhere between actor Tom Ewell and comic book hero Plastic Man. He meets his match in Lorna, who remains spot on and steady through the entire production.
Advertisement - story continues below
However, some of the funniest scenes are between Michael and co-star Michael Hart, who plays stage manager Paul. The pair have an unlikely comedic chemistry, and Michael gives a delightful performance.
The highlight of the show for me was a hilarious reading of Noel Coward's Private Lives by Michael and Shannon Peters-Bain. While Michael keeps it straight, Shannon plays it bored and haughty, making for the biggest laughs of the show.
Supporting performances are by Kaitlyn Thibodeau as Eileen and Jeff Condon as Richard, whose romantic entanglements threaten the future of the theatre (not to mention George and Charlotte's marriage), and Bonnie Kelly as Charlotte's crusty mother Ethel, who has most of the show's best zingers.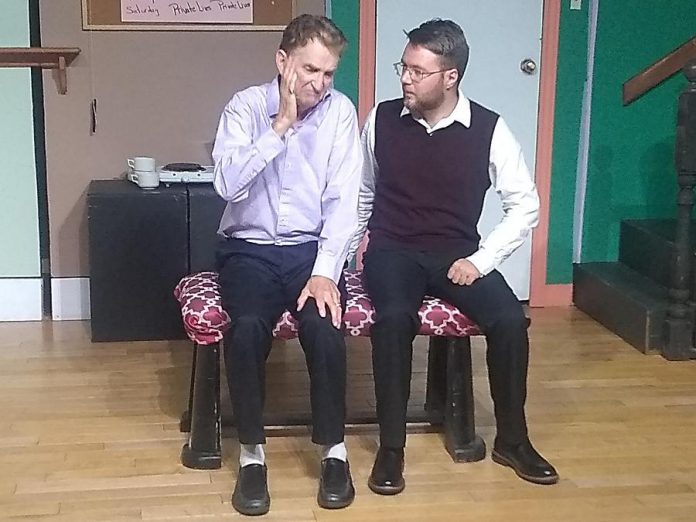 A special shout-out goes to Colin Dusome as hapless weatherman Howard who, despite mostly being shoved out doors or maliciously manhandled, gives the funniest and most charming performance in the play. A very funny character actor, Colin lights every show he is in and provides a much-needed comedic rescue for Moon Over Buffalo.
Although the farcical antics makes up the majority of the show, the real fun begins when the actors fly into the world of Cyrano de Bergerac and Noel Coward. Donning fabulous costumes by Meg Duncan, the mixture of stage fiction and stage reality is a joy to watch and is when the actors really get into the spirit of the show. Wait carefully for the second scene in act two for some truly fun moments.
Moon Over Buffalo is an interesting choice for the opening of Lindsay Little Theatre's new season. Although the material is slightly dated at times, the company puts a lot of passion into it. For audiences that enjoy a classic farce, Moon Over Buffalo is a perfect opportunity to visit one of the most endearing theatres in the Kawarthas.
Moon Over Buffalo will be performed at Lindsay Little Theatre (55 George St. W., Lindsay) at 8 p.m. on Friday, September 27th and Saturday, September 29th and again on Friday, October 4tyh and Saturday, October 5th. Tickets are available in person or by phone at the Academy Theatre box office (2 Lindsay St. S., Lindsay, 705-324-911), online at www.lindsaylittletheatre.com, or at the door before each performance (subject to availability).