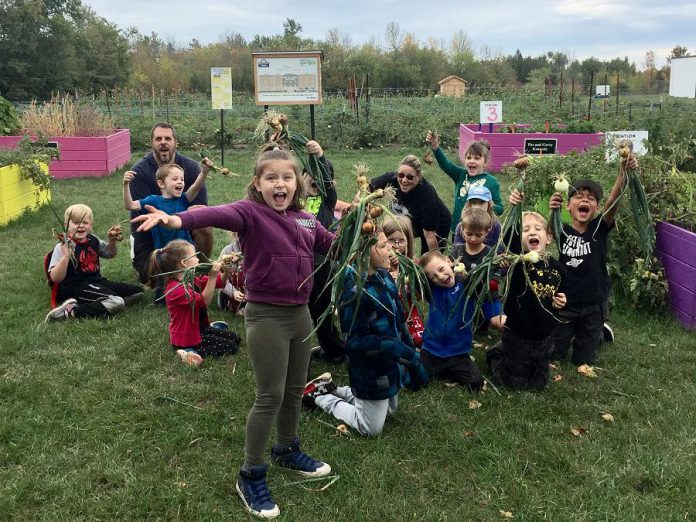 United Way City of Kawartha Lakes (CKL) has announced Edwin Binney's Community Garden in Lindsay has now produced more than two tons of fresh produce in its first year of operation, with all food donated to the community.
The milestone was reached on Friday (September 27) with the help of a Grade 2 class that harvested 122 pounds of onions, pushing the total weight of fresh produce harvested to 4,109 pounds.
Edwin Binney's Community Garden comprises 30,000 square feet of Crayola Canada's previously unused land that the United Way and Fleming College staff have developed into a fully operational community garden. The garden is maintained by staff from both United Way CKL and the Sustainable Agriculture program at Fleming College Frost Campus, as well as several volunteers from Crayola Canada, Farm Credit Canada, and the community.
Advertisement - story continues below
The main goal of the garden is to provide fresh produce to people who need it in the City of Kawartha Lakes through social service agencies, food banks, shelters, and children's programming agencies. In the garden's first year, 11 different agencies received fresh produce.
FoodRescure.ca — operated by Second Harvest, Canada's largest food rescue organization — was instrumental in distributing the fresh produce.
"Thanks in large part to United Way City of Kawartha Lakes, we are seeing 95 per cent of all donations going through FoodRescue.ca be fresh and nutritious produce — items which such non-profits might not often come by or which can be expensive to purchase for their programming," says FoodRescue.ca coordinator Jessica Topfer.
"This has helped non-profits immensely by saving them some of their already limited financial resources, but most importantly, it has given members of our community an opportunity to access good food which can provide them the nutrition and energy they need as they work toward strengthening their future."
Advertisement - story continues below
A partnership with Frost College's Sustainable Agriculture program at Fleming College has meant that the garden uses a science-based crop rotation plan, which will allow even more produce to be grown in future years. Students in the Sustainable Agriculture course are also able to receive practical experience that will count towards their diploma while working on site at Edwin Binney's Community Garden.
Along with college students, children of all ages have enjoyed learning at the garden. Through a grant from TD Friends of the Environment, United Way CKL was able to hire an educator to create curriculum-based workshop materials. Fifteen school classes and summer camps, with children ranging from 3 to 17 years old, were able to visit the garden this year. A total of 300 young people gained hands-on experience in food literacy, numeracy, agriculture and biology through plant identification, scavenger hunts, crafts, and various other activities.
"This is an amazing accomplishment, way beyond any expectation we had when this project started," say representatives from Crayola Canada. "It is a result of a combined effort from so many local partners. Crayola is very proud to be a part of such a significant community initiative."
Plans for the second year of Edwin Binney's Community Garden are underway, with the goal of increasing produce yields and student involvement.
Anyone interested in getting involved in Edwin Binney's Community Garden can contact Elly Millington, projects and communications coordinator at United Way CKL, at office@ckl.unitedway.ca or at 705-878-5081.