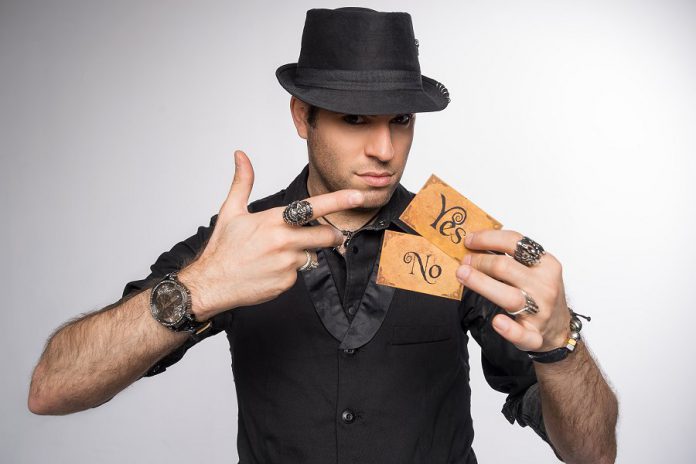 Promising to deliver "an emotional rollercoaster," acclaimed mentalist and magician Spidey returns to Peterborough this fall, this time spinning his mind-blowing web at the Showplace Performance Centre.
"There are things that happen in my show that people would describe as supernatural," he says in a March 2017 interview with kawarthaNOW that precluded his last visit to the city.
"There are very intense moments, extremely happy moments, really funny moments, and deeply emotional moments."
For most, those ingredients are at the centre of pure entertainment, and entertain Spidey will when he takes to the stage of the downtown Peterborough venue on Friday, October 18th.
VIDEO: Spidey: Make Believe – Magic of your Mind

He promises to bring his popular magic and mentalism tricks to the Showplace stage, from playing a heart-racing game of Russian roulette and 'mind Pictionary' to tapping into someone's happiest memories and revealing impossible details.
Spidey (his real name is Bedros Akkelian) has entertained and amazed millions via North American and international tours, numerous television appearances, and several viral YouTube videos — including one clip that sees him exercise the power of suggestion to dodge getting a speeding ticket. He also appears as a guest star in three episodes of the 2018 Netflix original series, Brainchild, which is available in 21 countries.
Advertisement - story continues below
A Canadian Magician of the Year nominee and a Canada's Got Talent finalist, Spidey has performed for, and been consulted by, numerous celebrities, the famed magic duo Penn and Teller among them.
In 2014, performing in front of a studio audience for a taping of the reality TV series Wizard Wars, Spidey's mentalism skills caught the full attention of the duo, including a rare vocal outburst from the typically silent Teller. Leaping to his feet, he cried 'Bravo!' repeatedly.
"It was one of most iconic moments of my career … that was huge for me," recalls Spidey, noting it led directly to his appearing on Penn and Teller's television series Penn & Teller: Fool Us.
VIDEO: Spidey and Joel Meyers on Penn & Teller Fool Us

A graduate of Montreal's Concordia University with a degree in social psychology, Spidey practised card tricks while in high school. His eventual stage name can be traced back to his time as a camp counsellor. A fan of comic books, and with the Spiderman film big in theatres at the time, he adopted that handle as his camp name.
Spidey's increasing fascination with the mental aspect of magic took him in a new direction. In a June 2018 interview with Lindsay Carlton of Fox News, Spidey recalls "That was when the real spark hit where I got really into the more mental stuff"..
"I thought it (mentalism) was a really great way to connect with people, to break the ice, and it's something that I just became so passionate about."
Advertisement - story continues below
According to Spidey, mentalism has at its heart four subcategories: prediction, clairvoyance, telekinesis, and telepathy. That said, he adds mind reading isn't what most think it is.
"It's not like we look at the person and we see or hear their thoughts," he says. "Through a combination of deductive reasoning, magic, and psychology, we know what they're thinking."
He adds using psychology to manipulate people's minds shouldn't be confused with being psychic.
"When people see mentalism, their first guess typically is that it involves some sort of psychic ability, but it's not," Spidey explains.
"I think that even psychics are using trickery and deceptive methods. The only difference is what they claim it is. They say it's real — 'I'm tapping into your energy, and I'm reading your mind, and I can see your aura' — whereas for me, it's 'I'm just entertaining you with this'."
VIDEO: Spidey uses the power of suggestion to get out of a speeding ticket

Spidey makes it clear he doesn't view his talent as a gift. Rather, he says, it's all about technique.
"It's something you learn and develop, akin to learning to play a music instrument."
That in mind, he advises to aspiring mentalists to practice over and over.
"Because mentalism is so much about connecting with someone, the best way is just to get out there and do it as often as you can, for as many people as you can. You're going to mess up at first — it's going to happen — but then, as you get more comfortable with it, you get better."
For more information about Spidey, visit his website at www.spideymagic.com.