On Saturday, October 5th, comedian Peter Wildman returns to Peterborough with a brand new retrospective of his career, 40 Years of Funny Songs, at The Theatre on King (TTOK) in downtown Peterborough.
The comedian, musician, and voice actor is probably best remembered as a member of the comedy troupe The Frantics, who were CBC mainstays in the 1980s and still have a cult following today.
"I've got my binder and I'm coming to town," Peter says during a phone interview from his home in Oakville.
"I did some math, and I started writing music with The Frantics in 1979, and realized that's 40 years," he explains. "40 years of funny songs. There's the title of our show. There it is right there."
"I started compiling a list and it goes on forever. There are a lot of songs. So I put it on a poster and did the show in Oakville and it sold out. So I thought that was good and decided to bring it to Peterborough."
Advertisement - story continues below
Born and raised in Peterborough, Peter left after high school to pursue comedy in Toronto, where he joined forces with Paul Chato, Rick Green, and Dan Redican to form the sketch comedy group The Frantics in 1979.
The group became nationally famous when CBC Radio made them regulars on Variety Tonight in 1981, before graduating to their own show, Frantic Times, from 1981 to 1984.
A predecessor to The Kids in the Hall, The Frantics attempted a go on television in 1986 with Four on the Floor, but only lasted 13 episodes. However, their comedy found continued popularity via their 1987 comedy album Boot to the Head, whose title track has remained a hallmark of Canadian comedy even today.
VIDEO: "Boot To The Head" – Peter Wildman

"It was eight years of working with three of the brightest minds in Canada," says Peter of The Frantics. "You'd tell a joke and do the punch line, and all three of the other Frantics would come up with a bigger punchline. It was done with so much laughter. We wrote over three thousand sketches and songs, and we only used the top third."
"We did radio, stage, and TV. It gave me an opportunity to act and perform and play for nine hundred people. I found that if you don't blow it and pay the gig, at the end of the night you'd walk away a little bit smarter."
Another generation of Canadian comedy fans knows Peter in the role of stoner bush pilot Buzz Sherwood on The Red Green Show between 1993 to 1997. Doubling as a performer as well as a writer on the still-popular series, not all of Peter's musical ideas were loved by star and creator Steve Smith.
Advertisement - story continues below
"I tried unsuccessfully to get Red Green to form a band on the show," Peter recalls. "I could play, Steve Smith could play, we had Ian Thomas in the cast, and we could put Harold (Patrick McKenna) on a washboard. Everybody could carry a tune."
"But Steve was a very clever man, and he knew what he wanted. Every time we were throwing out ideas, I'd throw out the band idea, but he always took a pass on that one."
After four decades of writing comedy, Peter has become an expert at writing funny songs, which is a difficult task within itself — not everyone is going to find the same thing funny. But Peter offers a few tips to budding comedians in the art of writing comic songs.
VIDEO: "Head Up My Ass" – Peter Wildman

"The best approach is to know the punchline," Peter says. "Then you know how the song is going to end, and then you work backwards. In other words, you don't put your funniest joke in the first line of the song, because then what are you going to sing about for two and a half minutes?"
"The other way is to come up with a goofy expression, like 'I've got my head so far up my ass I can see most of my colon,'" Peter adds, referring to one of his recent compositions, which can be found on YouTube along with more of his music.
"I don't know where that came from and I thought 'That sounds like a song.' I wasn't sure what it'd be about, but then I realized that I just described a Conservative. But songs like that are rare. That's lightning in a bottle."
Advertisement - story continues below
Although Peter hasn't made Peterborough his home in decades, he has been a presence on the Peterborough comedy scene for the last number of years. However, this is his first performance in the city since 2017.
"I have dabbled with comedy in Peterborough," Peter says. "I am good friends with people who were part of the Citiots and every month or so I'd appear on stage with them at the Gordon Best. I'd do some improv and a couple of songs before the second act. I boldly suggested that I do the Gordon Best myself, so I did a show there, as well as the Nexicom Studio at Showplace."
"Every so often I get restless and think 'I should play Peterborough.'"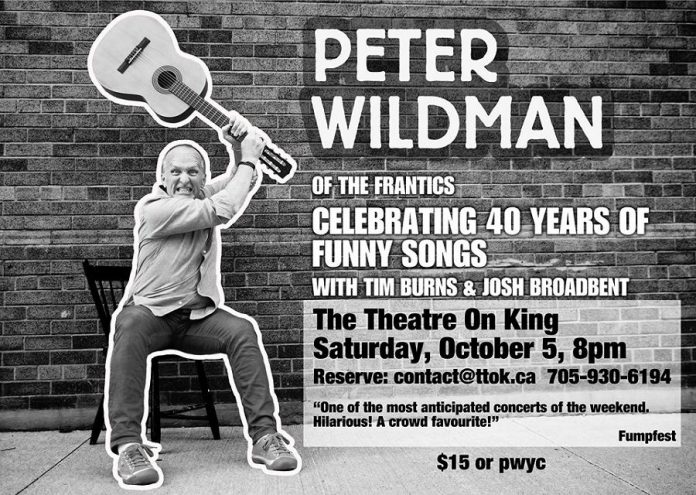 Accompanied by Tim Burns on guitar and keyboards and Josh Broadbent on drums, this will be Peter's first time performing at TTOK.
"The Theatre on King is a neat space," Peter says. "I didn't know what to expect, but after walking in and talking to Ryan Kerr, it looks like a good space. I prefer venues like that where people will come and listen."
"I don't like sitting in the corner and competing with the cash register and the hockey game," he adds. "You need to listen to the lyrics, because they're jokes. I'm not doing the Best of the Eagles or Tom Petty tunes."
VIDEO: "You Can Do Anything" – Peter Wildman (explicit lyrics)

40 Years of Funny Songs is a fantastic opportunity to see a Canadian comic favourite in an intimate setting for a night of stories, songs, and laughs. The show will be presented at TTOK (171 King St., Peterborough) on Saturday, October 5th at 8 p.m.
Tickets are $15 or pay what you can and can be reserved in advance by contacting Ryan Kerr at antispam]contact@ttok.ca[/antispam] or call 705-930-6194.