When you hear the word "trophy", the first thing that probably comes to mind is an award for a victory or achievement.
But for artists Sarah Conn and Allison O'Connor, a trophy is also a turning point in our lives, whether good or bad or somewhere in between — reflecting the word's origins from a Greek word meaning "to turn".
That's is the concept behind Trophy, a free outdoor interactive art installation coming to Fleming Park in downtown Peterborough on October 4th and 5th, where local residents share their own true stories of transformation and change.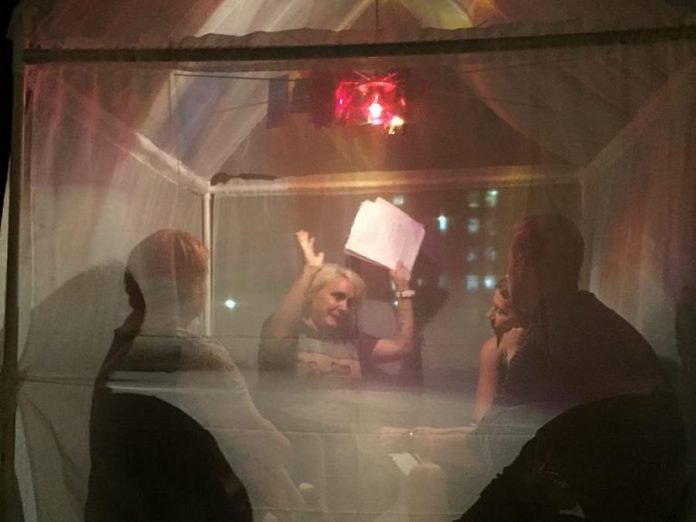 During Trophy, audience members casually travel through a series of illuminated greenhouse-like tents where they can sit and listen to storytellers recount a significant moment in their lives where everything changed.
If they want, audience members can write a story about a moment of transformation in their own lives, and affix it to the wall of a tent.
Over the course of the performance, the pop-up tents transform into multi-coloured translucent structures, covered in new stories brought forth by audience members, serving as temporary beacons in a world filled with change.
Advertisement - story continues below
Sarah Conn is a producer of award-winning theatre and live art projects and is Artistic Associate for the National Arts Centre's National Creation Fund. Her Trophy collaborator Allison O'Connor is an Ottawa-based sculpture and installation artist and a social art practitioner. The two artists first organized Trophy in 2014.
"When I started working on Trophy, I was trying to figure out how people navigated change," Conn says. "I was hungry to hear from people outside my usual circle."
"I realized that, no matter our life experiences, we could find commonalities in the turning points in our lives, even if it was just how different these moments had been for us."
Trophy has been presented at festivals across Canada including National Arts Centre's Canada Scene in Ottawa and OYR's High Performance Rodeo in Calgary, as well at internationally at the Prague Quadrennial in the Czech Republic, the Lift Festival in London U.K., and the Dublin Fringe Festival in Ireland. More than 2,000 people have shared their stories during Trophy.
"One of my favourite parts of Trophy is the moment after the story is shared," Conn explains. "Listening in from outside the tents, I hear incredible conversations and realizations being exchanged by people who just met. It's the type of community-building connection that drives me artistically and personally."
Presented by Public Energy Performing Arts and the Peterborough Downtown Business Improvement Area, Trophy is a free event taking place at Fleming Park (427 Aylmer St. N., Peterborough). You can visit the installation anytime between 7 and 10 p.m. on Friday October 4th, and anytime between 4 and 7 p.m. on Saturday, October 5th.
Advertisement - story continues below
Trophy is also being featured as a part of [in]sites, presented by Public Energy, Artspace. and the Art Gallery of Peterborough, which is a series of art and performance events happening outside of traditional art and theatre spaces.
Conn and O'Connor will be joining other artists from the [in]sites series (Aylan Couchie, Chris Ironside, and Anne White) for an artist talk from 11 a.m. to 1 p.m. on Sunday, October 6th at the Art Gallery of Peterborough (250 Crescent St., Peterborough).
VIDEO: Trophy

For more details about Public Energy Performing Arts' 2019-20 season, visit publicenergy.ca/performance-season/2019-2020/.
kawarthaNOW.com is proud to be a sponsor of the 2019-20 season of Public Energy Performing Arts.