As tributes to Mike Taveroff continue to flood social media, his daughter Jesse remembers her father much the same as countless others — a man who eagerly and unselfishly shared his unbridled love of music and, in doing so, exposed most all he met to new experiences.
A native of Montreal, Taveroff operated the iconic Moondance record store in downtown Peterborough for 46 years before closing it in April 2018.
He died Sunday (October 13) at age 70 following a brief battle with cancer.
"He wanted to do what was exciting and interesting and different … he walked to the beat of his own drum," says Jesse.
"You could be a weirdo, you could be a nerd; it didn't matter who you were. He treated you the same. He loved people and he loved talking to people. That truly made him happy."
Jesse, together with her younger sister Leigh — both are Vancouver residents — was with her father when he passed while under hospice care. Also present was his close friend and former employee Sue Logan, who says after he was given six to nine months to live this past July, Taveroff "decided he was going to do all the living he could do, so he did what he wanted to do. I like to think he had as good a time as he could."
It was back in early March 2019 that Taveroff, less than one year removed from his retirement, was diagnosed with a brain tumour, which was removed in mid March followed by radiation.
His doctor initially suspected glioblastoma, the same form of brain cancer that resulted in Gord Downie's death. However, a subsequent biopsy determined that melanoma was present. After one round of immunotherapy treatment made him sick, Taveroff opted to stop all treatment.
"We're not doing great," says Jesse who, with Leigh, lost her mother Cheryl, also to cancer, in February 2017.
"The last five years have been extremely hard for us but we didn't want to see either of our parents suffer. We understand that this is life, but it's not easy. Our dad was looking forward to travelling (in his retirement). Unfortunately life came along and gave him a shitty card."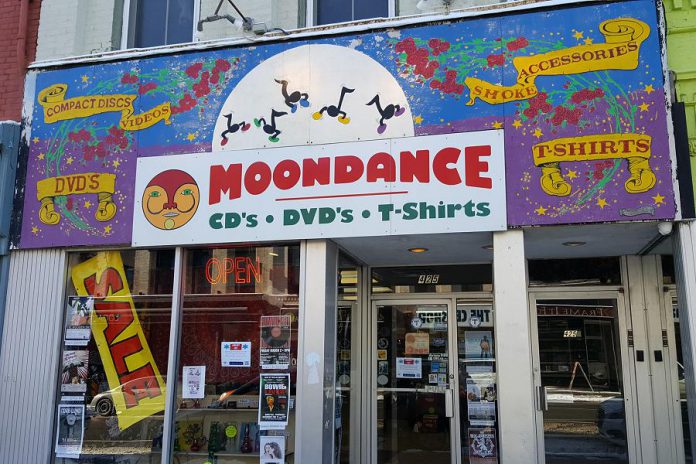 That same life, however, brought Taveroff riches he never could have imagined when, in 1972, he placed a bin containing some 250 records for sale in Cheryl's downtown Peterborough clothing store in 1972.
Over the next five decades, Moondance was a must-visit staple for music fans in search of the latest releases. However, along the way, the opportunity to chat music with the owner became the main attraction for many patrons.
"He really took it upon himself to know the music industry and know all aspects of it … it wasn't just about what he liked," says Jesse, who worked at Moondance during her high school years.
When Taveroff announced in early 2018 that he was closing Moondance come April, there was a huge outpouring of support and good wishes.
"It was very emotional for him to see all the people that cared … he didn't think anybody would care," recalls Logan, with Jesse adding her mother's passing played a big part in his decision to call it a day.
"A part of his heart was gone and wasn't coming back. He was still himself but there was a light that he had that was no longer there. He held onto Moondance because it was his other baby, but he was getting closer to 70 (years old) and he was a bit tired. The problem was he didn't want to sell it to somebody who didn't love it the way he did. That was hard for him."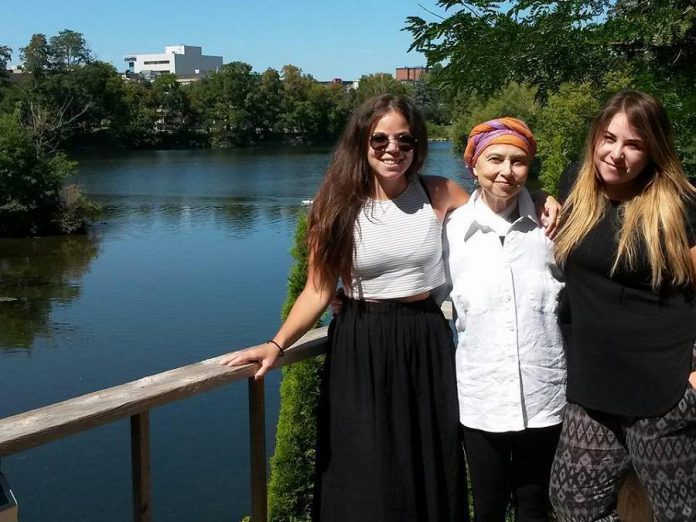 Moondance, Jesse adds, was more than a business for her father — it was an all-consuming passion.
"He did (product) searches for customers all day, every day. He never took a day off. That was exciting for him. He was so proud to be able to bring that to people. He spent a lot of his free time doing that. It was because he loved it, not because he felt he had to for the money or the business. It was for the person."
Logan, alongside longtime employee Rob Franke, saw that passion firsthand; an experience anchoring her firm belief that Taveroff was, and remains, "an iconic character in the music culture of Peterborough."
"He was always so excited to work with someone who was open to listening to new music. He'd run back and forth from the customer to pulling out different things from here and there. He would play music for them until they found exactly what they wanted. He did that for a lot of people."
Saying her father "had an absolute rock 'n' roll heart," Jesse says he would talk music virtually non-stop. Many times the conversation focused on any one of the numerous live music events he attended — Woodstock and The Rolling Stones' storied 1977 appearance at Toronto's El Mocambo among them.
"Having a dad in the industry was a wonderful way to get exposed to new music … things I would have never listened to had I not had him in my life. That's fair to say about a lot of people in Peterborough. They wouldn't have had an outlet to hear new music if it wasn't for him bringing it into the store and suggesting it or playing it in the store where they could hear it."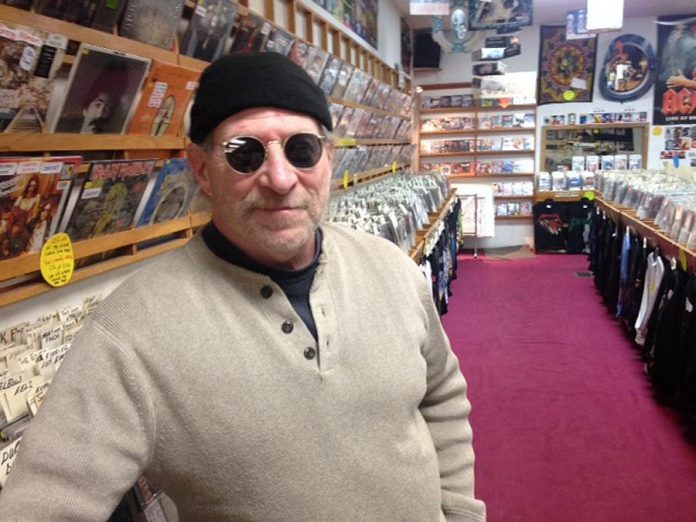 Social media sentiments posted since kawarthaNOW first reported Taveroff's passing have spoken to one indisputable fact for many: one typically visited Moondance the first time for music, but returned for the chance to talk music with Taveroff.
"We were lucky to have such a cool dad that brought such interesting things into our lives," says Jesse, no doubt expressing the view of thousands of others.
"I loved having a dad who was different from the cookie cutter 9 to 5 dad. I was always very proud of that."
Mike Taverhoff's service will be held on Wednesday, October 16th in the chapel at Comstock-Kaye Life Celebration Centre (356 Rubidge St., Peterborough). Visitation with the family is from 10 to 10:45 a.m. with the service from 11 to 11:45 a.m. Family and close friends will attend the interment; other friends are invited to remain at Comstock-Kaye for a coffee until the family return for a reception at around 12:30 p.m.