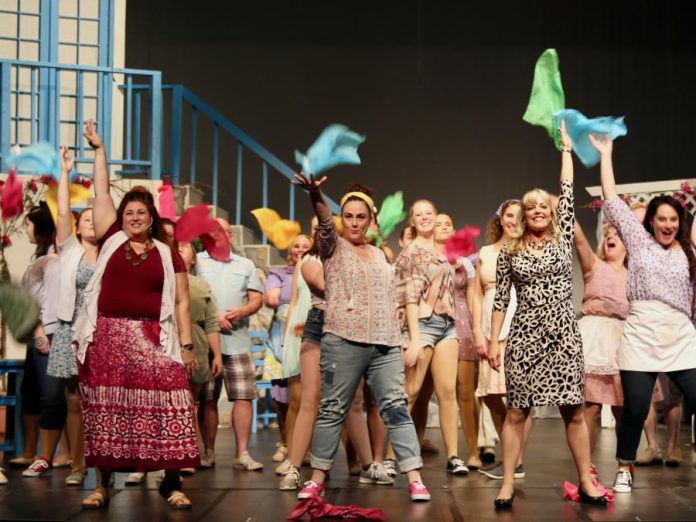 On Friday, November 8th, St. James Players opens their highly anticipated production of Mamma Mia! at Showplace Performance Centre in downtown Peterborough. Directed by Jacquie Butler, with musical direction by Dustin Bowers, Mamma Mia! brings the music of Swedish pop sensations ABBA to life in a fun and fabulous production that will bring the audience to its feet.
There is something undeniably infectious about the music of ABBA. No matter what the show or where their music is heard, people everywhere will flock to sing and dance along. Always a perennial favourite, St. James Player is the first group within Peterborough to present Mamma Mia! in its entirety. With a well-casted ensemble of local musical favourites, and a strong supporting cast of singers and dancers, this is the ultimate showcase of local talent performing all of your favourite ABBA songs.
Mamma Mia! is the story of Donna Sheridan (Natalie Dorsett), who single-handedly built a resort on a Greek island while raising her daughter Sophie (Gillian Doiron). Once upon a time, Donna and her best friends Tanya (Christie Freeman) and Rosie (Lyndele Gauci) were in a musical trio called Donna and the Dynamos, but gave up show business when Donna got pregnant with Sophie. However, due to having three love affairs in a small amount of time, Donna has never been sure who Sophie's father is.
Fast forward 21 years later to when Sophie is planning her wedding to Sky Rymand (Edward Sweeney). After finding an old diary of her mother's, she has located the three men who may be her father: architect Sam Carmichael (Warren Sweeting), banker Harry Bright (Keevin Carter), and travel writer Bill Anderson (Mark Gray).
After Sophie invites all three men to her wedding without her mother's knowledge, the potential fathers arrive on the island just as the wedding celebrations are beginning. Now, as her past is catching up with her, Donna begins to battle the walled-up emotions she has been pushing down for years, as Sophie tries to discover which one of the men is her real father.
Advertisement - story continues below
Wrapped around the music of ABBA, Mamma Mia! is a show full of celebration, emotion, laughter, and romance. The power in St. James Players production of Mamma Mia! is its well-cast leading ensemble. Made up of some of Peterborough's most stalwart musical theatre performers, the leading ensemble is a total dream cast.
What is especially refreshing is that the actors bring their own spin to the characters, allowing the audience to see something a bit different than just a reproduction of previous stage shows or the 2008 film adaptation. Furthermore, amidst the songs and celebration, they succeed in creating a sense of emotional depth in their characters, adding to the dramatic potency of this production.
While watching the preview of the St. James Players production, I felt a powerful shift between the first and second act — albeit both acts are well executed.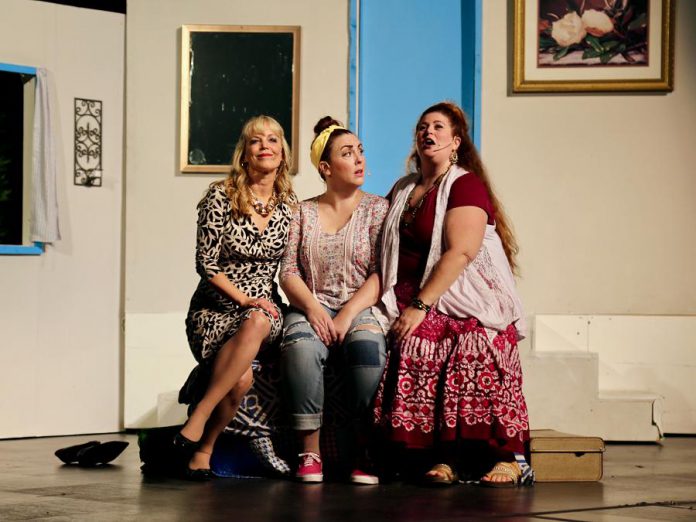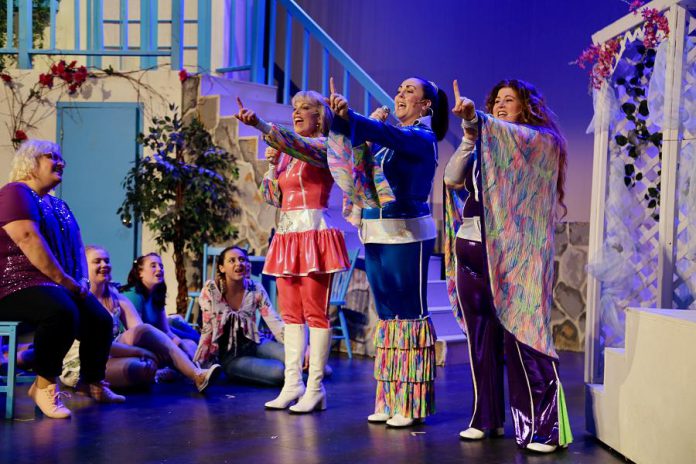 In the first act, the focus is on the setup of the story, where the true strength is the large musical numbers that include the entire cast in big dance sequences excellently choreographed by Mellissa Beeby. The setup happens under the backdrop of huge numbers including "Gimme, Gimme, Gimme", "Voulez Vous", and "Dancing Queen".
However, the first act isn't without its share of emotional bits, including Gillian Doiron and Mark Gray's performance of "The Name of the Game" and an absolute endearing performance by Gillian and all three potential fathers with "Thank You for the Music".
But it's really when the entire cast is together in the first act that the show really hits. It's like a massive ABBA dance party filled with joy and exuberance.
Advertisement - story continues below
Things take a total shift in the second act when the drama really builds, and the show becomes more personal and emotional. One of the brilliant things about the St. James Players production is that the actors really take the time to make true connections with one another, and the relationships between characters become real instead of just superficial.
One of the best examples is seen in Keevin Carter and Natalie Dorsett's performance of "Our Last Summer", which illuminates the charming friendship between their characters Harry and Donna.
Natalie and Gillian also deliver an emotional performance of "Slipping Through Your Fingers", about the bond between mother and daughter, while Warren Sweeting brings out his character's inner turmoil in "Knowing Me, Knowing You". All of this leads up to Natalie's show-stopping performance of "The Winner Takes It All", which left me with a lump in my throat so big I couldn't breathe.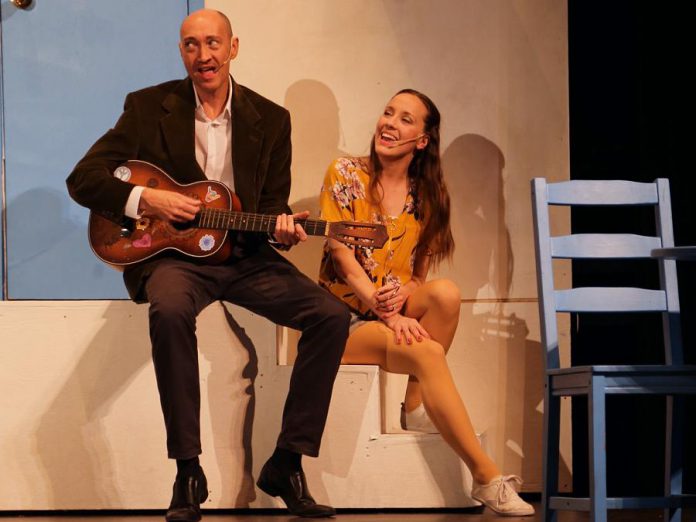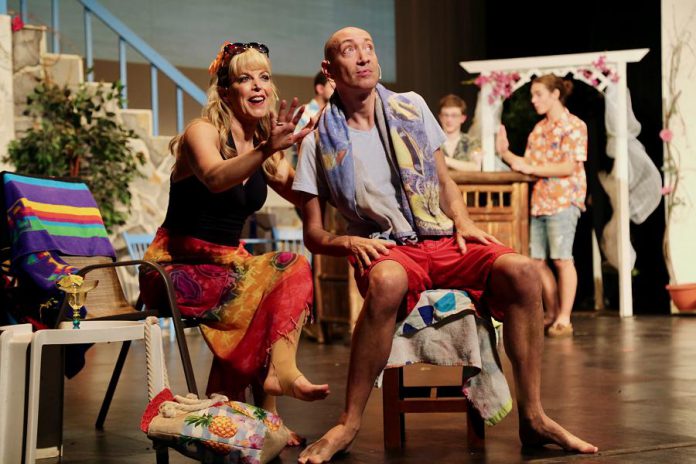 The second act isn't just about emotional anguish. Lyndele Gauci and Mark Gray become a surprisingly delightful pair in their performance of "Take a Chance on Me", and Christie Freeman ignites the stage with Addison Wylie and the cast with "Does Your Mother Know".
With all of the best character performances stuffed in the second act, the party in the first act becomes an emotional roller coaster in the second.
I also want to make mention of the show's most unusual, but possibly my favourite, ensemble number in the show. The second act opening features Gillian singing "Under Attack", which was never a classic hit for ABBA, in a nightmare sequence that looks more like a scene from Ray Harryhausen's Jason and the Argonauts than Mamma Mia!. This inventive macabre sequence really appealed to my spooky sensibilities and blew my mind.
Advertisement - story continues below
While I have said much about the lead cast, I also want to give a huge shout-out to the group ensemble. From tiny Lucy Dorsett who keeps up with the adult chorus to pure perfection in all the dance numbers, to the Jason Momoa-like Gord Costain who lends an imposing shadow onto the stage, this entire grouping includes players of multiple generations in all shapes and sizes, making up the complete colourful world of Mamma Mia!.
There are future superstars, who pop out during the performances, hiding within this group. It's their spirit that fills the world of Mamma Mia! with life, and their individually shines through in every number.
Also a quick nod to Melissa Jones of MJ Designs who created the colourful disco costumes used in the show. Futuristic yet dated, they are incredible. I secretly wish I could pull off the red disco suit worn by Keevin Carter in the grand finale, but not very many people probably ever could.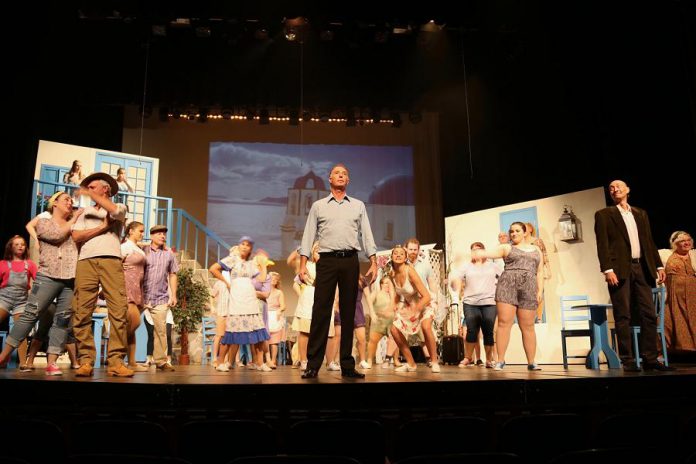 The music of ABBA, the story of Mamma Mia!, and the vibrant energy of the St. James Players are a perfect equation for enjoyment and entertainment. While audiences are always sure to love ABBA, after all the ABBA shows I've seen during my time covering local theatre for kawarthaNOW, the St. James Players presentation is the best one.
Mamma Mia! is totally a passion project for the cast and crew. The love and care put into this show by the people creating it can be heard in every note and seen in every dance step. It's a sure-fire hit for this theatrical season, and everyone will walk out of Showplace with an ABBA song in their heart.
Thank you for the music, St. James Players!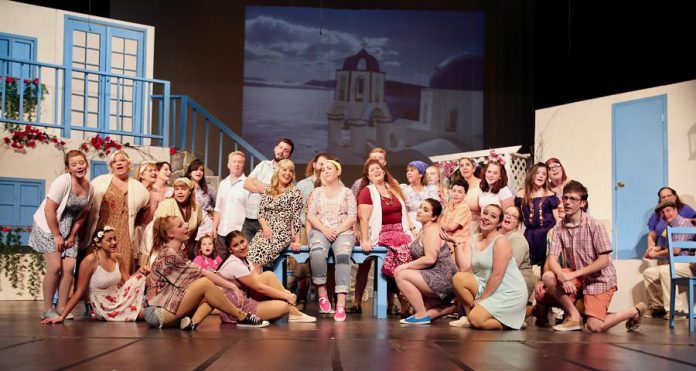 Although selling fast, there are still tickets available for every performance. Mamma Mia! opens on Friday, November 8th and runs for seven performances until Saturday, November 16th at Showplace Performance Centre (290 George St. N., Peterborough).
Tickets are $27 for adults, $23 for seniors/students, or $20 for children/youth (plus fees) and are available in person at the Showplace Box Office, by phone at 705-742-7469, or online at showplace.org.