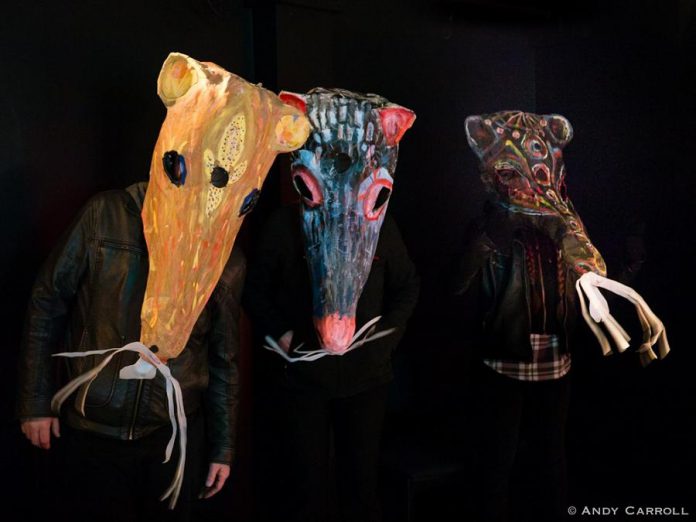 On now and continuing into December, Precarious2: Peterborough ArtsWork Festival is dominating the downtown Peterborough arts scene with new works in theatre, visual art, music, spoken word, and more, along with workshops and panel discussions that examine the continuing difficult economic situation faced by local artists living and working in Peterborough.
Presented by Fleshy Thud in partnership with Public Energy, Precarious2 is spearheaded by artistic director Kate Story, festival director Ryan Kerr, and Indigenous programming director Jenn Cole, who started the conversation back in 2017 with the original Precarious festival.
Since that first festival, life for local artists has become even more challenging, prompting the need for a continued conversation.
"Things are much more precarious," Ryan says. "There have been funding cuts to the arts since the last festival. We've had a different government come in. University levies have been slashed."
"Which directly affects places like The Theatre at King, because Theatre Trent used to be a fairly constant and reliable source of funding," Kate adds, referring to the student levy group of Trent University that supports theatrical endeavours throughout the community. This past September, the Ontario government allowed students to opt out of fee levies for levy groups that — at Trent University — include Theatre Trent, Arthur Newspaper, Trent Radio, and many more.
Advertisement - story continues below
"A lot of artists we know are in jobs that have directly been affected because of the Ford government cuts — teachers, and minimum wage precarious work," Kate explains. "Those people are living to the bone now, not that it was great before. So a lot of our core artists in this town are in a much worse situation in direct result to the Ford election."
"I have a constant sense of worry now. A huge amount of energy suddenly went into various types of activism and attempts to alleviate the effect of some of the Ford cuts that were fairly useless. So I'm going into this festival really exhausted because there is a lot of extra work, with a sense of hopelessness — but you have to try."
Many ongoing projects and connections were made during the first Precarious festival in 2017, which was hugely successful and well attended. For the most part, in the two years that have followed, many of the conversations have remained the same.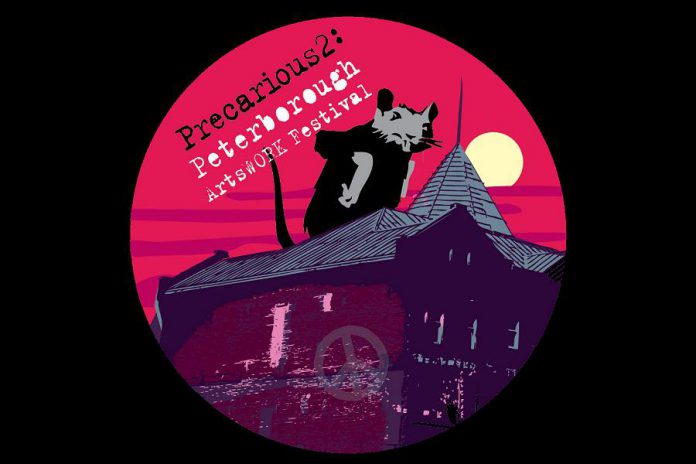 "The response last time was interesting," Ryan observes. "When you start talking about precariousness, it brings up an awful lot of emotions and ideas from a lot of different people. It means different things to different people."
"I think in the first festival we created a lot of discussion around the idea of precarity, and I think in this one we'd like to continue that discussion and take it way further and actually make it a big deal. People need to know that life in this city is precarious — not just for artists but for everybody."
"The public health study came out that over two thirds of the workers in Peterborough are precariously employed, which we already knew," Kate points out. "But that's news for what was a blue collar town. Peterborough is still trying to reinvent itself and we have a lot of questions about what direction that is going in."
Advertisement - story continues below
For this year's festival, a number of artist residencies have been established, including work and research by Jon Hedderwick, Ann Jaeger, Victoria Ward, Justin Million, Laurel Paluck, and Hilary Wear, who add an importance presence to the festival.
"We aren't paying the residencies what they deserve by a long shot, but they are all invited to just investigate precarity," Kate says. "It's so interesting. Some people are looking at emotional precarity, some people are looking at political precarity, and environmental precarity, the music industry and how it's changed, and every kind of way you can imagine."
"They are meeting together throughout the festival to offer support to each other and to share notes. That's something I'm very excited about."
"It's a very wide range of artists from different mediums," Ryan says. "They are all really supportive of each other and tossing around ideas. They are all working at different art forms, and presenting at the end of festival."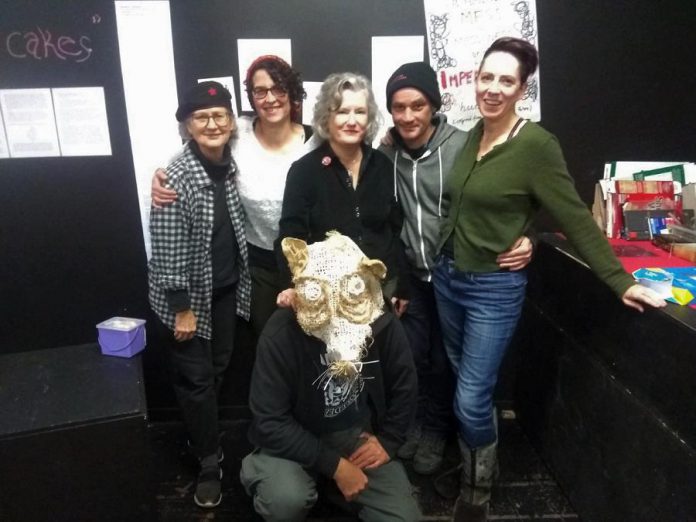 Precarious2 has also created some mentorship opportunities — including a bittersweet opportunity for artist/actress/writer Eryn Lidster, who is one of the final individuals to receive funding from Theatre Ontario to put together her brand new one-act play Rejoinder, which makes its debut at The Theatre at King on Friday, November 29th.
"Eryn is being mentored under the Theatre Ontario professional training program, which has been axed as a result of the Ford cuts," Kate says, "She's in the last wave. That program has been around for years, and the list of people who have been mentored there is long. So many prominent people have been mentored through them. We're happy we got the funding, but it's a huge heartbreak."
With numerous events throughout the downtown core throughout November and December, there is plenty of opportunity for everyone to find something that speaks to their own interests and situations, and to participate in events that range in cost from free to pay what you can.
"As things start to happen, it's amazing what people are starting to present," Ryan says. "Because the festival goes on for so long, it kind of depends on people's connections to the theme. So even if they come for only four of the events, they still have a feeling they've participated in the festival — more than if the festival has only gone on for a week."
"There is this feeling, as an artist, that we are used to living a little bit more precariously," Kate says. "Not that that's good thing. The argument we've been making for years is that artists shouldn't have to live precariously. It's labour and important work. It's not a grant — it's an investment."
"We all know the stats. Now that it's more mainstream to have precarious labour, we have something to offer: we're investigating it as much as any other field is investigating it. We have a leg up on it."
For a full schedule of events visit ttok.ca/precarious-events/. In the meantime, here is a list of some of the highlights of the festival happening in the coming weeks.
Advertisement - story continues below
Panels
Seeding Possibility in a Precarious Landscape – Tuesday, November 19th at 7 p.m. at The Theatre on King (171 King St., Peterborough)
We live in an increasingly precarious world. To move beyond survival, we need to better understand what precarity looks like in our community and assess avenues to transform this reality. Arts worker Anne White will speak from her lived experience, City staffer Nancy Fischer will share the Precarious Employment Research Initiative's findings, and Nourish's JoÎlle Favreau will highlight the impacts of precarity on food insecurity, as well as possible policy solutions, including a basic income. Co-presented by Nourish Peterborough. Free.
Why We Do This Work, Here and Now – Monday, November 25th from 5 to 7 p.m. at Artspace (378 Aylmer St. N., Peterborough)
A conversation moderated by Jenn Cole (mixed-ancestry Algonquin) with Jill Carter (Anishinaabe/Ashkenazi) and William Kingfisher (Anishinaabe), whose artistic practices explore relationships at the edge of the woods and in the gitigaan/garden. Why do this work at this time? Moderated by Jon Lockyer. Presented by Artspace. Free.
I'm Still Here: Precarity, Aging and Life with Art – Tuesday, November 26th at 7 p.m. at The Theatre on King (171 King St., Peterborough)
What is precarious about old age? Speakers will talk from their lived and work experiences about connection, laughter, exploring, and care, challenging expectations about precarity and aging. Join in a conversation about how the arts without ignoring the grit. Open up avenues to connect, laugh, delight, and offer ease in late life. Hosted by Sally Chivers, Director of the Trent Centre for Aging & Society, with panelists Susan Braedley (Carleton University), Shelley King (Artful Connections), Janna Klostermann (Carleton University), and Shannon McKenzie (TTOK). Co-presented by Trent Centre for Ageing and Society. Free.
WORK, WORK, WORK X2: A Roundtable Discussion on EC3's Stats of the Artist Research Project – Tuesday December 10th at 7 p.m. at The Theatre on King (171 King St., Peterborough)
What is life like for artists living in Peterborough? This EC3 Cultural Incubator breaks down and contextualizes the results of the Status of the Artist survey, conducted during Precarious Festival 2017. With panelists Su Ditta (EC3); Anna Currier (Research Lead); Kate Story (EC3 Board and Project Advisor); Annie Jaeger (Culture Critic), and more! Co-presented by the Electric City Cultural Council (EC3). Free.
Precarious Panel II: Life Under Ford – Thursday December 12th at 7 p.m. at The Theatre on King (171 King St., Peterborough)
Doug Ford, elected on a promise of government for the people, has cancelled a planned increase in the minimum wage, cut short the basic Income pilot project, and made damaging cuts to student aid. The panel will feature a diverse set of speakers tracing the ways Ford's policies affect a wide range of people and communities: Ethel Nalule (TCSA Vice President of Health and Wellness), Leina Amatsuji-Berry (co Editor-in-Chief of Arthur), Jason Hartwick (Chair of Basic Income Peterborough Network) and David Tough (VP Unit 1 CUPE 3908). Co-presented by CUPE 3908. Free.
The Residents: What We Found – Friday December 13th at 8 p.m. at The Theatre on King (171 King St., Peterborough)
Precarious Artistic Residents Jon Hedderwick, Ann Jaeger and Victoria Ward, Justin Million, Laurel Paluck, Hilary Wear, and garbageface present their findings after deep dives into investigating precarity over the course of the festival. Come witness and participate in their results! $15 or Pay what you can.
Advertisement - story continues below
Theatre
A Little More Red – Thursday, November 14th at 8 p.m. at The Theatre on King (171 King St., Peterborough)
Public presentation by Victoria Ward, part performance/part findings from Victoria Ward and Ann Jaeger's week-long residency. Performance features Kate Story and Ryan Kerr. Pay what you can.
Sussing the Scales – Works in Progress and Tips for the Late Shift – Friday, November 22nd at 8 p.m. and Saturday, November 23rd at 2 p.m. and 8 p.m. at The Theatre on King (171 King St., Peterborough)
Two brand new original theatre pieces by Hilary Wear, and by Naomi Duvall and Anne White. $15 or pay what you can.
Waiting for Real Jobs and Rejoinder – Friday, November 29th at 8 p.m. and Saturday, November 30th at 2 p.m. and 8 p.m. at The Theatre on King (171 King St., Peterborough)
Two brand new original theatrical pieces by Elisha May Rubacha and Eryn Lidster. $15 or pay what you can.
Music, spoken word, film, and more
Down n' Out Revue – Monday November 18th at 8 p.m. at The Garnet (231 Hunter St. W., Peterborough)
A music and poetry revue of celebrated and unsung working class singers, songwriters, poets. Chris Conway and Justin Million will also be improvising songs and spoken-word pieces throughout the event. Free.
Art for Introverts – Monday, November 25th at 8 p.m. at The Garnet (231 Hunter St. W., Peterborough)
Calling all introverted socially awkward, anti-social, occasionally misanthropic creative types! Extroverts are welcome, but should be accompanied by an introvert! Music, craft, and gentle social interaction available, but feel free to bring your own artistic apparatuses. Free.
Pushback film screening – Monday December 2nd at 7 p.m. at The Theatre on King (171 King St., Peterborough)
ReFrame Film Festival and GreenUP's NeighbourPLAN Program present Pushback directed by Matthew Hayes and produced by Jon Hedderwick. Against the backdrop of the coming winter, this documentary intimately chronicles the lives of five people connected to the Warming Room — a homeless shelter of last resort — as they search for housing, security, and new hope. A discussion with the filmmaker and special guests will follow. Free.
Bawaajigan ~ Stories of Power book launch – Thursday December 5th at 7 p.m. at The Theatre on King (171 King St., Peterborough)
Featuring dream stories by Indigenous writers, Bawaajigan ~ Stories of Power is a new anthology from Exile Editions edited by Nathan Niigan Noodin Adler and Christine Miskonoodinkwe Smith. Readings from Lee Maracle, Katie Jo Rabbit, Nathan Niigan Noodin Adler, Christine Miskonoodinkwe Smith, and Karen Lee White followed by a Q&A and music, with food and soft drinks from Pow Wow Café. Presented by Exile Editions and the Pow Wow Café. Free.
Keyboards! Family Christmas – Monday, December 9th at 8 p.m. at The Garnet (231 Hunter St. W., Peterborough)
Justin Million's live-typewriting poetry show continues its tradition of hosting a Christmas poetry-vaganza, and he's bringing lots of friends with him. A yule experience unlike any other! Free.
Scribe, Speak, Share: Spoken Word Mentorship Showcase – Wednesday December 11th at 7 p.m. at The Theatre on King (171 King St., Peterborough)
Eight aspiring youth writers and four professional spoken word artists. Through a mentorship program offered in partnership with the Aspire Program, youth writers learn to give emotional and spiritual shape to abstract ideals, explore deep meaning in the mundane, and hone their craft. This program supported by the City of Peterborough. Co-presented by the Peterborough Poetry Collective. $10 or pay what you can.