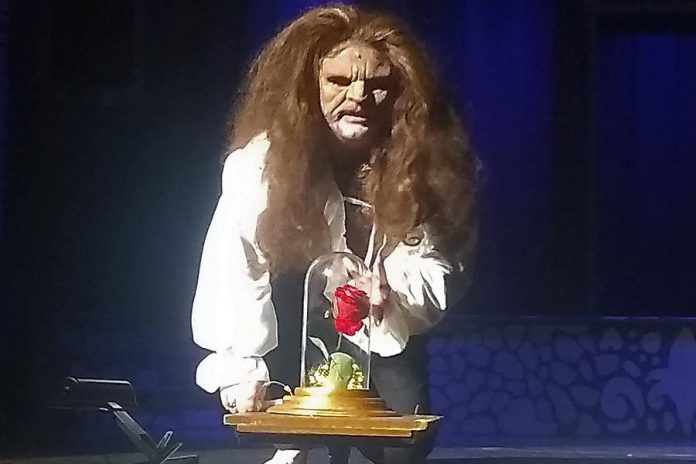 From December 5th to 7th, the students from the integrated arts program at Thomas A. Stewart Secondary School (TAS) in Peterborough bring the Disney classic Beauty and The Beast to the TAS auditorium stage.
Directed by Jessica Sisson with music direction by Ben Jackson and Justin Hiscox, Beauty and the Beast features a powerhouse cast of young performers who bring all of the magic, music, and beloved characters from the film to life on the stage, making it a perfect holiday treat for all ages.
In 1991, Walt Disney Studios released their film version of Beauty and the Beast, based on the classic 18th-century fairy tale by French writer Gabrielle-Suzanne Barbot de Villeneuve, and it quickly became one of Disney's most important and successful animated films in the history of the studio. Receiving six Oscar nominations over four categories, the film won Oscars for best musical score and best song for "Beauty and the Beast", and made history for being the first animated film to ever be nominated in the best picture category. The film continues to retain its popularity today, proving its timeless appeal to audiences.
After a revitalization of their animation department in the early '90s, Walt Disney Productions were looking to expand into other areas of entertainment and chose Beauty and the Beast to be their first foray into Broadway under the heading of Walt Disney Theatrical.
Opening at the Palace Theatre in 1994 and running until 2007, the musical version expanded on many of the characters and included new songs not in the film. The musical was an immediate hit, allowing Disney to expand its takeover of Broadway with further massive productions such as The Little Mermaid, The Lion King, and Mary Poppins.
"Beauty and the Beast is truly a tale as old as time," says Aiden Playford, who takes on the role of The Beast in the TAS production. "It just keeps coming back again and again. Regardless of how long ago it came out, it'll always be regarded as a classic Disney Princess movie. Everybody knows Belle's yellow dress and the rose and the characters."
"Although it has so many plot points of the movie, there is so much more that's been adapted for the stage musical. There is so much more depth to characters. In the movie, the Beast doesn't do much more than be angry and then dance and then be sad. In the musical, he has songs that express how he feels towards Belle. Everybody in the show has a chance to bring something deeper to their characters."
While the production features 19 students from director Jessica Sisson's drama class, creating the show has been a project that involves far more than just the drama department. It also involves students from across the entire school, with different departments creating the costumes, set, and choreography for the show.
Advertisement - story continues below
"What I love about the integrated arts program is that I have students from all IA (integrated arts) disciplines," Jessica says. "I have theatre students, music students, visual art students, and dancers."
"What's nice is that the IA program drives home the idea of collaboration, creativity, and community. The musical is a perfect example of how we are able to create together and how we are able to collaborate and produce something that is for the community."
In the key role of the show's heroine Belle is Aimée Gordon, who beautifully brings her character to life on stage. A fine actress and a powerful singer, Aimée is perfectly cast as one of Disney's most beloved and recognizable characters. Absolutely enchanting on stage, Aimée makes the character very real for the audience.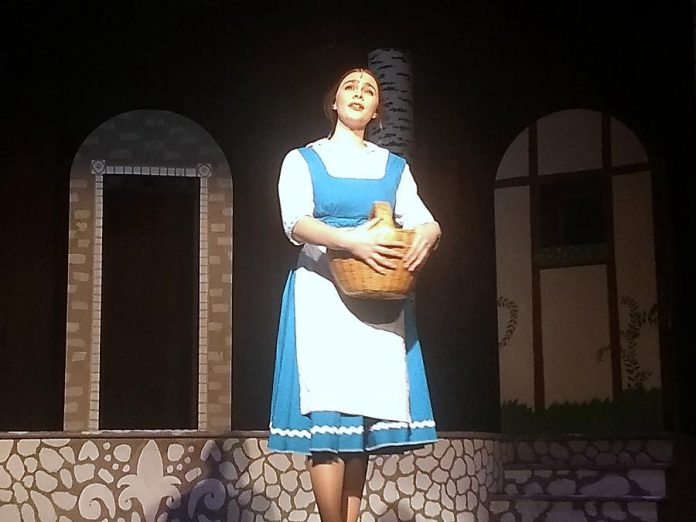 "This has been an amazing role to get to play, because it's such an iconic character and everybody knows it," Aimée says. "Everyone has a preconceived notion of who Belle is. It's kind of intimidating, but it's also kind of comforting. When you step on stage you know that everybody knows you, everybody has a feel for your character, and everybody likes you."
"So I get to play around with that a lot by adding some things that have a bit of myself into her, allowing her to become more than just a Disney Princess by turning her into a full-fledged character."
On that note, Aimée reveals there is a side to her version of the character that goes beyond the Disney version.
"She's a lot less nice to everyone," Aimée explains. "She wants to act like she's nice to everyone, but she's really not — she thinks about them exactly how they think about her. In the show Belle goes through a change as well. You can see the change that Belle goes through about not judging people until you get to know their situation, which the Disney film didn't explore."
Advertisement - story continues below
To transform himself into The Beast, Aiden Playford created his own impressive mask and make up.
"We have a two-piece prosthetic and there's also a giant wig he wears," Aiden says. "It's fairly similar to the Broadway design, instead of the movie. He wears a huge shirt with rips in it, and his hunch has ruined his clothes."
When talking to Aiden about his take on his character (he plays The Beast with a great deal of sensitivity and pathos), I found out he connects with The Beast so well that often it was confusing if he was talking about himself or his character.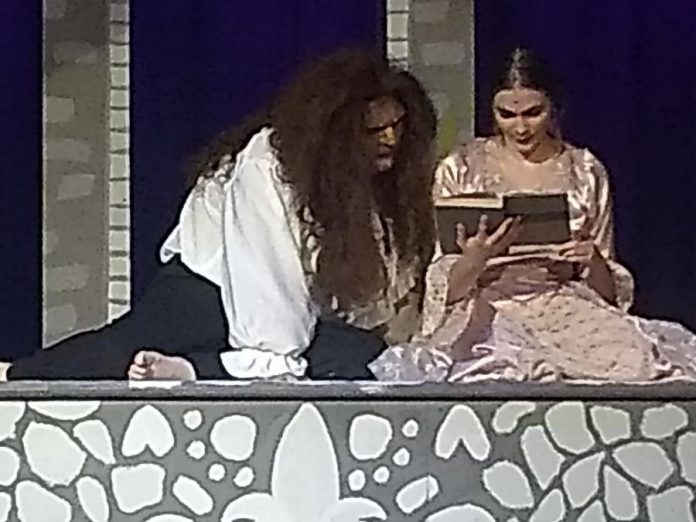 "Obviously there is a huge difference between me and The Beast," Aiden says. I'm not a monster, or a wolf, or whatever he is. But I think, personality wise, the Beast and I are a lot the same. A lot of people think I'm this big tall large guy who's a bit intimidating, but I have a soft side and I take things to heart."
"The Beast is confused and angry in the beginning, and he doesn't have a grasp on what love is. He wants love, but he doesn't know what it means. It's an interesting part to play because he goes from being a monster to a softy who cries and hugs."
With a big voice and tons of bravado, Isaac Maker takes on the role of the villainous Gaston.
"It's been a fun character to play," Isaac says. "The chemistry between Gaston and Belle is great, and the chemistry between him and his sidekick Lefou (played by Casey Hall) is so fun. There is a strong connection between them. Gaston thinks of himself as a big scary guy, but he has a soft spot for Lefou. It's been fun being creepy. I don't get to do that very often."
One of the most notable elements that makes the stage version of Beauty and the Beast different from the film is the expansion of the personalities and relationships between the memorable secondary characters, who in the film are made up of anthropomorphic household objects that were once human but were transformed by The Beast's curse.
So they do not lose their humanity completely, they plot to break the curse by having The Beast find true love with Belle. Donning clever costumes created by Jessica Sisson's Grade 10 fashion class, these characters create the magic in the show, and are fronted by Adam Airhart as Lumiere the Candelabra, Annika Goeckel as Cogsworth the Clock, and Lena Ross as Mrs. Potts the Teapot.
With a sense of flare and tons of heart, Adam puts a lot of personality and spirit into Lumiere, who shines bright upon the production.
"Lumiere is the hope and the passion and the energy of the castle," Adam explains. "Mrs. Potts is always caring for everyone, and Cogsworth is very uptight. Lumiere keeps order and balance. What's missing from life in the castle is this feeling of wanting to be human. It's more of a have and less of a want. Lumiere takes that and put a lot of energy into it, as seen in the song Be Our Guest. That's who Lumiere is — he's the feeling of fire. He takes every opportunity to take the feeling of want and turns it into the feeling of having."
Advertisement - story continues below
Adam's cohort on stage is Annika, who gives a wonderfully funny performance as Cogsworth. Whimsical both on and off stage, Annika often makes comments about being an artist among actors, but she brings her unique sense of humour to the stage with her wonderful performances and great comedic timing.
"I play an uptight clock who waddles around the castle giving orders," Annika says. "I feel like I was cast by how I move. I tend to move in a somewhat rigid way, not quite fluid like I see other people moving. So it's cool that I can dance like I think I'm supposed to dance, and everyone says 'You dance like Cogsworth! You're doing so great!'"
While Lumiere and Cogsworth provide many of the laughs, Mrs. Potts, played by Lena, is the heart of the show.
"Mrs. Potts is the motherly character who takes care of everyone," Lena says. "Although she's just a teapot, she knows what needs to be done and will get it done. She bosses around everyone from her child Chip to The Beast. The Beast could knock her off the stairs and that could be the end of her, but she doesn't care. I like her being this character that takes care of everyone in the castle. Mrs. Potts also says all the things that all of the other characters are thinking. She's the character that is always pushing forward and is the mastermind behind everything."
As Mrs. Potts, Lena has the show-stopping moment of soloing the show's Oscar-winning ballad "Beauty and the Beast", one of the most iconic songs to come out of the Disney songbook.
"It's a beautiful song," Lena says. "It has so much emotion in it. I kind of go out there and just let it out, because it's a big pivotal moment in the show. It's the moment that her entire plan has come together. I just want to sell that."
One thing that I find most interesting as an arts writer is that, for the first time while covering a high school production, I actually recognize the core cast of players from having seen them in other productions throughout the greater Peterborough community. Already all well versed in theatre, the key cast members are not newcomers to the stage, thus bringing their own experience to the table to strengthen the production.
"There is a lot of young talent in Peterborough, not only in theatre but in all of the arts," director Jessica says. "I think that is being more recognized and people are creating shows that can foster that talent. So by the time I get them in Grade 11 or 12, they've already had a lot of experience already. It's nice listening to them talk about what it's been like growing up in the theatre world, and how they know what it's like to be backstage and watch a show come to life, and to see their roles from being in the ensemble grow to becoming leading ladies and leading men."
Advertisement - story continues below
"We've all been lucky to perform in great roles in the community, but we're also pushing for the chances to get roles that would otherwise go to an adult," Aimée observes. "Yes, teens can push for that, but there is only so much we can do before the community realizes that we have talent as well."
"One of the problems that we sometimes face is that we are too big to be in the cute children shows, but we are too young to be considered 'theatre professionals'," Lena adds.
Although there may be a struggle for these young performers to get into larger productions outside of the city, Beauty and the Beast is a perfect platform for Jessica's company to take the stage and demonstrate the incredible amount of talent they have.
The whole ensemble is fantastic, with nice additional character pieces being created by Lily-May Gentle as Babette the Feather Duster, Ally Colby as Madame a la Grand Bouche The Wardrobe. and Abby Dunn as Chip the Teacup, alongside additional human characters including Laura Cassidy-Lobb as Belle's father Maurice, Casey Hall as Gaston's sidekick Lefou, and Cherise Lake as the mysterious and menacing Monsieur D'Arque.
While anything Disney-related will get public attention, the TAS production of Beauty and the Beast is a strong show by a fantastic group of young performers. It captures the wonderment, fantasy, and romance of the film we all love, but adds a sense of depth and character development that will be something new for the audience.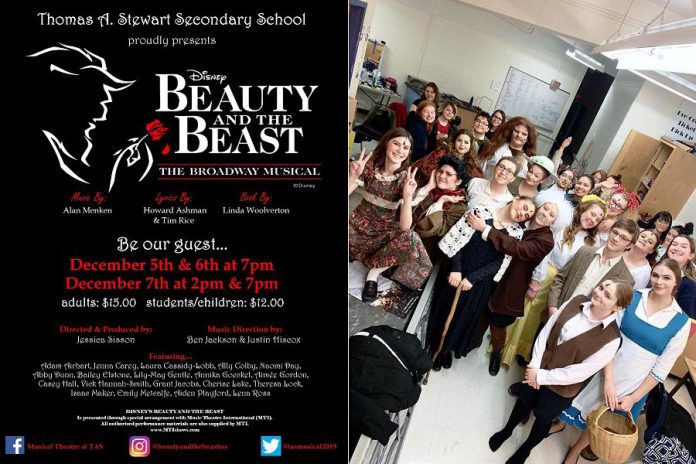 But most of all, it's a show that will delight young audiences who love the film and enchant the older audience who grew up with it.
"I think it's wonderful that we're doing this show," Isaac says. "It takes people out of the outside world and the stress of the workplace, and into something magical and beautiful. It's so different than everybody's regular lives, and I think people will love that."
Beauty and the Beast runs for four public performances at the TAS auditorium from Thursday, December 5th to Saturday, December 7th at 7 p.m., with and an additional 2 p.m. matinee on Saturday. Tickets are $15 for adults or $12 for students and children and are available from cast members, at the door, or online at schoolcashonline.com.