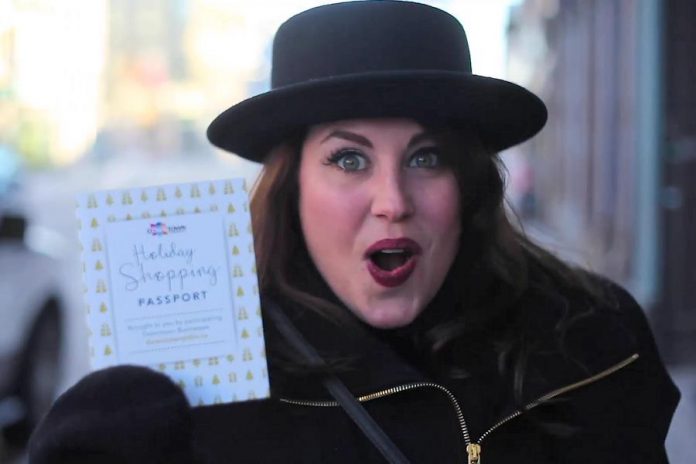 When we choose to support locally owned independent businesses, it's good for us because it's good for our community. Choosing local first means more of the money we spend stays in our community, resulting in higher-paying jobs and contributing more to the local tax base.
Choosing local first also nurtures the unique character of our community, while reducing our impact of the environment. And local business owners are also residents of our community, supporting local charitable causes as well as other local businesses — creating a domino effect throughout the local economy.
Downtown Peterborough's Holiday Shopping Passport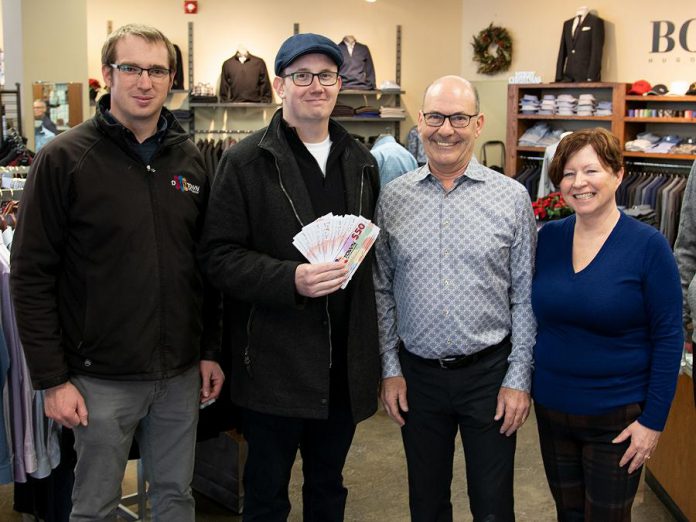 When you choose local by shopping in downtown Peterborough this holiday season, it's a win-win — literally.
Not only are you supporting locally owned independent businesses, but you can also win prizes.
That's what happened to Kevin Dawe of Peterborough, when his completed Holiday Shopping Passport was drawn at Kingan Home Hardware on Wednesday (December 4) as the first early bird draw of the season.
Kevin picked up his prize of $500 in "downtown money" — gift certificates that can be redeemed at participating downtown businesses and organizations — at John Roberts Clothiers.
The Peterborough Downtown Business Improvement Area's annual Holiday Shopping Passport program rewards people when they shop, dine, or treat themselves in downtown Peterborough. More than 150 businesses and organizations in the downtown — including Kingan Home Hardware and John Roberts Clothiers — are participating in this year's program.
VIDEO: "It's Holiday Passport Time" featuring Lindsay Barr
Here's how the program works: pick up a Holiday Shopping Passport at a participating business or organization and, every time you spend $10 at one of the participating locations, a box on your passport will be stamped. When your passport is filled (20 stamps or $200 worth in spending), you complete the form and drop it off at a ballot box at one of the participating locations.
Each completed passport is a ballot for a draw to win downtown money. There are three early bird draws for $500 each and then a drew for a $1,500 grand prize. Kevin won the first draw for $500, with the second $500 draw happening on Wednesday, December 11th, and the third $500 draw on Wednesday, December 18th. The $1,500 grand prize draw will be held on Wednesday, January 8th.
And don't forgot: courtesy of the City of Peterborough, parking is free for two hours in the downtown during the month of December.
Holiday Passport Locations
Absolute Hair
African Mission-Growth Market African Dishes
Amandala's Restaurant
Ann's Hair Salon
Antoinette Bridal Boutique
Argania Natural Health Clinic
Arken Beauty Supply
Art School of Peterborough
B!KE
BioPed Footcare
Black Honey Bakery
Black Honey Desserts and Coffee House
Bluestreak Records
Boardwalk Board Game Lounge
Boater's World
Brant Basics
Brothers Pizza
Buck or Two Plus!
Burgundy's Hair Salon
By The Bridge
Cahill's Outerwear
Carlson Wagonlit Stewart Travel
Chalk Therapy/Electric City Works
Charlotte Jewellers
Charlotte Paint & Wallpaper
Charlotte Street Comics and Collectibles
Charlotte's Web
Chumleighs
Cork & Bean
Cottage Toys
Cozy Home: Designs by Lacey
Curry Mantra
Curry Village
Dan Joyce's Classic Clothing
Dodrio
Dream Cyclery
Dreams of Beans
Dueling Grounds
Earth Food Store
EC Catering
Elderberry Clinic
Electric City Bread Company
Euphoria Wellness Spa
Fab Factory
First Stop Swap Shop
Flavour
Fontaine's Source for Sports
Frame It For U
Fresh Dreams
Full Tilt Cycle
Fusion Bowl
Gentry Apparel
Gerti's
Greater Peterborough Chamber of Commerce
Green Street
GreenUp Store
Grey Guardian Games
Hi Ho Silver
Hobies Sports Ltd.
Hock Shop
Hot Belly Mama's
Hunter Street Books
Hunter Street Tavern
Iceman Video Games
Insight Optical
Island Cream Caribbean Cuisine
Jack's Hot Spot
John Roberts Clothiers
Just Like New
K and C Costumes
Kettle Drums
Kingan Home Hardware
Kit Coffee
Knock on Wood
La Belle Spa
La Hacienda
La Mesita
Larry Electric & Motor Service
Laurie Jones & Co Hair Designers
Lift Lock Escape
Lili's Convenience
Marie Cluthé Antiques & Collectibles
Market Hall
McThirsty's Pint
Mercado La Hacienda
META4 Gallery
Minh's Chinese Grocery
Mr. Brock Barber Shop
Mr. Sub on George Street
My Left Breast
My Own Clouds
Naked Chocolate
Nateure's Plate
Needles in the Hay
Needleworks
Nielsen's Watches and Jewellery
Nosh & Nip on Queen
Pammett's Flowers
Pensieri Shoes operating as Blue Shoes Ptbo
Peterborough & the Kawarthas Visitor Centre
Peterborough Inn & Suites
Peterborough Regional Farmers' Market
Peterborough Photo Service
Peterborough Public Library
Peterborough Travel
Pettigrew Spa & Salon
Pipe Dreamz
PJ's Diner
Plant Goals
Providence
Rare Grill House
Rawscoe's Sport Collectibles
reBOOT Canada
Renew MediSpa
Ritual Apothecary
Runner's Life
S.O.S.
Sam's Place
Sandy's Cigar & Variety
Showplace Performance Centre
Silk Roots
Simply Delicious
Smiles to You
Solid Leather
Sugar Me Right
Sustain Eco Store
T-Elle Boutique
The Avant-Garden Shop
The Black Horse Pub
The BrickHouse Craft Burger Grill
The Cell Shop
The Cheese Shop
The Edison
The Food Forest Cafe
The Food Shop
The Old Stone Brewing Co.
The Pasta Shop
The Publican House Brewery
The Publican House Restaurant and Taphouse
The Toy Shop
The Unicorn
Things from Mom's Basement
Tiny Greens
Tonic Hair Salon
Tribal Voices
Turnbull Café
Under One Sun
Union Studio
Villa Auto Wash
Village of Thai
Watson & Lou
Whistle Stop Café
Wild Rock Outfitters
Wing House
Yo Yo's Yogurt Café
You're Welcome
Zap Records
This story was created in partnership with the Peterborough DBIA.