When we choose to support locally owned independent businesses, it's good for us because it's good for our community. Choosing local first means more of the money we spend stays in our community, resulting in higher-paying jobs and contributing more to the local tax base.
Choosing local first also nurtures the unique character of our community, while reducing our impact of the environment. And local business owners are also residents of our community, supporting local charitable causes as well as other local businesses — creating a domino effect throughout the local economy.
Euphoria Wellness Spa
Euphoria Wellness Spa is a locally owned medical and wellness spa at 290 Water Street in downtown Peterborough. Owned and operated by Peterborough resident Simone Dobson, the full-service spa — now in its 13th year of operation and employing more than 50 people — is one of Canada's top 50 spas and the only accredited 5-Star Spa of Canada in the Kawarthas.
This holiday season, you can spoil your loved one with the gift of beauty and wellness at Euphoria by purchasing a special gift card package that also includes complimentary services.
Purchase a $200 gift card and receive a free wash, cut, and style or a Revive manicure. Purchase a $300 gift card and receive both a free wash, cut, and style and a Revive manicure. Purchase a $500 gift card and receive a free wash, cut, and style and a Revive pedicure. For more information and to reserve your package, visit mailchi.mp/spa-euphoria.com/giftcards.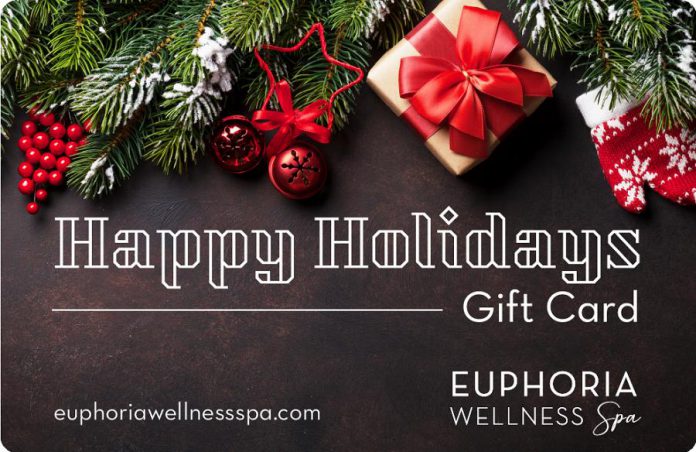 Not only do Euphoria Wellness Spa gift cards never expire, but they can be used for any of the services and products the award-winning spa has to offer — and there's a lot to choose from, making a Euphoria gift card the ideal present for that hard-to-buy-for person on your list.
Spa services include a complete range of registered massage therapy (classic Swedish, therapeutic, hot stone, couples, and more), facials and body treatments, manicures and pedicures, sugaring and waxing, St. Tropez sunless spray tanning, steam room, infrared, and dry sauna — always complimentary with massage, facials, and body treatments.
There's also the recently renovated and expanded Aveda® Hair Salon — where Euphoria's hair stylists, colour technicians, and beauty and grooming experts will make your visit truly special with "everyday luxury" — and the Beauty Boutique, which features exceptional makeup and skin care products, making for perfect stocking stuffers to go along with your gift card.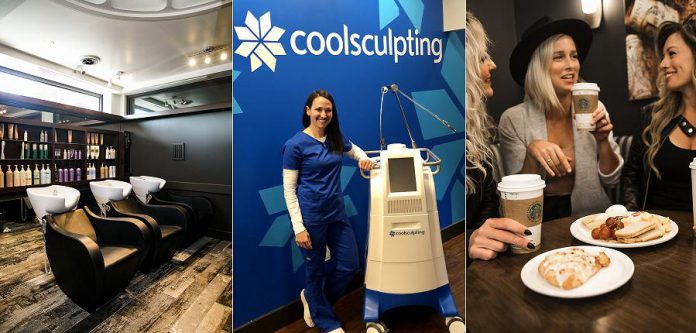 Euphoria is also the only full-service spa in the Kawarthas with five medical doctors on staff, including a dermatologist, MD Code trained physicians, and two gynecologists. Euphoria offers medical esthetic treatments including permanent laser hair removal, laser tattoo removal, Latisse® eyelash enhancement, microdermabrasion, photo facial treatments, pixel laser skin resurfacing, skin tightening and overall skin rejuvenation, Botox, and Juvederm — and the largest (and only) centre for CoolSculpting in the region.
And last but not least, Euphoria has Peterborough's only fully licensed Starbucks and Gelato Caffe.
In addition to special gift card packages, you can also purchase gift cards of any denomination, starting at $10, either in store or online. For more information and to purchase an instant e-gift card, visit euphoriawellnessspa.com/choose-gift-card/.
When dropping in to Euphoria to purchase a gift card and some stocking stuffers (or whenever you receive spa services or treatments), you can park for free for one hour in the commercial parking lot located beside the spa. Just show your parking voucher to the Euphoria concierge when cashing out.
And, if you need a break from the stress of the holidays, you can indulge yourself with Euphoria's special "Spoiled Pretty" holiday offer.
Euphoria will be including a Mimosa with all salon services every Thursday, Friday, and Saturday after 11 a.m. until December 21st (you must be of legal drinking age, non-alcoholic option available).
VIDEO: Make her wishes come true this holiday season

Euphoria Wellness Spa is located at 290 Water Street in downtown Peterborough. Extended hours until Christmas Eve (December 24) are 9 a.m. to 7 p.m. Monday and Tuesday, 9 a.m. to 8 p.m. Wednesday to Friday, and 9 a.m. to 5 p.m. Saturday and Sunday. On Christmas Eve, hours are 9 a.m. to 4 p.m. (closed on Christmas Day and Boxing Day). After Boxing Day, Euphoria will be open as usual until New Year's Eve, when it is open from 9 a.m. to 4 p.m. (closed New Year's Day).
To book an appointment, call 705-741-4772. For more information and to purchase gift cards online, visit euphoriawellnessspa.com. You can also follow Euphoria on Facebook, Instagram, and Twitter.
Do you own a local independent business? If you'd like to be featured in our "choose local" promotion, contact kawarthaNOW Publisher Jeannine Taylor at 705-742-6404 or jt@kawarthanow.com.