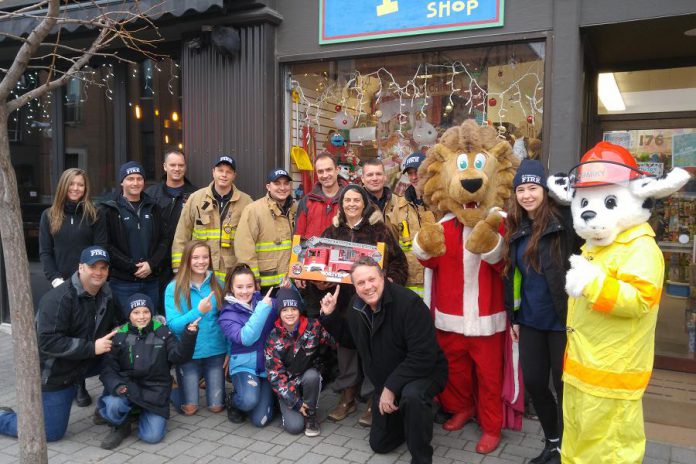 For the 12th year in a row, the Peterborough Professional Firefighters are donating funds to purchase toys from The Toy Shop at 176 Hunter Street West in downtown Peterborough for the annual Salvation Army Toy Drive.
This year, the firefighters are donating $2,000. The Toy Shop owner Jean Grant uses the donation to leverage deals for more than $6,000 worth of toys from her suppliers, who help with the initiative.
The firefighters will arrive at 9:30 a.m. this Saturday (December 14) with their firetruck and a crew of firefighters to pick up the toys and deliver them to the Salvation Army. "Sparky" the mascot will also be there to help lift the bags full of toys.
Advertisement - story continues below
The donation coincides with the annual Pure Country 105 and Energy 99.7 Christmas Miracle Broadcast for the Salvation Army Toy Drive, which takes place on Saturday from 9 a.m. to 3 p.m. at Lansdowne Place Mall on the upper level.
"Local 169 feels it's important to participate in events and organizations like the Miracle Broadcast," says firefighter and executive board member Mike O'Brien. "It's a great way to give back and to support those in need in the community, especially the young ones."
Grant selects high-quality toys that don't require batteries and toys that can teach the children while they play.
"It's all about the partnership with the firefighters, one we have had for over a decade," says Grant. "I believe no child should go without a present."
Terry Guiel, executive director of the Peterborough Downtown Business Improvement Area, thanks the firefighters for brightening Christmas for local children and supporting the downtown.
"I certainly love that they also appreciate the importance of shopping local and supporting the downtown and our local toy shop," Guiel says.